There was barely standing room when National Party leaders Christopher Luxon and Nicola Willis spoke in Alexandra last week.
Mr Luxon's assertion that spending $16 billion to build a storage dam at Lake Onslow, above Millers Flat, was an ''insane idea'' drew applause, as did many of his and deputy leader Ms Willis' comments on sex education in schools, leaner government and cracking down on crime.
Mr Luxon said he might be new to politics but he had spent all his life turning things around, sorting things out and solving problems.
His background was in getting things done through, with and for people, he said.
National had three priorities — to fix the economy, restore law and order along with personal responsibility and deliver better health and education, he said.
Moving from Wellington bureaucracy to empowering local communities to manage their issues drew cries of ''hear, hear'' from the audience.
National's position on the Overseas Investment Office allowing overseas companies, such as Ikea, buying prime farm land to plant pine trees was raised by one audience member.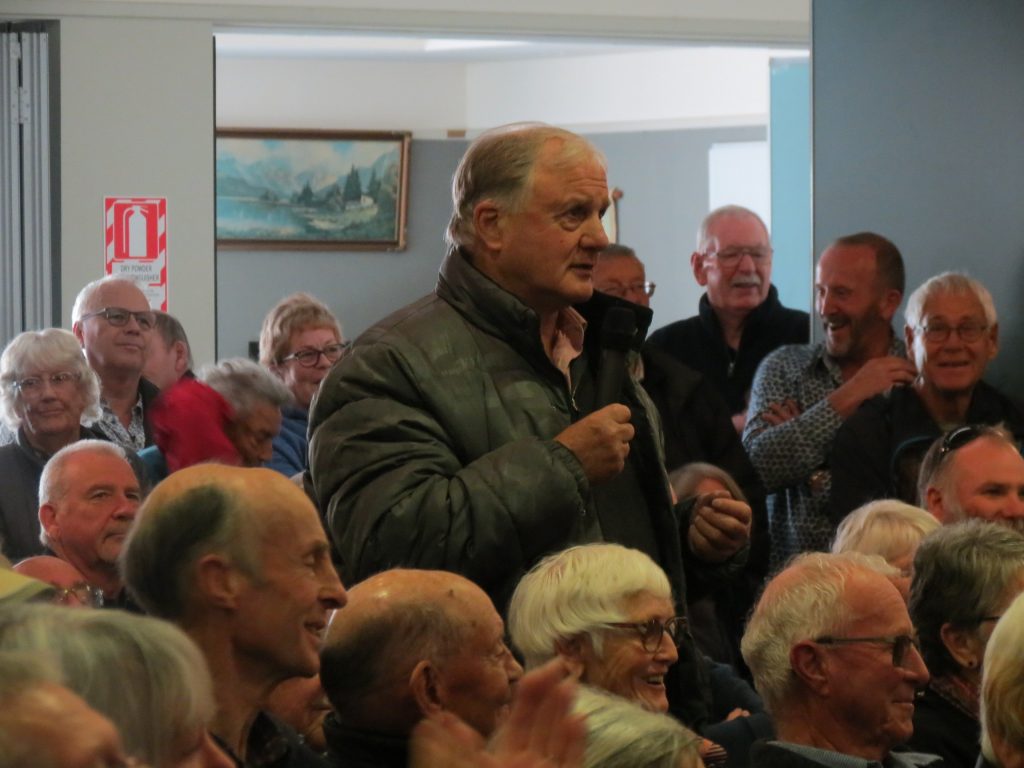 Mr Luxon said National would ban foreign companies from buying sheep or beef farms and turning them into carbon farms by planting trees.
The companies wanted to get carbon credits in New Zealand to offset their pollution overseas and as a result were destroying rural communities, he said.
Relationship and sexuality education in schools concerned some questioners, particularly gender identity. One woman said she understood the charity InsideOUT, whose website said its mission was ''to provide safer schools and communities for rainbow [LGBTQIA+] and takatapui young people'' was involved in setting the curriculum. The mother said she wanted to know what education they were including.
She was very concerned about ''the indoctrination of the kids''.
Ms Willis replied she was a mum, too, and had four children aged from 7 to 13.
''Here's how I feel about sexual education. That's the job for me and my husband to do with our kids, based on our values and our views of the world . . .I want my education system focused on teaching my children how to read, how to write and how to do maths.''
Her response drew resounding applause and calls of ''hear, hear''.
Gerry Eckhoff, a former Act New Zealand MP and retired Central Otago farmer, was concerned about Ma ¯ori names for government agencies, and changing New Zealand to Aoteoroa, which clearly resonated with the audience.
''All I want, and I suspect most people here want, is . . .if we are going to have change . . . fine, but at least you must consult us first.
''That is all I ask from our National-Act, or even Act-National government,'' he said to laughter from the audience.
''If you seriously want to change the government you've got to party vote National,'' Mr Luxon was quick to say.
Mr Luxon said he was not a fan of changing the country's name but if it did it would be through referendum.
People had to be able to navigate the government and understand the names of government departments. From living in Canada, which had dual language, he knew it was possible.
Southland MP Joseph Mooney and National's Waitaki candidate Miles Anderson were both at the meeting.