Sunday drives are about to step up a few gears for Cromwell man Ivan Fahey.
The 81-year-old won a 2014 Lamborghini Huracan in a giveaway to mark Highlands Motorsport Park's 10th anniversary last weekend.
Visitors who bought a weekend pass to the motorsport park's celebration events in advance, as Mr Fahey did, went in the draw to win the car, which had been used for hot laps at Highlands' sister circuit Hampton Downs.
Lamborghini Huracans can accelerate from 0-100kmh in as little as 2.9 seconds, and are listed online for anywhere from $250,000 to $445,000.
The car comes complete with a roll cage and the driver will require a motorsport licence.
''It was amazing really,'' Mr Fahey said.
''I was sitting on the terrace and Tony [Quinn] pulled my name out of the barrel of how many hundreds of names . . . and I just leapt to my feet.
''Like everyone here, I guess we've all been thinking about what are we going to do when we win this Lamborghini today and here it is, it's me — fantastic.''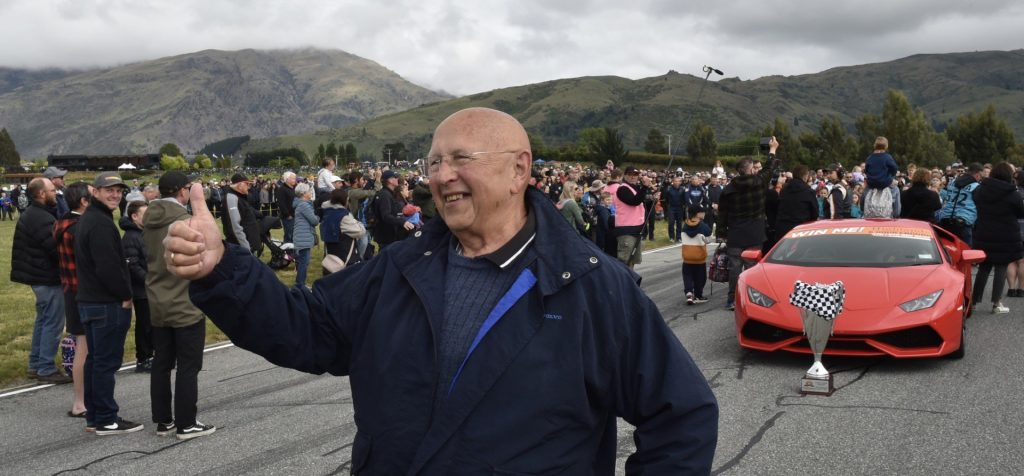 Mr Fahey recently returned to Cromwell after living in Hawke's Bay and knew he had to be in to win when he heard about the competition.
He is no stranger to Highlands — he volunteered there for years, driving a bus around the track circuit and doing pickups in town.
In fact, he was one of the first volunteers during the park's early years.
It was a simple way the former coach driver and motorsport enthusiast could ''give back'' to the community he loved, he said.
Now his good deeds have been repaid in full — and then some.
And what does the octogenarian, who drives a Suzuki Grand Vitara and a BMW 525m, plan to do with his Lamborghini?
''I'm going to play with it of course. I'm going to play with it until I can't.
''I don't really know what I'm going to do with it, it's quite a special bit of machinery.
''I'll learn how it works and, yes, I'll have a bit of fun with it.
''I just feel very, very lucky indeed. And I'm struggling to take the smile off my face today.''