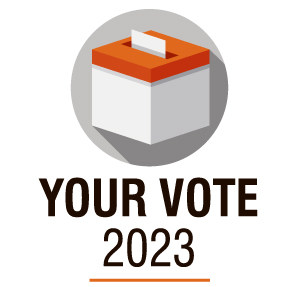 Reporter Regan Harris takes a look at the upcoming election
We are a little more than 17 weeks away from the next general election.
If you have had even a cursory glance at the news recently, this likely won't be a surprise to you. Every party is shifting their media arm into overdrive, and every politician is hitting the road in a last-ditch effort to win over their constituents.
If you're anything like me, you're probably still coming to terms with the fact that the last election was almost three whole years ago.
Unlike that election however, the 2023 edition is shaping up to be a much closer race.
To even the most optimistic people, this can be a deeply cynical time.
Unless you're willing to go off the grid and live in the highlands for the next four and a-half months, be prepared to hear plenty of campaign promises, a deluge of polling data, and of course, some political scandal.
It might seem rich for a member of the media to be warning you about this. As a reporter, I will be one of the people likely writing those stories. Doesn't that make me apart of the problem?
Well, that's the very reason why I am writing this editorial.
Here at The News and the Wanaka Sun, we want to try something a little different this time around.
Starting this week, we are launching ''Your Vote2023'', a project focused on delivering election stories with substance that will hopefully resonate with you, the reader.
Each week between now and election day on October 14, we aim to produce content relevant to both the Waitaki and Southland electorates. This will range from profiles of each candidate, to informational pieces on matters such as the electoral boundaries.
With all of the political grandstanding and vicious mudslinging that often takes place at this point in the campaign, it can be easy to forget that the whole point of this exercise in democracy is to ensure that the people of New Zealand have a chance to choose who they believe will do the best job of handling the issues that matter to them.
That's why we want to hear from you.
If there's an issue you want us to cover, feedback you wish to provide, or a question you would like to ask a candidate, send it to me at [email protected].
We have also prepared a reader survey If you have a few minutes, please consider taking the time to complete this. Your responses will help us tailor the content we make over the next few months.
As reporters, we will do our best to ensure the information you're working with is second to none.