For three decades, hardy souls with an ache for adventure and a passion for the back country have been saddling up and heading for the hills.
They are a special breed — unafraid of hard yakka, sleeping wherever they lay their head, and knowing that the secret of a great yarn is all in the way you tell it.
Such is the appeal of the cavalcade.
In 1991 the inaugural Goldfields Cavalcade retraced the 1862 journey of the Cobb & Co Coach's journey from Dunedin to the Dunstan Goldfields, via the Dunstan Trail.
Two hundred and twenty riders embarked on that epic journey, bringing fresh life to the pilgrimage of the gold miners who came before.
Thirty years on the event is still going strong, weathering extreme fire risk and a global pandemic, to come out on top.
But behind the rugged scenes of horses and wagons traversing spectacular Central Otago landscapes are passionate people making it happen.
Passionate about the region, its history and the people who live here.
Land owners open up their back country paradises for trails to pass through, clubs and volunteer groups feed small armies and communities roll out the welcome mat to celebrate the Cavalcaders.
Otago Goldfields Heritage Trust (OGHT) secretary and cavalcade coordinator Terry Davis said a can-do attitude and culture of camaraderie fostered on the trails was part of the secret behind the event's longevity.
''It's cool to last 30 years. The cavalcade definitely has an x-factor and I think that x-factor is its non-commercialism.''
''We just love the privilege and opportunity to enhance peoples lives — the time spent in nature and the mountains and a great bunch of like-minded people, sometimes in 'perceived hardship' — it's some of the best experiences people can have all year.''
The cavalcade was a ''huge logistical effort'' so to reach 30 years — especially with additional challenges such as Covid-19 thrown in — was ''pretty exciting'', he said.
''The trail bosses, wranglers, all of the support crew are entirely volunteers.
''I think of it like when you're a kid going away on school camp — it's the best week of the year, staying in tents, doing activities — this is the best experience of a school camp for adults.''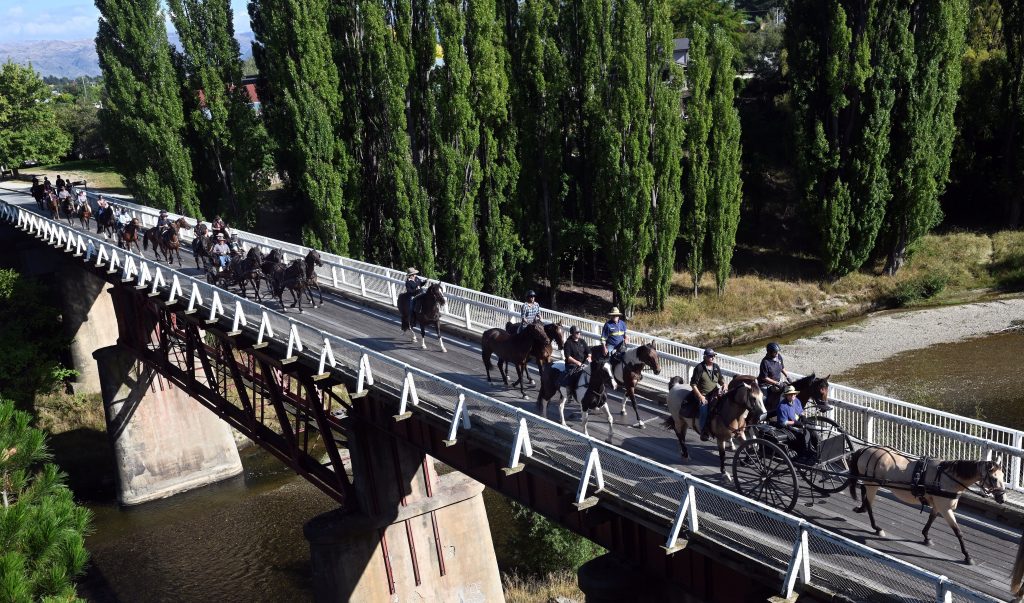 Thirty years of the cavalcade also represented 30 years of fundraising for small Otago communities, with more than $300,000 annually going towards local volunteer groups and sports clubs, school PTAs and the host town, Mr Davies said.
Times had changed significantly during the course of 30 years and bureaucratic red tape had made accessing private land ''harder than ever''.
However, rural folk had a ''no worries'' attitude and worked to accommodate the requirements of the cavalcade.
Organisers also worked hard to ensure land owners were looked after and there was limited risk to them and their properties, Mr Davies said.
''Most land owners don't notice the cavalcade as we just travel under non-motorised means across their paddocks or back blocks. But every night each trail camps down and their catering crew need access to water and electricity so woolsheds tend to be the popular site.
''Hundreds of thousands of dollars directly into small community clubs and groups, not to mention the best week of every cavalcaders life each year — all thanks to the generosity of rural land owners. From the bottom of all our hearts, thank you so much,'' Mr Davies said.
Retired Patearoa farmer Jim Hore is one of the many landowners who have opened up their slice of paradise to trails, welcoming cavalcaders on to Stonehenge Station. It was the third time cavalcaders had crossed the 12,000-hectare sheep and beef property which had been in his family for more than 100 years. A veteran of the trails, this year the 75-year-old is embarking on his 19th cavalcade.
A love of the ride — and the people — keeps Mr Hore coming back.
''We're all the same breed of people,'' he said. ''Twenty years ago we slept in woolsheds — we used to camp under the stars but most people camp in a flash horse float now.''
The 30th Goldfields Cavalcade started rolling out across the outer regions of the district on Saturday with 400 riders, walkers, cyclists and runners all set to converge in Millers Flat this Saturday.
A carnival day, final grand parade and hoedown will take place at Millers Flat sports ground from 10am.