Harvard NZ1044 owner Bevan Dewes is looking forward to getting a piece of New Zealand wartime history back in the sky.
Mr Dewes, a Masterton beekeeper, and a Wanaka team of Twenty24 engineers have been working for two and a-half years on the 80-year-old World War 2 aircraft.
It first flew in Texas in 1943 before entering Royal New Zealand Air Force service.
It was put into storage at Wigram in 1958 and then passed through various owners before Mr Dewes bought it in 2020.
After a long absence from the skies, it is due to take off again this month at Wanaka Airport.
But before that can happen, it must be certified by the Civilian Aviation Authority — something it never needed during its military service.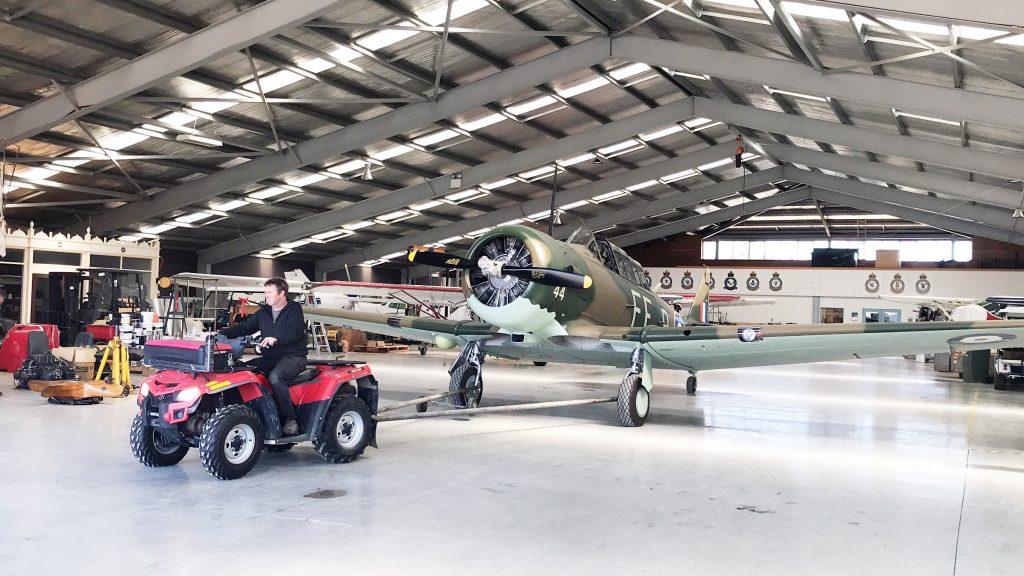 Mr Dewes will be the first pilot to fly the restored machine, 65 years after it first flew.
''I had my first ride in a Harvard when I was 13 years old and that sparked a bit of interest in the aeroplane.
''The Harvard as far as warbirds terms go is termed the pilot-maker, and it is the necessary evil to get into the heavier warbirds.
''It is a really nice aeroplane to fly, a big heavy aeroplane.
''I am really looking forward to getting this one up and going and getting history living again,'' he said.
Callum Smith is the owner/operator of Twenty24 Ltd at Wanaka Airport.
He did a pre-purchase check on the aircraft in Ashburton and recommended Mr Dewes buy it.
His team, including engineer Mark Williams, then undertook the restoration.
The original RNZAF camouflage paint scheme was done by Wanaka company, Helisupport.
''My guys have been working pretty hard on it to getting it looking like this, and it is looking good,'' Mr Smith said.
Mr Dewes said he had not known the Harvard existed until a week before buying it.
Within a week of concluding the transaction, ''Covid happened''.
The aircraft was transported to Wanaka as soon as restrictions were lifted.
''It's been a major job and we went into a lot more than originally anticipated,'' Mr Dewes said.
Test flights are being planned in the Wa naka area later this month.