There are no photographs of her and for more than a century, her grave, which is also home to her baby boy, lay unmarked in a forlorn corner of Alexandra cemetery.
On Saturday, almost exactly 155 years after her death, a headstone marking the final resting place of Mary Ann Chin Chee and her son was unveiled by her great-greatgrandchildren.
Dunedin man Allan Mitchell said a cousin researching their family history ''rediscovered'' the grave.
''After a bit of procrastination, a small group of us cousins . . . raised funds to have a headstone placed on the grave.''
In the eulogy he delivered at Saturday's ceremony, Mr Mitchell said there was not a lot of information about Mary Ann, but what they had learned showed she endured many hardships in her short life.
Born in 1843 in Devon, England, she was one of George and Sarah Brook's seven children. When Mary Ann was 10, the family emigrated to Victorian goldfields in Australia.
Their voyage took just over four months, Mr Mitchell said.
''It was the trip from hell.''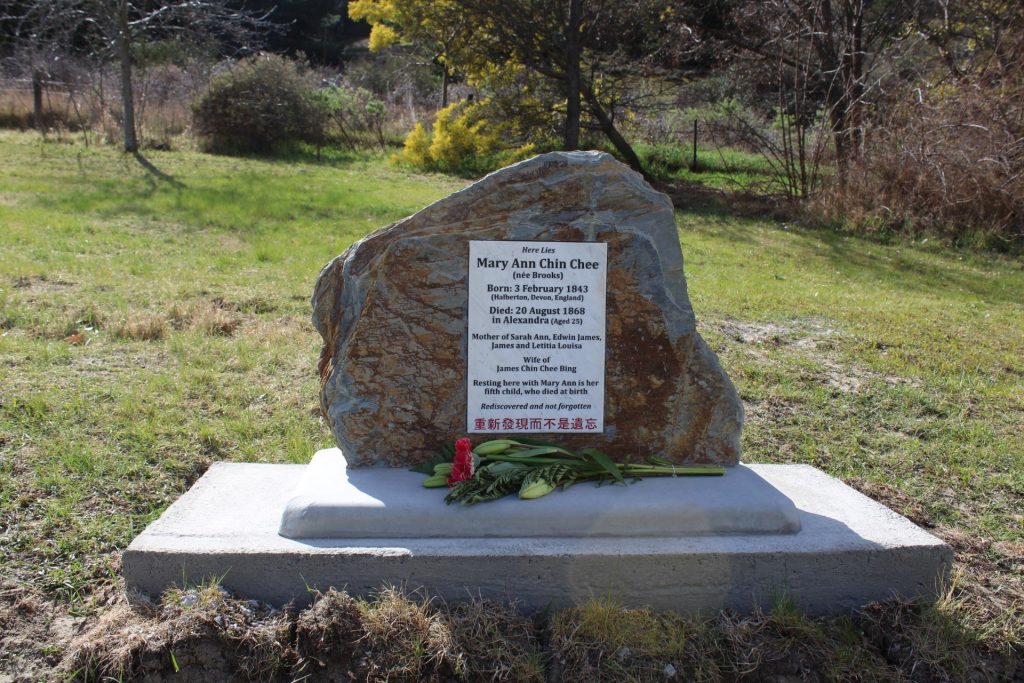 During the journey 23 children and four women died of scurvy and whooping cough. The ship, and most of the passengers, was quarantined for a further six weeks in Geelong.
In 1856 Mary Ann's youngest sibling was born. Just four years later the birth of a daughter to Mary Ann, then 18, and her marriage shortly afterwards to Chinese merchant-lodging housekeeper James Chin Chee, were recorded. The baby, Sarah, would become Mr Mitchell's great-grandmother. Over the next five years Mary Ann would have three more children, with only a daughter surviving.
The Chin Chees and two daughters emigrated to the Central Otago goldfields in 1867. James was a storekeeper and boarding house operator and also worked as an interpreter. He also appeared in reports in the newspapers of the time selling illegal grog to the Nevis Hotel and fundraising in the Chinese community for Dunstan Hospital.
On August 20, 1868, Mary Ann died two days after her son, whose cause of death was recorded as ''premature birth''. The baby was buried with her. She was 25, had lost three sons and left two daughters, Sarah, 8, and Letitia, 3.
The two girls were taken in by European families in the district.
At the ceremony Mr Mitchell thanked Central Otago District Council parks and recreation administration officer Judith Whyte for confirming the grave's exact location, Central Monuments' Paul Hodge for finding suitable schist rock for the headstone and Adrienne Shaw, who had worked with the Lawrence Chinese Graves historic area and became a strong advocate for the Chin Chee project.
The research had given him a sense of getting to know his ancestors, Mr Mitchell said.
''They are our tupuna, they are part of our whakapapa. Rediscovered and not forgotten.''