A ''legend'' was farewelled last week as he had lived . . . surrounded by horses and people who loved him.
Blakie Moore (85) may have been Robert John on his birth certificate, but he was born into a family of 13 renowned for nicknames and was always known as Blakie.
He was a man of the land with a lifelong passion for horses.
A founding member of the Millers Flat rodeo club, in 2015 Mr Moore told Stuff he had only missed one of the club's Boxing Day events, and that was because he had a horse racing in Invercargill that day.
He had even opted out of a family holiday to Australia that would have meant being out of town on rodeo day.
The Otago Goldfields Cavalcade was another event he rarely missed, having completed more than 25 of them, according to daughter Yvonne Hoskins.
Former cavalcade coordinator Roberta Laraman said she had known Mr Moore since childhood when they both lived in Roxburgh.
He was one of the old cavalcaders, she said.
''They were tough guys.''
At this year's cavalcade, which finished in Millers Flat, Mr Moore, who was living in a Cromwell rest-home, rode on a wagon in the grand parade.
''He was really brassed off about having to go home,'' Mrs Laraman said.
On an earlier cavalcade, when Mr Moore was in care, one of the trails passed near where he was living, and he was taken to see the trail pass.
''He sat on the hill in a big chair way, way in the backblocks. It was very emotional . . .I don't think there was a dry eye,'' she said.
A gentle man and kind, he took many people out riding in the hills above Millers Flat.
They would meet at Mouse Lodge, a hut on the side of the hill, and head off, she said.
''He was very much a horseman and a legend.''
A man of his time, Mr Moore had worked for the rabbit board, as a musterer and as a shearer for nearly 50 years.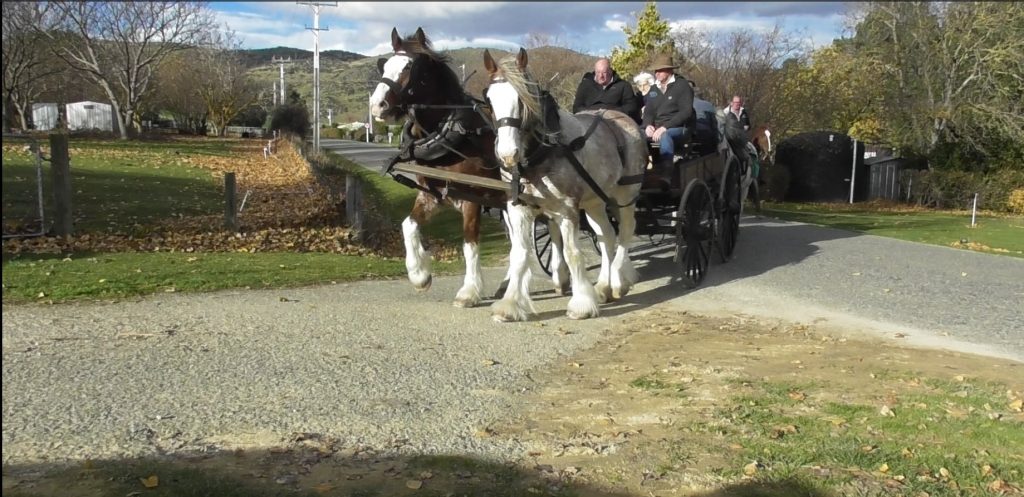 Mrs Hoskins said he featured on an episode of Country Calendar about 16 years ago where he was asked at what age a child should be introduced to riding.
He turned and picked up his then 3-month-old granddaughter Amelia and said ''this is about right'', she said.
Appropriately, Mr Moore's funeral was held at the Roxburgh racecourse. His funeral notice summed up his personality as it said, ''Everybody is welcome, come as you are. Feel free to bring your horse''.
From the racecourse Mr Moore was carried to the Roxburgh cemetery on a horse and wagon with his wife Alice and surviving siblings, driven by son Stu.
His other children followed on horseback.
Mrs Hoskins said her father always said he had nine children, although two of them had been stillborn.
''They can have him with them now until we get there.''
Mr Moore also leaves 24 grandchildren, 48 greatgrandchildren and six greatgreat-grandchildren.