The Ryan family has been part of the fabric of the Alexandra community for almost 40 years, growing as the region grows.
With three generations of ownership and a fourth now working in store, the family has been integral to building the supermarket to become a hub of the community. Peter and Mavis Ryan owned Ryan's Four Square in Centennial Avenue before opening Alexandra New World, in its current location, with their son Kevin on November 13, 1984.
The store now employs over 150 part and full-time staff working at any one time.
Kevin and wife Marlene took over the company from his parents and, in turn, their son Shane and his wife Helen purchased from them. A fourth generation now works in the family business, with Harry (15) and Alia (14) working across multiple departments. Shane said the supermarket is about more than providing the best fresh and grocery items with a focus on local products.
"It's about the connections it provides our locals — a catch-up in the aisles or checkout, a weekly connection with regular local staff, a quick grocery grab on the way to school drop-off, or picking up stuff for the barbecue for those holidaymakers we love to welcome to Alex when they pop by.
"As 100% owners as of earlier this year, we have committed to continuing the generational path on behalf of our family, as we know this supermarket offers so much inside and outside its doors. The success of our supermarket has been the staff that have helped us along the way. Our staff too have had their families work with us, and our team has been intrinsic to how we run our business and the role we play in the community."
Helen said at New World, they believed in giving back.
"We're a business that's run by locals, for locals, and that means we support everything local — and we know our customers do too. The value of community support and giving back underpins our business and we bring this into our family life too. Both Shane and I volunteer in many different ways in our community. People, whether our staff or our customers, are the most important part of our focus."
THE FAMILY
As Shane Ryan did before them, and his father before him,the Ryan children have grown up with Alexandra New World as a part of their life and their community. Like many of their schoolmates, Harry (15) and Alia (14) work shifts in the supermarket, learning confidence, people skills and self-sufficiency as they earn.
All the children, including Tommy (8), Alfie (6) and Freddie (11) are not only important parts of the Ryan legacy, but the Alexandra New World is part of their lives as much as the family is part of the town's fabric.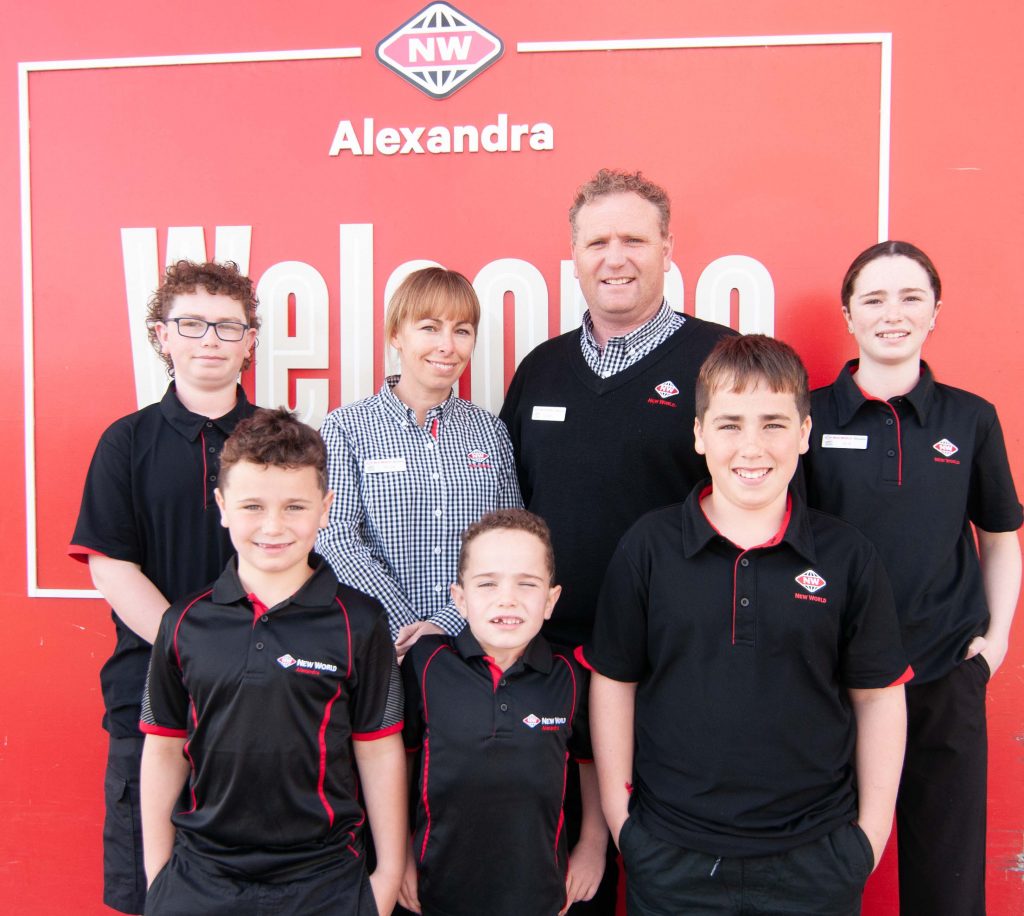 STORE MANAGER
Store Manager Brett Wilson began working for Alexandra New World 22 years ago, starting while still studying at high school, as many of the staff do.
Known to staff and many customers as "Ted", for his gentle nature, Brett served his apprenticeship in the butchery department and worked his way up to being butchery manager, before taking the store manager role in August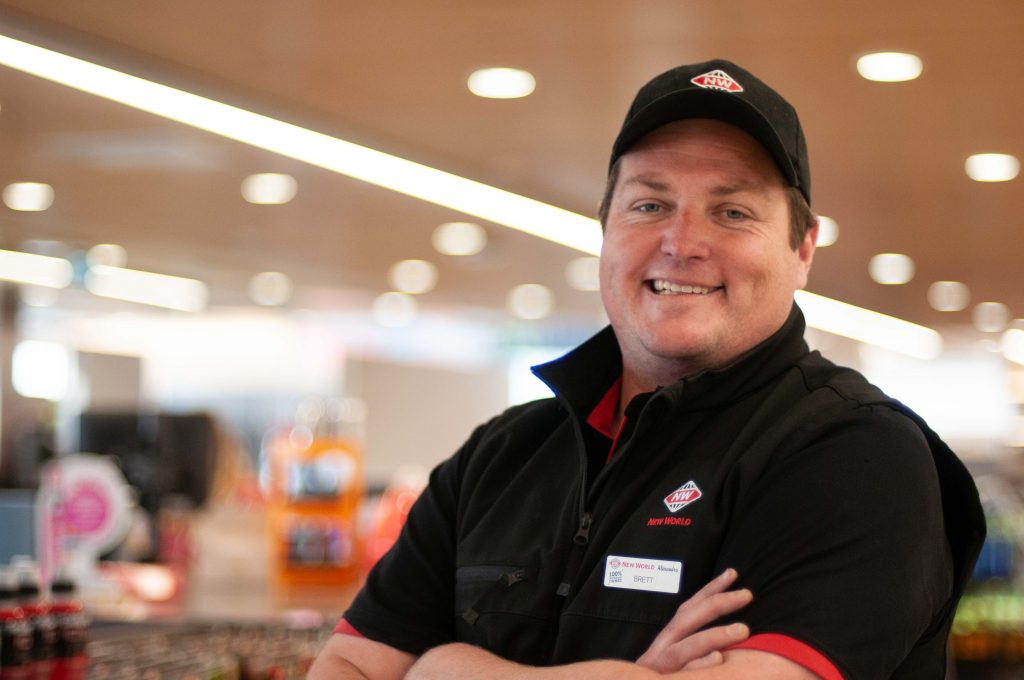 BUTCHERY
Thomas Ramage was recently promoted to Butchery Manager, and also learned his trade on the job during the decade he has worked with Alexandra New World.
Store manager Brett said the butchery and bakery are good places for staff to learn valuable skills through apprenticeships, as he did as a young boy and Thomas has done after him, stepping into the Butchery manager's role when Brett moved up to the Store Manager role.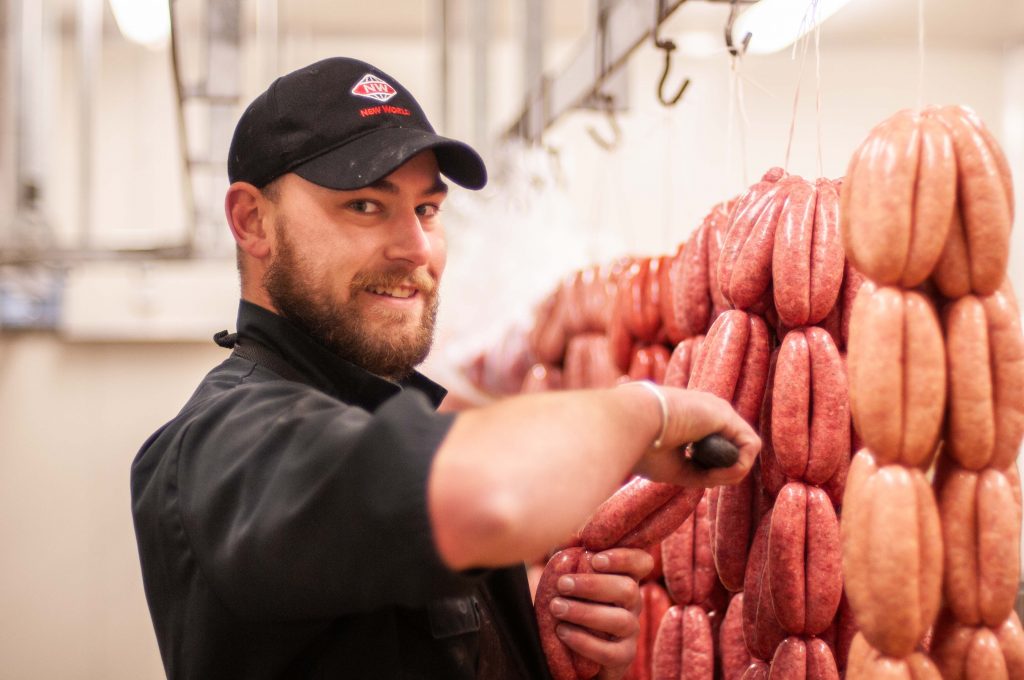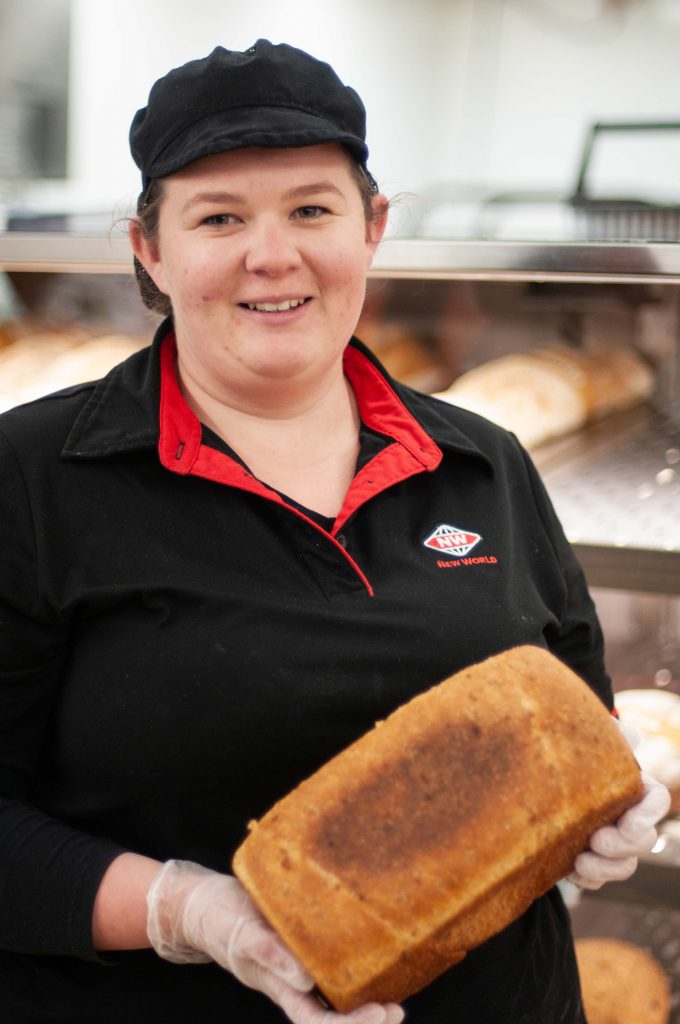 BAKERY
Bakery Manager Courtney Spence took over her new role after maternity leave, and son Carson (10 months) is a familiar face for the New World team, often coming to work with mum in a front pack or pushchair.
Courtney said Shane and Helen "are really accommodating and family friendly" and that flexibility had been a big attraction for her of working with them.
PRODUCE
Haans Biemond of Biemond Market Gardens has provided produce to the Ryan family from before Alexandra New World opened, delivering to current owner Shane's grandparents at their Four Square premises.
Haans' son Tony works with him in the business and he has grandson Walter Horrell (6) helping him transport fresh locally grown vegetables during a recent school holiday delivery.
"We have nine grandkids so we can pick and choose who helps," he joked.
Produce manager Donna-Maree Hall said Haans delivers six days a week to keep up with demand.
Donna-Maree's four children have all worked for Alexandra New World, starting at school age to earn pocket money.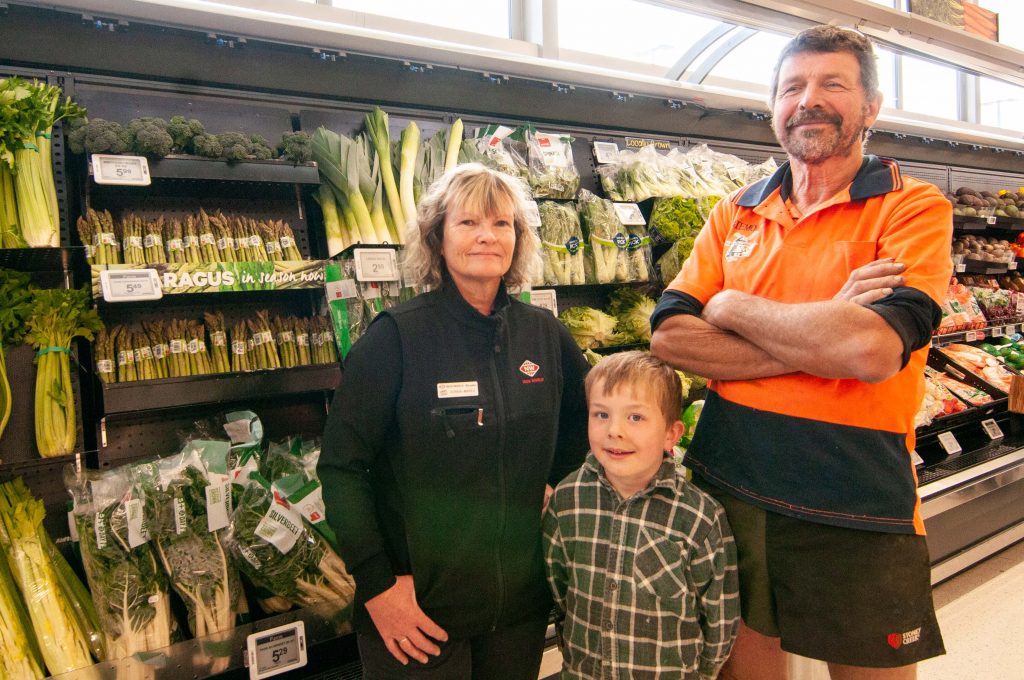 ONLINE
From left Lou Wrigley, Sharee Lietze, Sammy McLeod, Virginia Pine and Janine Nevill are part of the team handling Click and Collect and delivery services. The options have been available at Alexandra New World since June and proved popular with customers, the team reports.
Customer service is as much as priority for delivery services as it is in store, and both services have quickly gained return customers.
"We have a very good regular client base that we see every week,'' team member Sharee said.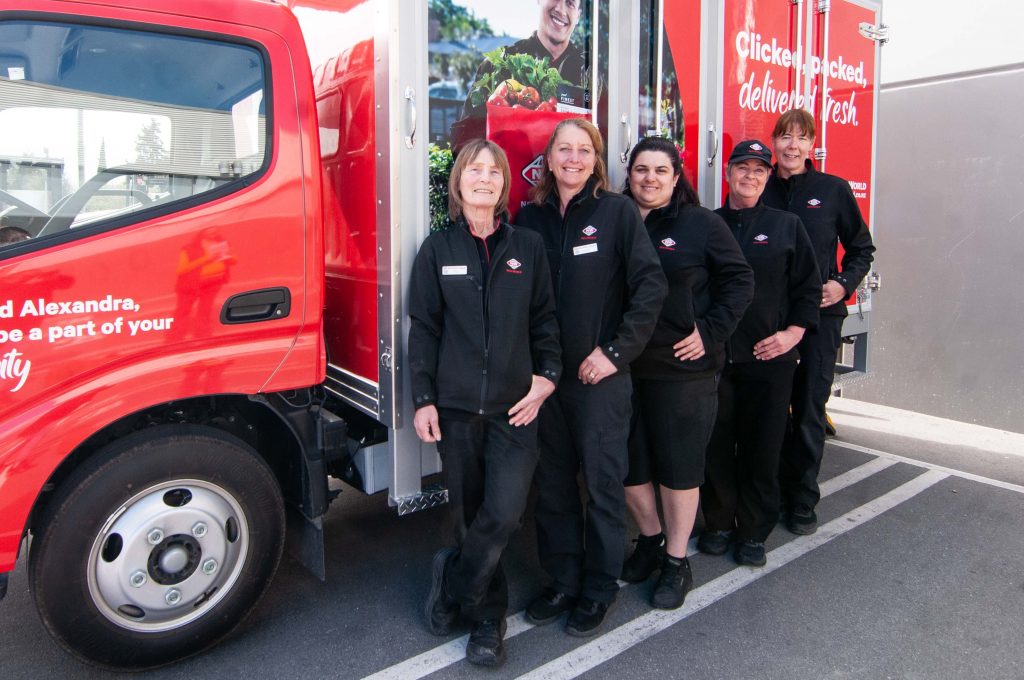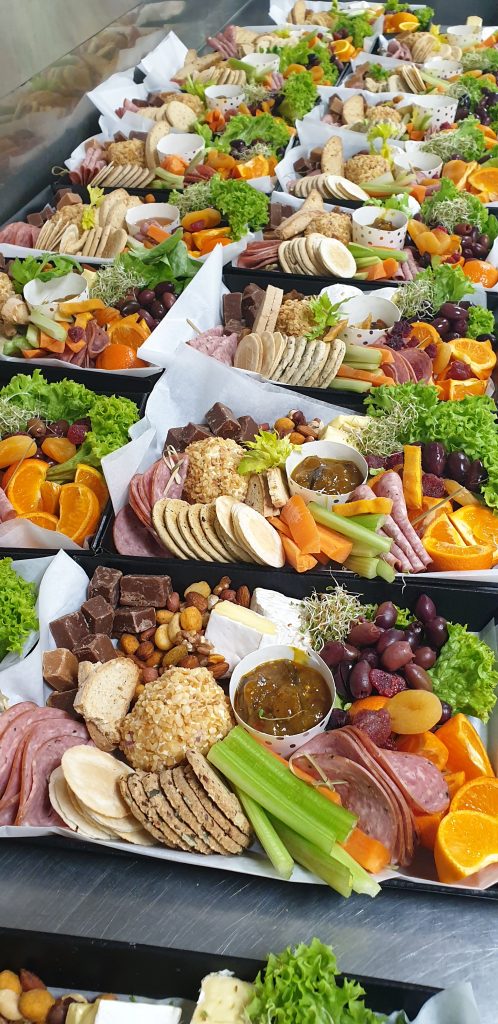 CATERING
Catering Manager and Food Specialist Jo Robinson is a qualified chef, who learned her trade at Central Otago food haven Olivers, before catering on film sets and events.
She joined Alexandra New World about 16 years ago and relishes the creativity she has with the supermarket's recipe shelf, Simply Dinner bags, catering and the deli department.
Like many other New World employees, two of Jo's children have also worked for the supermarket.
NEW WORLD ALEXANDRA
89 Centennial Ave, Alexandra
Phone: 03 448 6955
SUMMER HOURS
Summer Opening Hours starting Monday November the 7th we will be open one hour later 7am-9pm.
Hours:
Monday……………………………………………7am–8pm
Tuesday……………………………………………7am–8pm
Wednesday………………………………………7am–8pm
Thursday………………………………………….7am–8pm
Friday………………………………………………7am–8pm
Saturday……………………………………….. 7am–8pm
Sunday…………………………………………….7am–8pm