Older New Zealanders shared a belief that the country was a land of milk, meat and honey, where a mostly temperate climate and lush fields led to an abundance of inexpensive food.
Yet a 2021 report published in the European Journal of Clinical Nutrition stated that New Zealand farms produce enough high-quality food to feed more than 30 million people a year, but many New Zealanders — especially disabled and Maori and Pasifika families — do not have sufficient nutritionally rich foods for their health and wellbeing.
The report concluded that a high prevalence of food insecurity and obesity could be partially attributed to a disconnect between the quantity, nutritional quality and diversity of foods imported and exported.
How did we come to this in a land of plenty? How did a block of cheese and fresh greens become luxury items, and a land renowned globally for its meat, dairy, seafood and produce become one where many New Zealanders can no longer afford to eat those items?
How did we reach a situation where the price per kilogram of broccoli has increased by 33.1% in the past year while the price of a 150g bag of potato chips has fallen by 1.5% (Stats NZ Sept 2022)?
In this series, we aim to look at the issues of food security and food poverty in Aotearoa New Zealand, talking with a range of stakeholders throughout the industry and those involved in producing, distributing and consuming those products.
This week, reporter TRACIE BARRETT talks to those manning the ambulances at the bottom of the cliff — workers in the charitable organisations and not-for profit groups striving to keep our residents not only fed, but fed well.
Providers of food help in Alexandra are often the last point of call.
Salvation Army Alexandra Corps Officer Captain Logan Bathurst said it often takes people hitting rock bottom to reach out for help.
''Pride and feelings of shame tie into that. It's a good Kiwi attitude of, 'Get on with it'.''
That sense of being responsible for not making ends meet predominates, despite a 2021 Salvation Army Social Policy and Parliamentary Unit report stating a massive surge in food deprivation and food parcel distribution.
Stats New Zealand reported this month that food prices were 8.3% higher in September 2022 than a year earlier.
Capt Bathurst said food security is simply having enough food.
''We like to also talk about food sovereignty, which isn't just about having enough food, but having a choice in what food you access,'' Capt Bathurst said.
''Food sovereignty is our ultimate goal. It means that people have the ability to choose what food they access, where they access it from, and that gives them a sense of total sovereignty over their food intake.''
In line with that, the Combined Churches Food Bank, which operates out of the Salvation Army Headquarters in Royal St, has changed from handing out food parcels to inviting whanau to shop the food pantry as they would a market.
''They get a number of points based on the size of their whanau and every food item has a point value,'' Capt Bathurst said.
''They can come and choose. It is up to them and what suits them and their families.
Part of the change is aligning with a programme called Kore Hiakai Zero Hunger Collective.
''They did some work to identify what does good nutrition look like in terms of food and how do food banks, like ourselves, provide enough nutrition to the individuals and the families we are working with.
''We are trying to include a lot more fresh food and veges, all year round, not just from our garden, but also in terms of quantity.
''One of the bonuses of our social supermarket model is that when families come in and shop for their food, they have someone supporting them. They can then talk about the types of food they are choosing and not choosing, and offer some suggestions about how to use that food.
''We're not dictating what food the people choose, but we are offering that advice to expand their food horizons.''
The Salvation Army is also involved with a new initiative in Alexandra, the Paataka Kai or food cupboard. The first is open at the Royal St headquarters and a second is planned for the corner of Clutha and Ashworth Sts, in partnership with Uruuruwhenua Health and Able Minds Alexandra.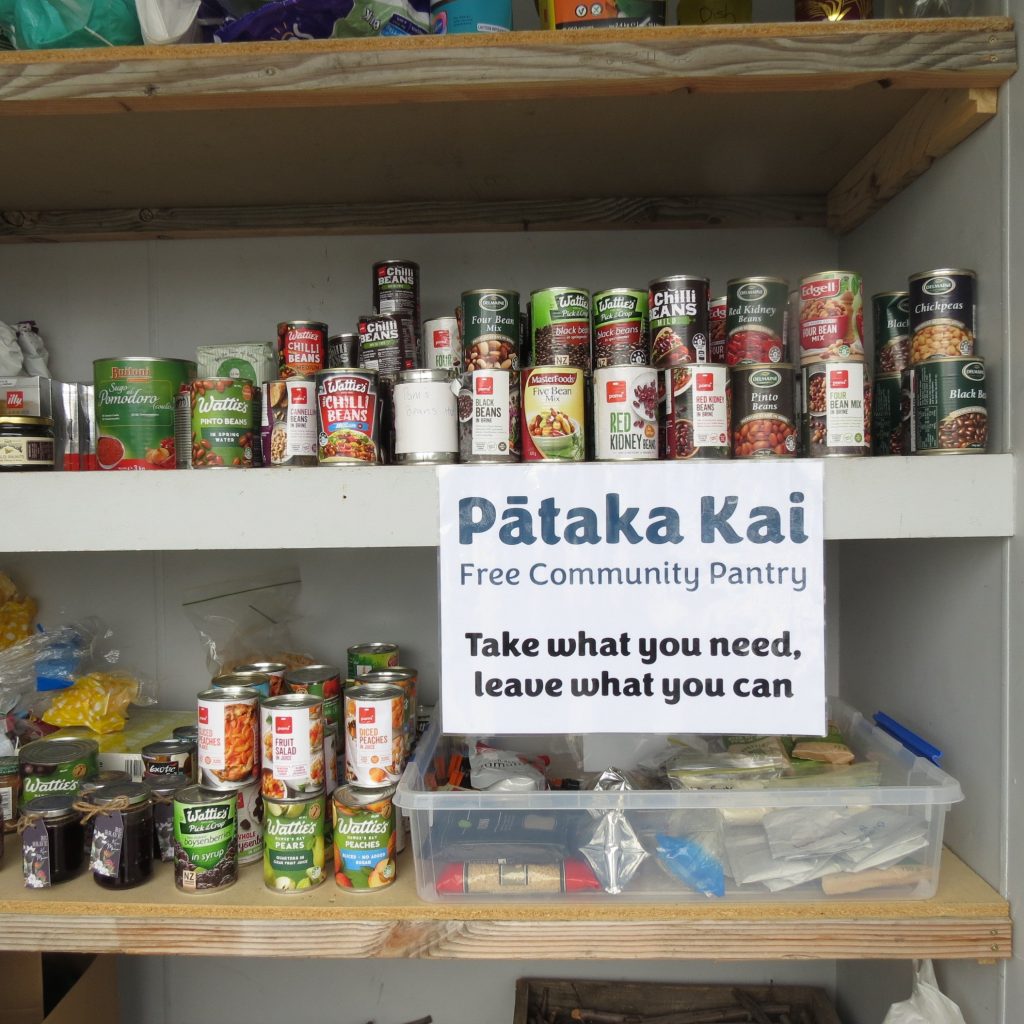 The Paataka Kai runs on a similar model to the Little Lilliput Libraries, Capt Bathurst explained, where users take what they need and leave what they can.
The team at Uruuruwhenua Health also sees people at rock bottom, and more of them.
Whanau ora (family health) navigator Rachel Petrie said they are often the last option, when people have exhausted all others.
The health provider tries to address problems in a holistic way, not only offering short-term help but endeavouring to help people become more selfsufficient.
Koanga kai kaimahi Karen Beazley, whose job title translates contextually to a guide for food self-sufficiency, walks the talk she offers others. As a single mother of four, Miss Beazley said there was little waste in her food budget, as most perishables were used or repurposed within three days.
Jessica Nichol is a young single mother of two who wants to feed her children well to support their physical and mental health. She has barriers not experienced by those who can buy larger, therefore less expensive, basic provisions.
''I buy as we need and that creates barriers,'' she said. ''You don't want to waste but it makes cooking things more restrictive and it takes more time.
''I have the ability [to cook] but not the time or the space. It all combines.''
Uruuruwhenua Health also wants to work with schools and community groups to teach basic cooking skills, Mrs Petrie said.
Education and community involvement also drives Able Minds Alexandra activities centre co-ordinator Claire Scherp. She said Paataka Kai can help people who need help, if only occasionally, but may be too proud to approach a food bank.
''The middle income bracket is struggling at the moment, and they might just want something to tide them over.''
The Able Minds clients are people experiencing mental illnesses and addiction, and children affected by those issues. They can become part of the greater community by learning to prepare foods that may be shared with others, Miss Scherp said.
''The group is learning skills and connecting with the community by putting food into the Paataki Kai.''
''We have an older population here who have an incredible knowledge about gardening, or growing veges, or preserving fruit, that they don't get a chance to share.''