The first stage of construction for Lake Hawea's new supermarket was marked with a bright blue spade last week.
The spade — custom-painted for the occasion — was used by siblings Luke, 10, and Lyndsay Macleod, 7, and FreshChoice business partner Jeremy Samuels to turn the first sod of dirt for FreshChoice Lake Hawea.
The act kicked off the construction phase of the new development situated between Parry Cres and Bodkin St.
Developer and Project H Ltd director Ray Macleod said since his son and daughter-inlaw bought the land in 2004 it had always been on his mind to build a decent shopping facility in the town.
''So it took 19 years but in reality I think I contacted [Woolworths] in 2019 and said 'we're going to build in Ha ¯wea'.
''When we first came here I think there was 350 people living here — it's way past time we had some investment in some community facilities,'' he said.
While it was a commercial investment, the Hawea landowner said he was excited for the project to also be an investment in the community in terms of providing a much needed service for the town.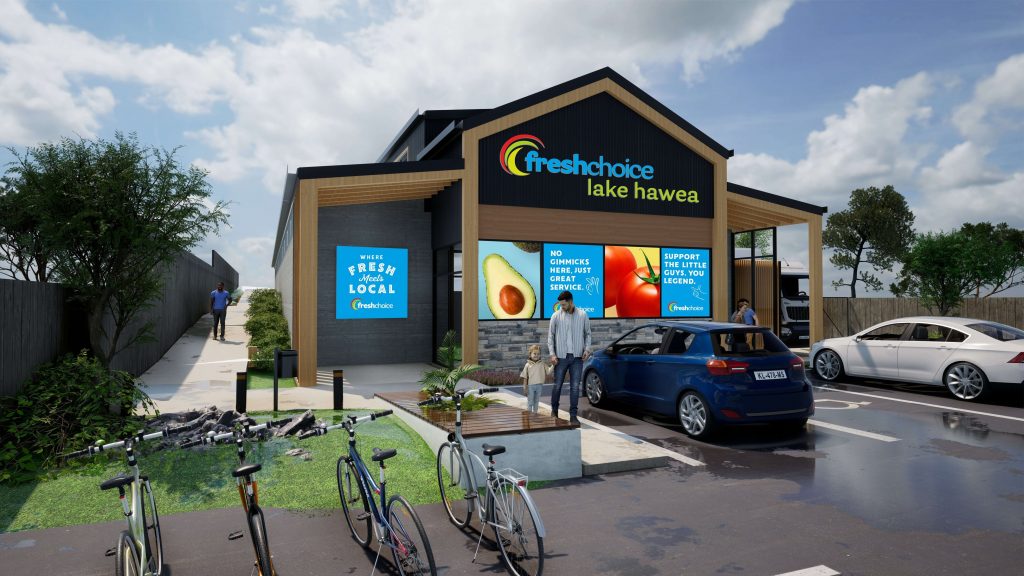 ''To be honest, we had our highs and lows.
''If you could quote me I'd say it went from a dream to a nightmare to reality, but it was always a job worth doing because it had a purpose in terms of a community need,'' he said.
''I'm an economist, I sat down and worked out we'll probably save, as a community, 200,000 litres of petrol a year by not having to go to Wanaka, so there was just little things like that and you go well, this is benefiting my neighbours and everyone around me.''
The development was a significant investment in the confidence of the local community but the success would be in delivering a service it wanted, he said.
''You can build the building, but if you don't actually deliver properly you are in trouble.''
FreshChoice comes under the umbrella of Woolworths New Zealand and Mr Samuels said it was an important day for the supermarket chain.
''We see an opportunity here to serve locals, give them an offer of groceries, produce, meat etc and help keep that local business alive, keep them in their local community and give them everything to help give them some time back with their family.''
While the supermarket was still in planning stages in respect to physical size, it would carry an extensive range of 10,000 product lines.
It is anticipated the new store will open in September next year.