Shovels have hit the ground in Bendigo, marking the beginning of what could be a 20-year project to restore the wetland at the head of Lake Dunstan.
Volunteers from the Cromwell Youth Trust (CYT) joined Fish & Game staff at the 158ha Bendigo Wildlife Reserve, north of Cromwell, last Friday, where they planted 300 native plants.
Field officer for Otago Fish & Game Council, Ben Sowry, said he hoped the project would enhance the waterfowl population.
''The main priority of the reserve is to provide people the opportunity to collect mahinga kai (traditional food resources),'' Mr Sowry said.
Despite the reserve being created in 1994, this was the first work done towards restoring the wetland.
Mr Sowry described the reserve as having ''somewhat of a chequered past''.
''The area, due to years of basically being ignored, has unfortunately become quite weed-infested.
''So the objective . . .is to try and improve the habitat for waterfowl and waterfowling.''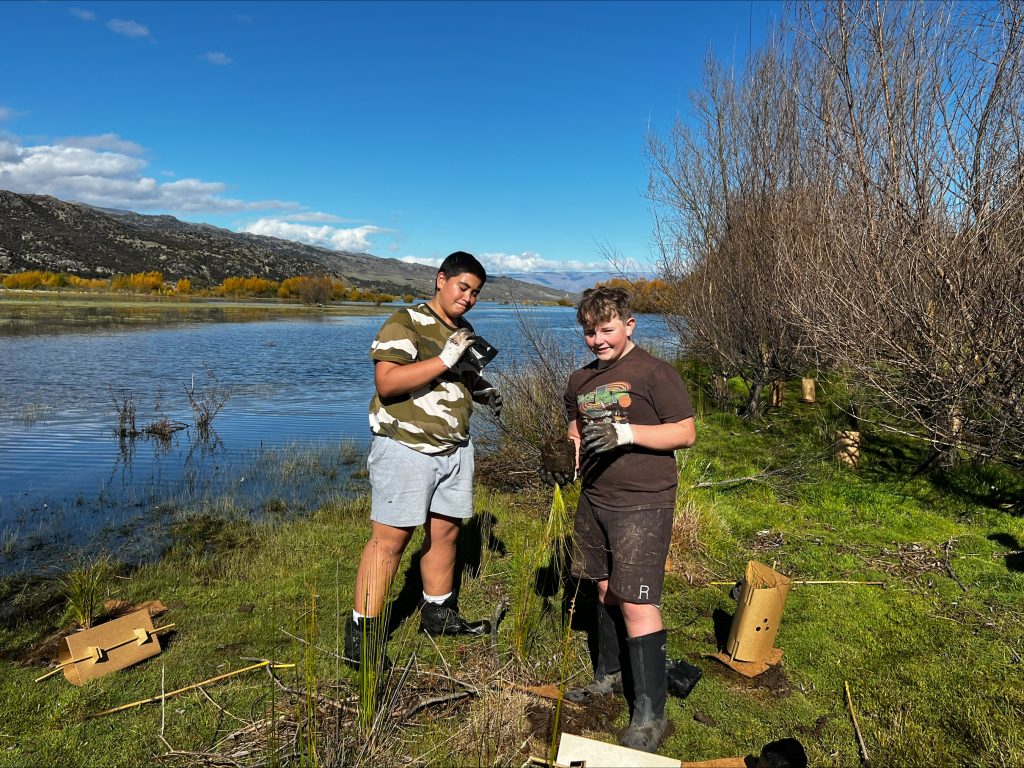 It was also hoped the project would provide a better habitat for indigenous species, he said.
Fish & Game was solely funded by licence sales for gamebird hunting and freshwater fishing, Mr Sowry said.
''The entire area and reestablishment of habitat is being funded directly by duck hunters.''
The project to restore the former wetland began about a year ago and was projected to take 10 to 20 years, Mr Sowry said.
''It's going to be a very large project, but we're just doing it one plant at a time.''
Planting of natives was just the beginning, with plans to remove invasive trees such as willow and poplar from the gravel islands at the head of Lake Dunstan.
''[The willows] destroyed a lot of the habitat for water fowl, native birds, fish and the like,'' Mr Sowry said.
''Once we've removed these willows, then we can reestablish the indigenous plants that used to flourish in this area.''
The willows also gave shelter for pests such as feral cats, which preyed on native species.
CYT volunteer, Harlem Ngaue (year 10), said planting more native trees in the area was part of the group's initiative of Mahi Aroha.
''It's doing work with no rewards, like a good deed,'' he said.
''That's basically what we're doing today.''
CYT volunteer Sofia Kimpton (year 7) said people forgot planting trees was a long-term project. ''You can't just plant [a tree] in a day and they'll grow in a year. ''You've got to plant natives and leave room for the native animals, birds and creatures.'' Cromwell Youth Trust acting manager Cody Randell said many rangatahi (young people) in Cromwell recognised the impacts of climate change within their own community.
"We believe they can do something about it too," Mr Randell said.
"As we develop programmes within the Cromwell Youth Trust, we understand the need for activities that not only give back to our community, but also aim to promote opportunities for young people to connect with positive role models that are local.''
Mahi Aroha aimed to promote service learning and volunteer projects throughout Cromwell, Mr Randell said.
The initiative was connecting young people who wanted to gain volunteer experience and support positive community engagement with organisations such as Otago Fish & Game.
"We hope we can foster whanaungatanga (kinship) and kaitiakitanga (guardianship) within our young people while guided by supportive and passionate role models.''

By Ruby Shaw, Cadet reporter