Over the month of November, Behind the Facade is exploring the topics around violence and assault. If this becomes triggering or distressing, please reach out to safe, supportive networks.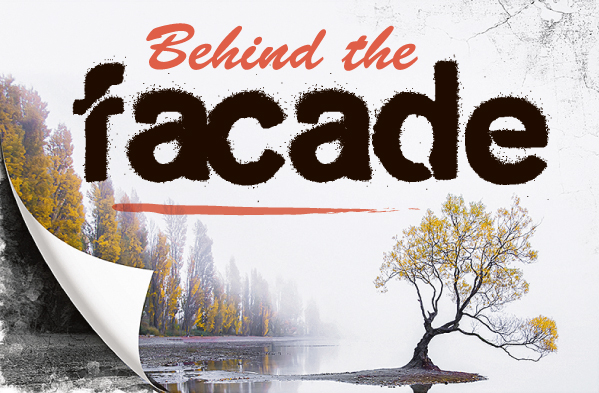 Drug and addiction counsellor Jamie Addison saw family harm and violence towards men and women throughout his early life.
"It was one of the things that was very common in my life, not knowing any better … being told to harden up, 'What are you crying about, only girls cry', 'You want something to cry about…' were the key downloads I received from male role models growing up," he said.
''Dad was hitting Mum, Uncle was hitting Aunty, Koroua was hitting Nan, everyone was hitting everyone and it was usually men hitting women.''
"Although I didn't surround myself in my own personal relationships with the real impact of hitting women, my behaviour was still violent nevertheless, and something needed to change," Mr Addison said.
In 2007 he relocated with his wife and children to the South Island and joined the Moana House programme in Dunedin.
The 12-month programme is an established residential therapeutic community for adult male offenders who want to change their lives.
It offers professional group therapy, along with work and life skills.
"As a result of that I managed to turn my life around," Mr Addison said.
One thing he needed to change was his aggressive, angry stance on the world, his antisocial personality and substance addictions.
The experience piqued Mr Addison's curiosity to explore how someone was able to sit alongside another and help direct and shape a new narrative — "which was a lot more positive as opposed to what was role modelled to me all my younger life'', he said.
Since 2008, Mr Addison has undertaken 10 years of study with a variety of qualifications, including degrees in addiction counselling, social work, and a master's degree in professional practice based on cultural framework development in a men's prison.
He now worked with people struggling with addiction and trauma throughout Central Otago, Southland, and the wider Dunedin area.
He said 80-90% of those he worked with had suffered from family harm and violence against them or had witnessed it in their own homes.
''The violence we see and hear in this country is the worst in any country in the world,'' he said.
"If we, as males with lived experience, and males who might not have been violent, but [have] been around it, get together and in our own ways have conversations about being respectful and what that means, and what healthy masculinity is and defining it in a way they understand it . . . the more we have conversations in the open like this, the more it will start gaining traction," he said.
''It also comes back to condoning conversations we see like 'our boys will be boys', and saying, actually that's not true … this is what we need to start talking about,'' he said.
Mr Addison described the difference between toxic masculinity and healthy masculinity through examples of common conversations.
"If I'm with a group of men and they go, 'Look at her, she looks good, she wants it, she wants us' . .. that's toxic, that type of conversation that men can have," he said.
''Healthy masculinity is 'Look at that beautiful wahine, I can't wait to get home and see my wife, I might cook tea for my wife tonight' — those types of things.''
There was a clear difference between the two approaches, Mr Addison said.
''If you are in a conversation or in a group of men talking like that, respectfully [challenge] it and [say] 'How would you like it, if that was your daughter' or 'Can you imagine if that was your daughter men were talking about, how would that make you feel'.''
"You can have those conversations in a way that is not confronting . . . sometimes we just have to stand up for the rights and values of those that are not actually hearing what's being said, and change the narrative," Mr Addison said.
He will join several others in the lower North Island this week as part of the White Ribbon Ride NZ.
Tomorrow is White Ribbon Day, when people wear a white ribbon to show they do not condone violence towards women.
HELP AT HAND
Central Lakes Family Services: Social work services for vulnerable families, children and individuals – 0508 440 225
Anglican Family Care: Support across Otago for children, expectant mothers, parents and families – 03 443 6623 (Central Otago office)
Presbyterian Support Otago, Family Works: Social services supprting individuals, families, young people and children in need – 03 477 7116