It might not be fast, but turning fruit into alcohol is worth the wait, says a Roxburgh orchardist.
Fairview Orchard co-owner Jered Tate has launched Up a Tree Distillery, which produces a range of fruit-based schnapps and liqueurs created from fruit grown on their orchards.
His first season at Fairview was challenging and a steep learning curve, Mr Tate said.
Apricots were Fairview's biggest crop.
''It was so hot we couldn't get them off quick enough.''
Waste fruit bothered him, whether from birds sneaking in through netting and helping themselves or the orchard's retail shop leftovers.
He was keen to spend more time distilling, which up until then had been a hobby.
Before making the move with partner Jodi Gillam-Taylor to the Teviot Valley in 2015, he had experimented with making schnapps after being given a large amount of strawberries.
A way to blend his love of growing food and making alcohol was beginning to seem like the way forward.
Covid motivated him to ramp up his plans.
He knew having large volumes of fruit to move during lockdowns could spell financial disaster.
Turning the fruit into alcohol took time, but he used fruit that would have otherwise been wasted.
With two orchards — they also own a 3ha cherry orchard across the road from Fairview — and two young daughters Kayla (3) and Ava (9 months), life was busy, but Mr Tate and Miss Gillam-Taylor were unphased.
''My biggest problem is I can't do just one thing,'' he said.
Arriving in the Teviot Valley with a city boy's dream of growing fruit and vegetables was a huge lifestyle change, but the writing had been on the wall for some time.
In Auckland, where he managed tyre shops, he turned his 800sq m into a vegetable garden.
''I wanted to own a shop and sell produce of all types.''
They knew selling alcohol at their fruit shop would involve a complex licensing process, but they could now offer tastings on site.
Starting with schnapps, inspired by the plum›based slivovitz enjoyed by Czech backpackers who worked for him, the range now included liqueurs and a single barrel of whisky.
''I desperately want to make whisky and bourbon, but I own an orchard.''
Bourbon was going to be exciting.
With whisky, there were only so many barley varieties that would grow well in New Zealand, which restricted the end result.
Bourbon, made from a variety of grains, was an opportunity to be more creative by playing with the ratios of wheat, rye, barley and corn.
''I'm more excited to play with the flavours.''
Fairview Orchard was on the market and the family had bought 10ha further down the road.
A bigger facility was planned for that block where the focus would be on expanding their range and distilling what they grew, Mr Tate said.
How liqueurs and spirits are made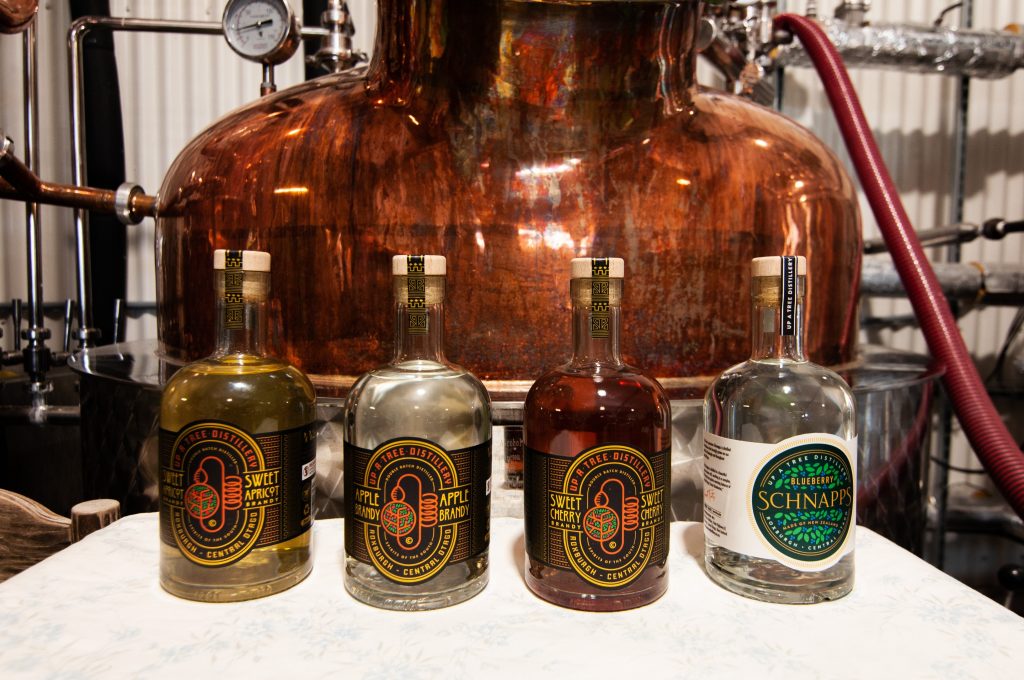 Up a Tree distillery's schnapps and liqueurs are made from a fruit wine base made on site.
Most other New Zealand products were grain spirit based, Jered Tate said.
For the schnapps, fruit pulp is fermented for about a month.
Pacific Queen apples are used for the base spirit for the liqueurs because of their high sugar content.
The fruit wine is distilled and then sampled by Mr Tate to decide if it is ready for the next stage or if it needed to be redistilled.
''You need a clean palate and can't be drunk,'' he laughed.
He often did the tasting in the evening after work was finished for the day.
The liqueur is made from the resulting distillate to which the ripest, sweetest fruit they had was added.
It is left to infuse for three to four months before being bottled.
It will be a further six months to a year before it is used.
Schnapps flavours include plum, such as the Czech slivovitz, apricot, nectarine, cherry, blueberry and a cherry berry combination.
With the exception of the blueberries, which came from East Roxburgh, the fruit is grown at Fairview Orchard.
The distillate could be kept for long periods. Liqueur released early this month was made from two-year-old distillate.