The Tarras Andersons — PL, Andy, Kate and Spin — recently celebrated their family's 100 years in the district. Wanaka Sun editor and senior reporter Marjorie Cook discovered a couple of things they could not agree on.
ONE hundred years ago, William Lyall Anderson (known as WL or Bill) arrived at Cluden Station with his pack horse, Randy, and a spaniel dog.
WL Anderson was just 21 years old. He had come over the steep Thompson's Track but it was hard to confirm if he actually rode the horse.
''I have found photos of him with a horse, though Andy [brother] said he never rode a horse,'' Spin Lucas (nee Anderson) said.
''I remember he used to have a horse and gig. I remember going in it,'' her other brother Peter ''PL'' Anderson said.
Of Swedish and Irish descent, WL was born at the turn of the 20th century at Benhar, near Balclutha.
He spent a significant period of time in the Waipiata Sanatorium recovering from tuberculosis before venturing further into Central Otago.
At first, he led a somewhat lonesome lifestyle, camping near Cluden Stream in the station's concrete cook shop for seven years and working as a rabbiter and musterer.
WL eventually found his forever home at Tarras with his school-teacher wife, Sheila (nee Malthus), and their four children.
The Andersons are not properly known by their given names.
Peter Lyall Anderson (born in 1940) is PL, Andrew Perceval Anderson (born in 1941) is Andy, Elizabeth Kaye Anderson (born 1944) is Kate and Marion Lesley Anderson (born 1946) is Spin.
A memories book produced by the family a few years ago is packed with anecdotal history, newspaper clippings and photos. It includes the tale of WL's father, Andrew Anderson of Sweden, who arrived in New Zealand in 1886 as a 20-year-old ship worker.
He had been working at sea since the age of 10 and decided to jump ship. Eventually settling in Benhar, in later life Andrew proved difficult to entice away from his garden and bee hives.
He and his wife Annis (nee Lyall) had five sons and two daughters. WL was their second born.
When WL first arrived in the Tarras district, he started work on the Tarras irrigation race but soon got bored with that, so he left to work on his own account as a full- time rabbiter.
His brother Duncan joined him for a couple years to live at the cook shop, where WL grew carrots in a nearby garden.
WL was first in the district to get a radio and the cookshop soon became a popular gathering spot.
He also mustered for Cluden landowner Major Jenkins, which sparked WL's long interest in sheep dogs and success at dog trials.
''Cluden was a renowned place to work for, even in my day,'' PL Anderson said.
In the 1930s, WL and his brother Duncan purchased a Maori Point farm — at present it sports irrigators and cows and has been earmarked for a potential international airport development.
PL thinks WL and Duncan paid about £4000 for it but the 1930s economic slump meant they soon went broke and lost the land.
Around that time, WL and Sheila had begun their romance. They married in 1938.
PL said he did not find out for a very long time that his mother used her savings to buy their next home, anold stone cottage on 1.6ha at Tarras, near the mud brick remains of an post office and the former Tarras Arms Hotel.
They sold mutton and milk, grew tomatoes, and supplied eggs to businesses and restaurants.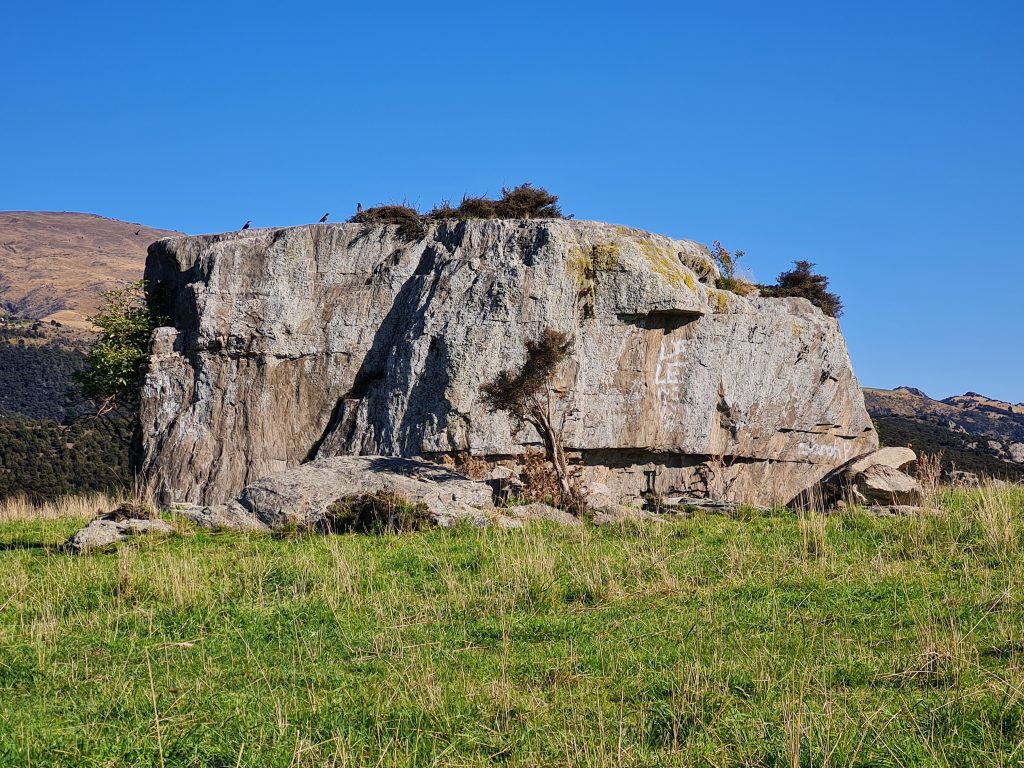 ''She was a very humble lady, very much family oriented. She was a marvellous mother, and a great worker. They both made great sacrifices to put all of us through boarding school,'' PL said.
By 1946, WL had abandoned his horse and gig and learned to learn to drive so he could do the school bus run and regular taxi runs to Cromwell.
''On Friday evenings there were a lot of rabbiters who didn't have cars who would go in to the movies. Occasionally, Andy and I were allowed to go,'' PL recalled.
''I remember going to Rock Around the Clock. After that, I tried my rock and roll moves on the steps of the Cromwell Memorial Hall,'' Spin said.
WL became known for his Sunday gatherings for single shepherds, who would gather on the lawn in front of his house for impromptu dog trials and a feed.
He would also check up on ageing rabbiters still living in the hills, who relied on him to take him places, PL said.
WL died in 1973, when he was 72. Sheila — known as ''Grandma'' by many Tarrasians— died aged 100 in 2012.
Andy Anderson — recently returned to Tarras after many years living in Australia — decided about six months ago to invite the extended family back to the Cluden Station cook shop to share memories and mark a century since WL arrived in the district.
As it turned out, Andy was ill at Easter and had to go to hospital instead (he is now out).
But many other relatives from Christchurch, Auckland and Wellington joined in for a weekend of picnics and reminiscing.
That weekend, someone picked up The Wanaka Sun, and found a story by Lake Hawea geologist Jane Forsyth about Tarras's mysterious and large boulders (see the March 31, 2023 edition, page 8).
That sparked the second moot point: which large Maori Point boulder was ''Grandma's Rock'', the place where she and Bill got engaged?
The Anderson siblings can agree Sheila had pointed out a rock to various relatives while travelling between Tarras and Wanaka.
They can agree the massive boulders are mysterious and romantic places and that their parents would have enjoyed picnics beside and admired the view.
''It could have been that one,'' Spin said, of a massive, graffitied rock on privately owned land near the turn off to Maori Point Rd.
PL disagreed. He was sure it was another one, on the road side of the farm fence, about 100m down the road.
''I was in the car with my mother and she showed me which one it was,'' he said.
''My mother was 93. We were going over to Tarras [from Wanaka] and we slowed down and she said that is where your father proposed. Me being a cheeky b….r, said 'what did you say?' And she said 'I'm not going to tell you','' PL said.
When The Wanaka Sun convened with three of the siblings (Kate was absent) to write their reunion story, it was agreed, diplomatically, ''Grandma's Rock'' would be the one Spin had nominated.
At the very least, it was a magnificent rock, of mysterious origin in a beautiful glacial landscape, and they had always wanted to be photographed beside it, Spin said.
The Otago Daily Times obtained permission from the landowner to take a photograph at the rock.