When the Wanaka Community Patrol formed in 2014, the members were anxious people
might turf blocks through their car window.
Fast forward eight years and no-one has broken the windows of their community-sponsored
car, and 95% of their public interactions have been pleasant.
The volunteers have also proven their worth as the discreet eyes and ears of the community
and police, helping provide information to prevent harm to people and local businesses.
For the first time, the patrol is stepping up this year from its regular weekend beat to support
the community through the summer shenanigans.
Between 10 am and 2am for the next three days, they'll be based at the Dinosaur Playground.
They'll also have patrollers around Wanaka on New Year's Eve.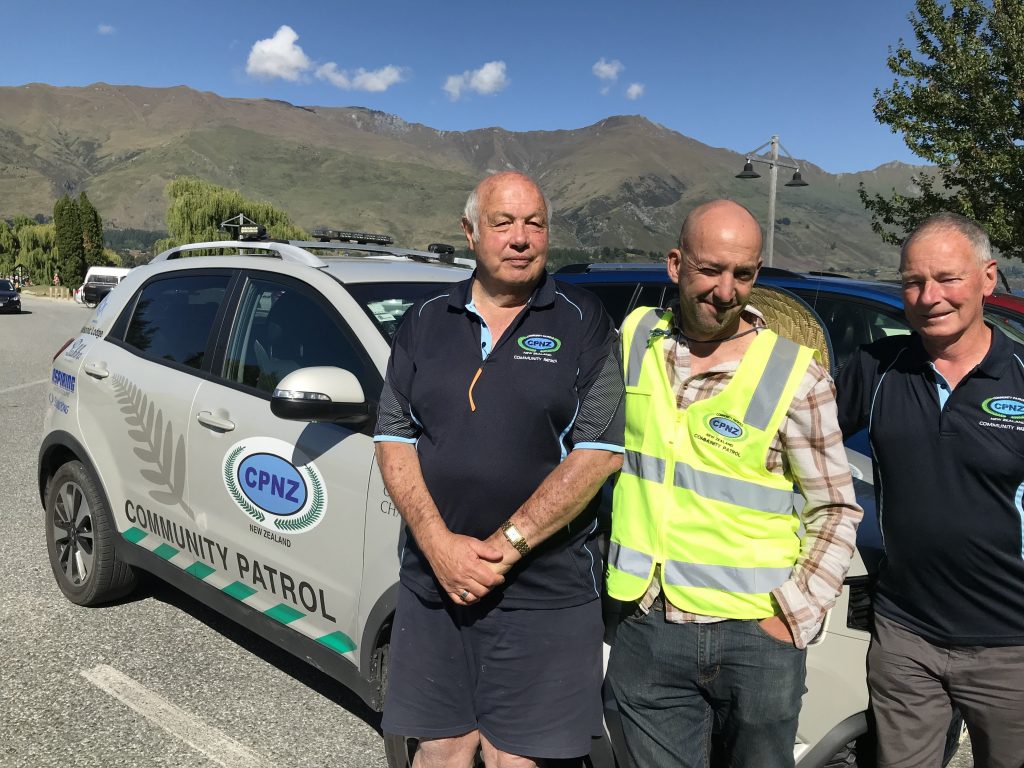 Patroller Mick Hollyer said the patrol's ethos is explained by the logo on police cars.
''Safer Communities Together. And it is the Together that says it. [Safety] is not just the police.
It is other bodies. It is everyone,'' Mr Hollyer, a retired lawyer, said.
Patrol chairman Bruce Hebbard said the police had admitted to him, sometime after the
patrol was set up, that they too were anxious – ''that they would have to babysit us''.
''But they have found out we were not getting in trouble and have been able to help,'' he said.
The patrol consists of 14 men and women who look like kindly grandparents rather than
vigilantes or Rambos.
They operate with exactly the same rights as any other citizen, and no more.
They are not allowed to arrest people, they are not enforcers and they are not a taxi service
– though from time to time they've helped vulnerable people out late at night, or helped the odd
lost and drunk visitor find their digs.
Wanaka's reputation for schoolies-style inebriation, sexual assaults and alcohol-related
harm is only recent history.
The troubles are rooted in a past where Wanaka has always been treated by some holiday-
makers as a place to get boozed.
''I remember I was here in the 60s on holiday there was no such thing as a community patrol.
They had very few policmen here. On New Year's Day one year they had to get a front-end
loader in to clear the glass from the old THC hotel. Every window, every glass door, every jug,
every glass, every glass table, everything was all smashed,'' Mr Hollyer recalled.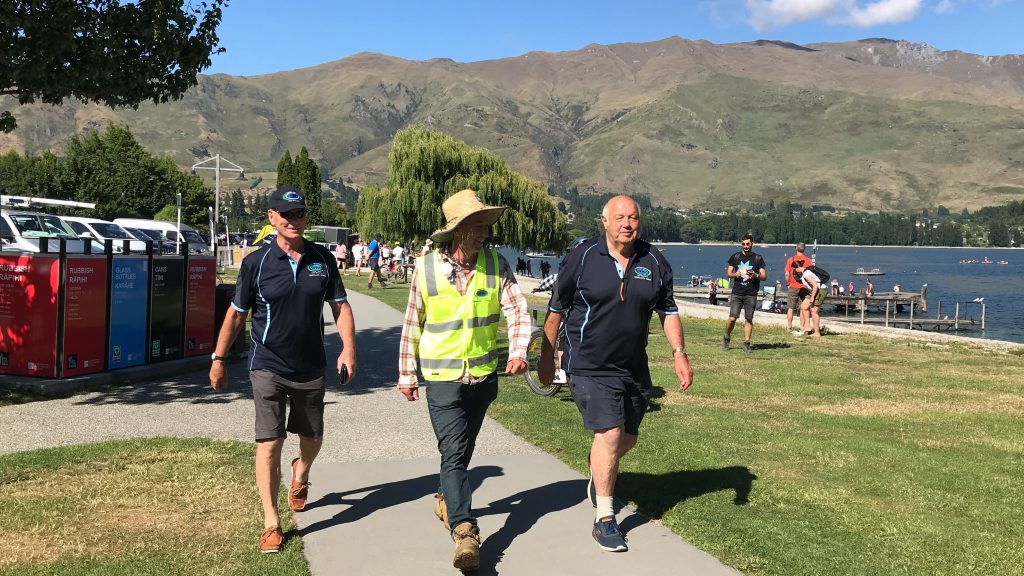 Mr Hebbard remembers those days well.
''The Raffills had holiday houses in Albert Town. They were glass people in Dunedin. They
had all the specifications for the glass for the hotel and they used to bring every [replacement]
window for the hotel up on the truck and park it at Albert Town, knowing that would happen.
They came in on New Year's Day and fitted them all.''
''One time they [the hotel] said it would be all plastic and all cans so there would be nothing
heavy to throw through the windows. But they still got broken. [The crowd] filled up the cans
with sand and still threw them through the windows.''
Mr Hebbard also remembers quieter days.
''The problems were in Queenstown. So they moved the police into Queenstown in big
numbers on New Year's Eve. All the problems then shifted here so then they had to move the
police here in big numbers.
''I remember a traffic island in the middle of [Ardmore] road here. It had roses on it. The
Lions took 2000 bottles off that one year. They were all empties.''
The patrollers like to trust their intuition. If something seems wrong, they check it.
Recently, Jim Murray checked in with a woman off a party bus who was so inebriated a taxi
driver didn't want to give her a ride.
''She was legless and with a male, so we asked who he is to her. She was obviously vulnerable
and we just wanted to make sure she understood who she was with,'' Mr Murray explained.
In another example, they found a distressed woman in a public place, which led to a police
check at her home and the potential prevention of family harm.
On one summer's night patrol, they told police about a group of people on a beach.
''The police came down, put their white lights on and we were sitting down the road a bit. You
should have seen them scatter. People were going all over the place,'' Mr Hollyer laughed.
They found out later two 14-year-olds had been taken home to parents who had not realised
their children were missing.
This New Year's Eve, they'll be keeping an eye out for drunk kids again.
''I think the fundamental prob is preloading. You can see these kids coming into town and
they have been drinking at home or at other people's places. They are drinking on the way into
town, and they are already well over the limit,'' Mr Hollyer said.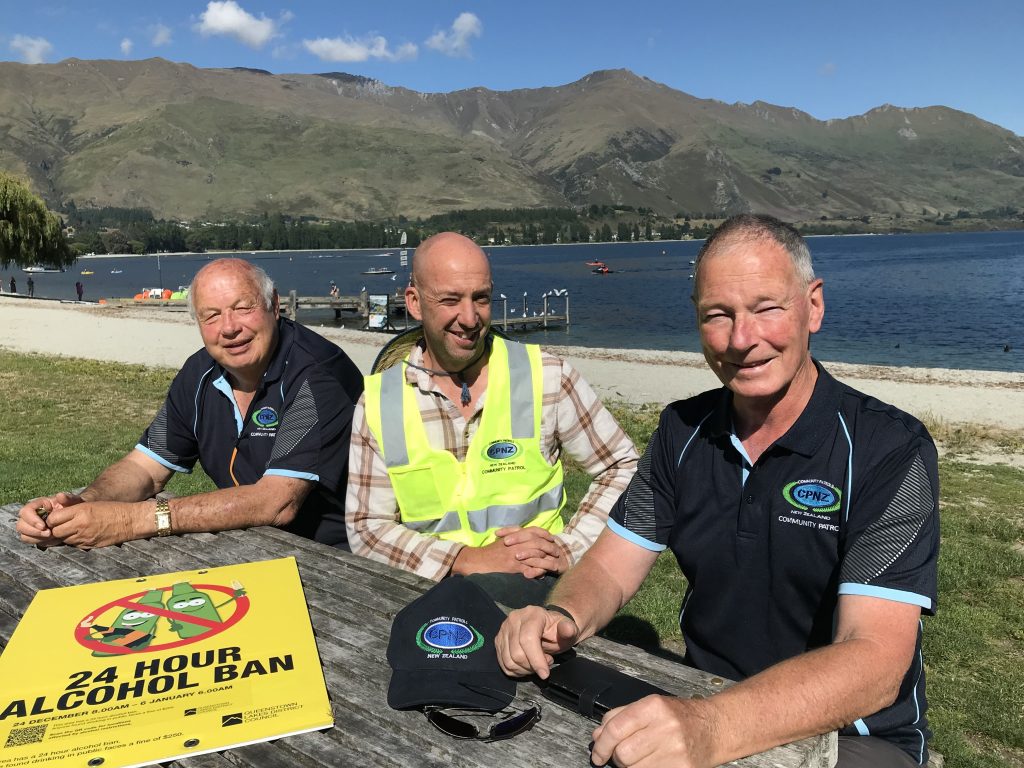 And while the patrollers will be doing their best to remove opportunities for people to take
advantage of the drunk and vulnerable, their message to revellers is to stay with mates and if
someone goes missing, look for them.
Ultimately, people should look in the mirror, Mr Hebbard said, because who they see there
is the person responsible for their safety.
The Wanaka Community Patrol liaises with Wanaka community Constable Deane Harbison.
Wanaka Snr Sgt Chris Brooks said the Wanaka Community Patrol and Lions set up in the
Dinosaur Park and the Red Frogs youth support volunteers would be very important for the
police this year.
''The whole purpose is to try and engage the community in the event.''
''We asked them to help. It is getting there. I would like to see more community groups
involved and fewer police involved. If you have to put 40 or 50 officers to an event it suggests
there is a problem. I think the ratio is wrong . . . the more the community is involved the better
the event will be.'