There was no visible blood but there was plenty of sweat and a few tears when a family kayaking team arrived at Dunstan Arm late on Sunday morning.
Clyde resident and Clyde and Districts Lions Club member James Whyte, along with his daughter Shannon Thomson and two grandsons Asher Thomson (16) and Jimmy Whyte (16), kayaked from Cromwell to the Clyde Dam to raise money for the national Row for Life campaign, which would support four charities, including one dear to Mr Whyte's heart.
After spending more than five hours on the water, into a head wind, Mr Whyte became emotional as he talked about the importance of the Lions melanoma skin check bus, the charity he was raising money for.
''Had a piece out of there about three months ago,'' he said indicating his upper arm.
That piece was another melanoma he had removed, this one into the muscle in his arm. The retired farmer has battled skin cancers, including melanoma, for decades.
In the past two years, Mr Whyte, who is 70 years old, has had about seven melanomas removed as well as other skin cancers.
Mr Whyte was passionate about ensuring everyone had access to early skin cancer detection. One of the four charities Row for Life would donate funds to was the Lions mobile skin cancer service, based on one in Western Australia which began in 1994.
The family were supported by crews from Oreti Surf Life Saving Club, who had come to Central Otago for the row, the Coast Guard and Row for Life Aotearoa organiser Ian Hamilton in the boat he planned to row the entire east coast of New Zealand, beginning at Stewart Island in December.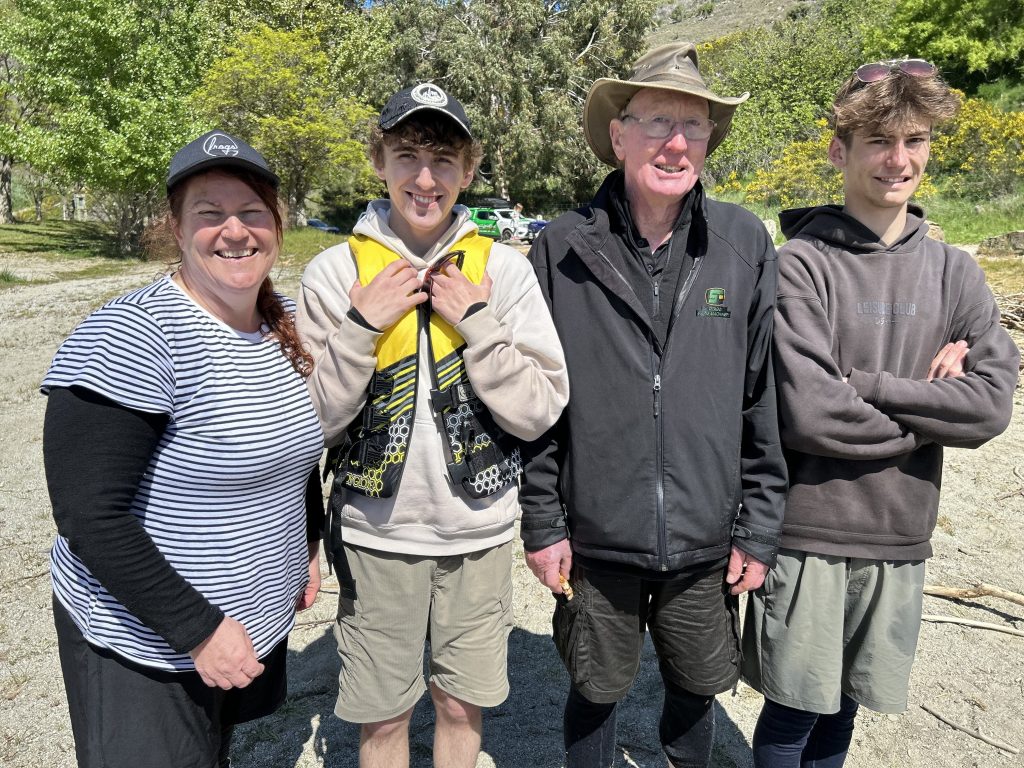 Mrs Thomson said they intended to kayak from Northburn. The rowers left from there but the southerly wind meant the kayakers left from the bridge at Cromwell, paddling about 18km not allowing for zig-zags across the lake.
They were grateful for the support, especially when Mr Whyte capsized 2km from the end, she said.
''We'd been sitting at the 2k mark to the finish and just waiting for us to regroup so we were all in the one place, because as kayakers we were obviously a lot slower than the rowers.
''We were about to go, when Dad started to turn around and the next thing I just saw him going down.
''I called out 'Dad's in the water' and we just went racing over to him but the surf lifesaving crew got there before us.
''They were able to help get him out, which was really good.''
Mr Whyte was ''a bit shaken and pretty cold''.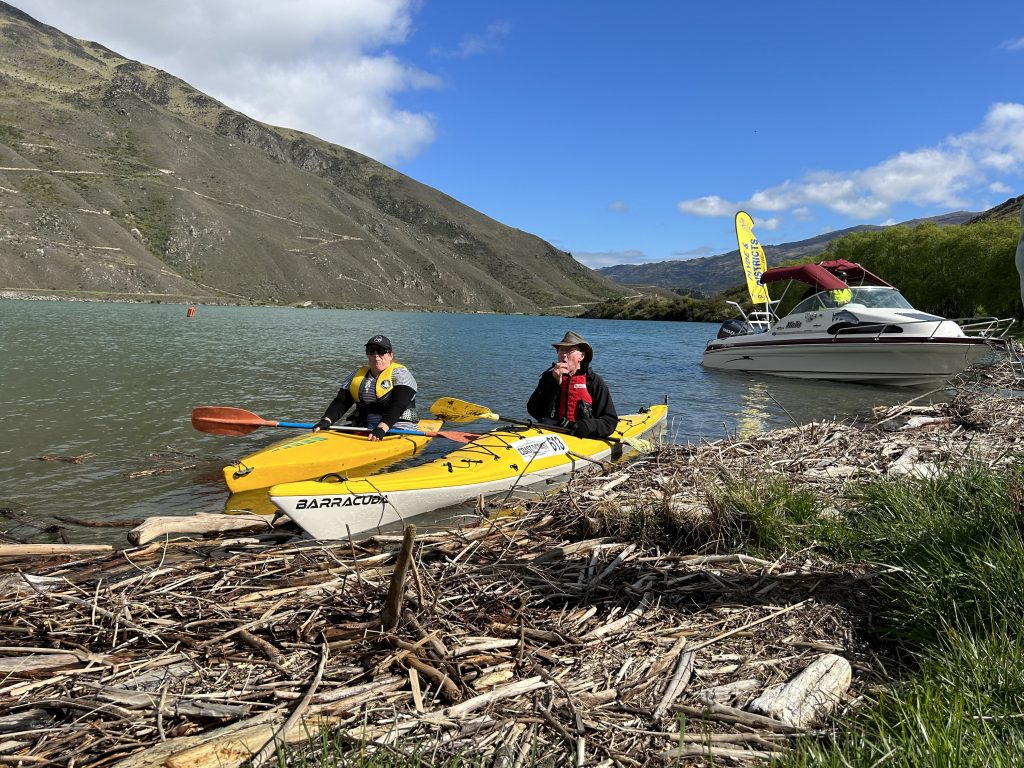 They waited to see if he was willing or able to continue with the rest of the course.
''By the time we got 500m on, to the 1500m, he was ready to go back in the boat and finish. He was pretty cold and pretty tired.
''There was probably a bit of fatigue setting in. We'd just done 16k kayaking in a southerly wind and he's 70.''
However, Mr Whyte was not going to give up.
''He's a mountain goat and was charging ahead of all of us except the rowers.''
Approaching the finish was an emotional moment, Mrs Thomson said.
''It was pretty cool just coming in, seeing everyone on the waterfront and hearing the bagpipes and knowing that we'd done it.''
The finish was also the culmination of several years' planning for Mr Whyte, she said.
''He has been dreaming and planning for this for the last three years or so, so really cool just to be able to see him complete that. I knew that he would not want to finish this in the rescue boat, he wanted to be actually in the kayak.''
They were all very pleased the surf lifesaving rowers were on hand.
''I think he did get a bit of a shock when he went under and I know he was really grateful to have the surf lifesaving there to help get him back out of the water.''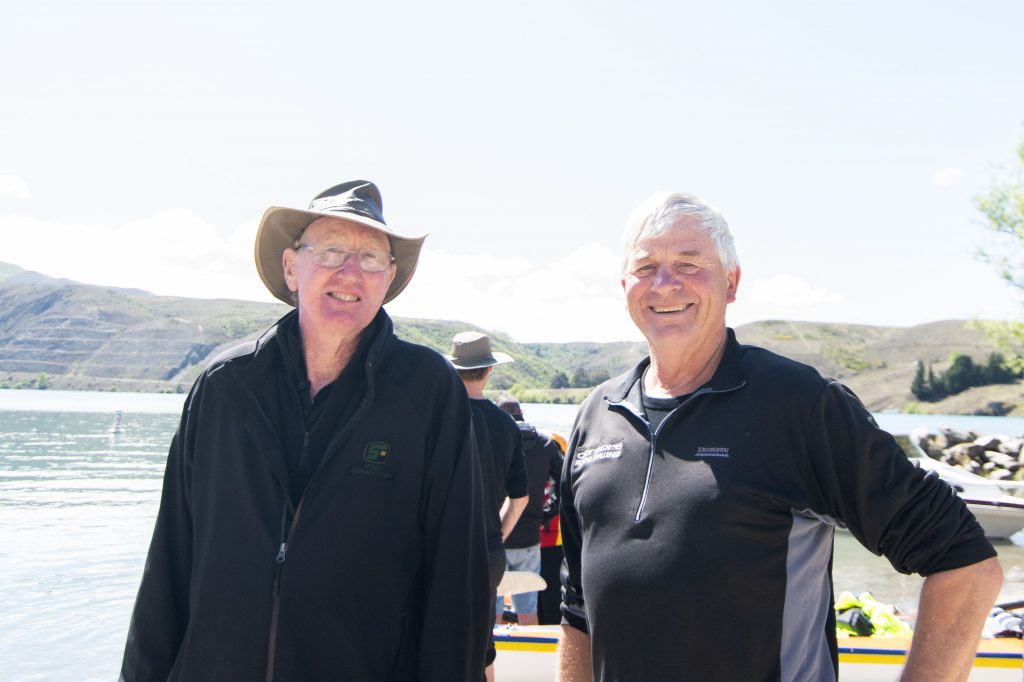 Mr Hamilton said Clyde was his home town and it was great to be there with Mr Whyte and his family.
Seeing the small kayaks the family paddled was quite a surprise, he said.
''I was expecting big long ones.''
The family paddled the whole distance, unlike the support crews who swapped rowers at the stops along the way.
It was a great opportunity for the different water sports to test how they could work together in preparation for the Row for Life, Mr Hamilton said.
''We used today as a training exercise for our big fundraising row.''
Row for Life Aotearoa would begin at Port Pegasus, at Stewart Island, on December 2 and finish at Cape Reinga in July. People would be rowing with him along the way, Mr Hamilton said.
A piper greeted the tired crews as they arrived at Dunstan Arm. Mr Hamilton said music was a tribute to those who had died with cancer and those battling it.
Lions planned to initially fund two customised skin cancer check vehicles, one on each main island, offering full body screening by trained health professionals. If any issues were detected, a referral would be sent to the patient's GP for further action.
The mobile service would move from town to town and be available at field days and other public events.
The other three charities were Child Cancer Foundation, Starship Hospital and Surf Lifesaving New Zealand. All money raised during Row for Life Aotearoa would be split equally between the four charities. Donations can be made online or to Clyde and Districts Lions club members.