The results are — almost — in and National is set to form the next government.
Election night saw National bolt ahead of Labour, and it became apparent early on it would be difficult to close the gap.
It was a night of upsets, with seats largely considered Labour strongholds turning to the Greens or Te Pati Maori, and senior MPs ousted after decades in Parliament.

Partway through the night, Prime Minister Chris Hipkins conceded to National Party leader Christopher Luxon, realising Labour would not gain enough seats to govern.
Special votes — 567,000 votes which total 20.2% of all votes cast — are set to be finalised by November 3, after which Mr Luxon will know if he needs to call on New Zealand First's Winston Peters to help form a majority.
At present, National's 50 MPs and Act's 11 would just have a majority in a 121-seat Parliament, but nothing is certain until the special votes are tallied.
Mr Peters returns to the Beehive with eight seats — a far cry from the 2020 election which saw NZ First fail to meet the 5% threshold required to enter Parliament.
Central Otago and Upper Clutha residents, who fall under three electorates — Southland, Waitaki and Te Tai Tonga — have new faces representing them, and one returning MP.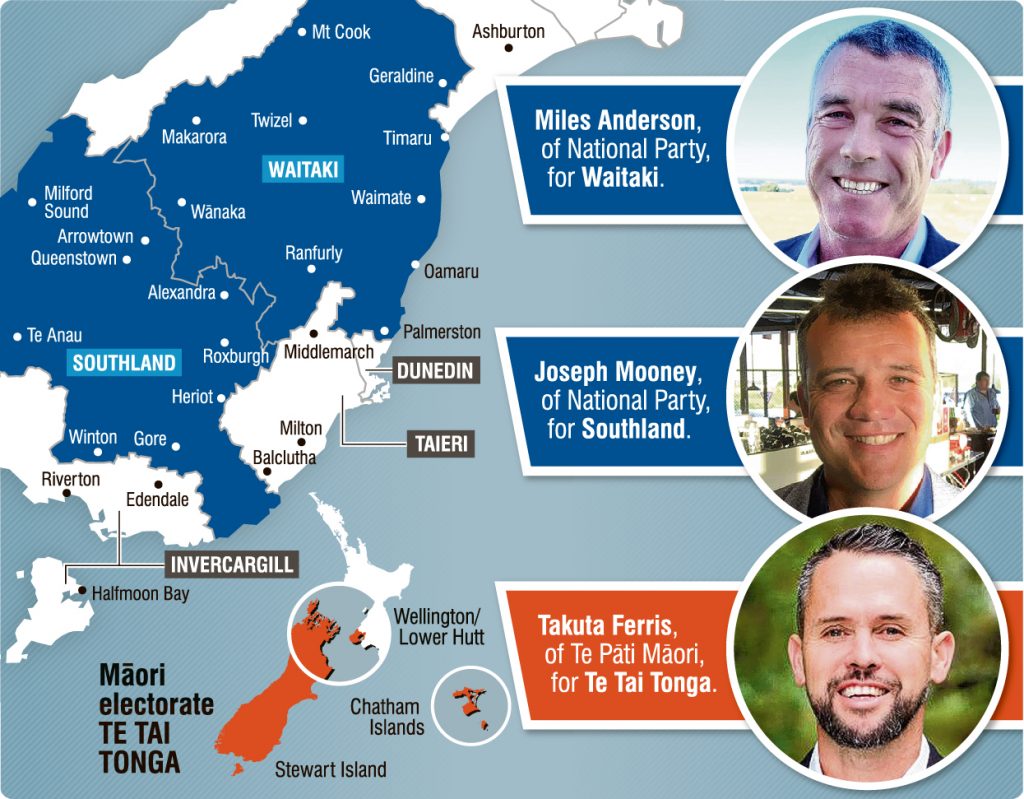 Southburn farmer Miles Anderson claimed the Waitaki seat for National with a 10,359 majority over Labour's first time candidate Ethan Reille.

The seat had been held by National's Jacqui Dean since 2008, and Mr Anderson stepped up to represent blue after she announced her retirement, effective after the election.

In the South's Maori electorate, Te Tai Tonga, Te Pa ti Maori candidate Takuta Ferris sprung a major surprise, defeating 12-year incumbent Labour MP Rino Tirikatene.
Mr Ferris came out on top with a 1463 majority.
It was the second time he had challenged the Labour MP, having lost to Mr Tirikatene in the 2020 election.
Geographically, Te Tai Tonga is the largest electorate in New Zealand, spanning the entirety of the South Island, Stewart Island and the Chatham Islands, as well as Wellington and parts of the Hutt Valley.
In a landslide victory, incumbent Southland MP National's Joseph Mooney retained his seat by a 14,973 majority over Labour's Simon McCallum.
Mr Mooney brought stability to the Southern seat after National's two previous Southland MPs, Todd Barclay and Hamish Walker, both left the role amid dramatic falls from grace.
Mr Mooney was not the sole Southland MP elected on Saturday night.
Act's Southland candidate Todd Stephenson was ranked fourth on the party list and comfortably made it into Parliament thanks to Act's 8.98% share of the party vote.