It sounded like a cracking adventure, and it was. Illustrations editor Stephen Jaquiery joined a Mini rally to Haast, driving a former News Mini pickup, only to be saved by a raw egg.
FIRSTLY, a belated apology. It was the early '80s, my first car, my first serious girlfriend.
We had been to an evening movie in Invercargill before heading to my cobber's workplace for the night, a pig farm near Riverton. I drove my forest green 1000cc Mini on the unfamiliar country gravel road with the bravado of youth and was not the first person to miss the unmarked right-angle corner.
The farmer had become so frustrated with cars wrecking his fence that he had protected it with a hefty log hidden in the grass. It worked perfectly. I overshot the corner, roared into the long grass, jerked the wheel to avoid the log and rolled the car onto its side. The fence remained intact.
I blame adrenaline kicking in as I impolitely clambered over my girlfriend, forcing open her door to exit the wrecked car. Sorry, Jo.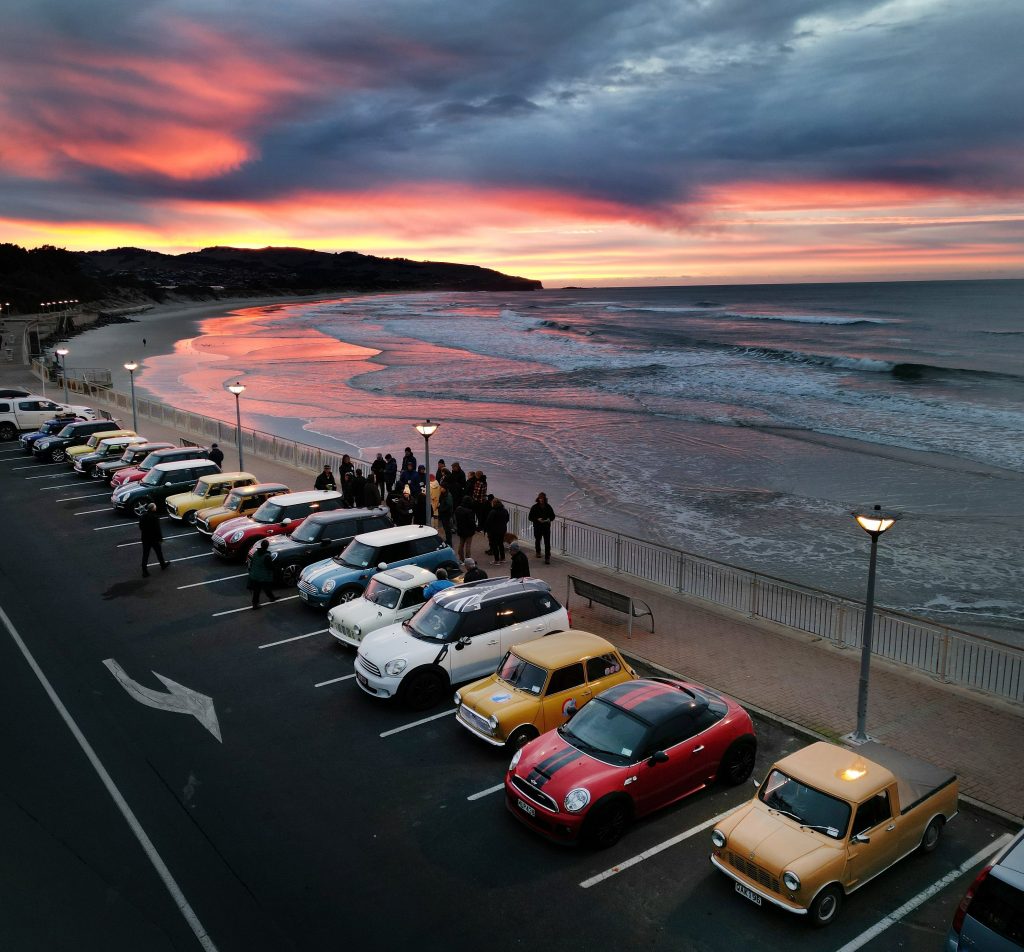 Back on four wheels, my green Mini had pride of place outside the theatre for the first screening of Goodbye Pork Pie. In the hilarious 1981 movie an unlikely pair drive a stolen bright yellow Mini the length of New Zealand, while being chased by bumbling police.
You would not believe how well my Mini performed on the way home from the cinema.
A few years later, Jo and I were back into Minis, identical racing red Mini Coopers, for wedding cars. And a while after that, about three kids later, my new partner Jane and I bought a Royal Tce house that featured in the film — the Pork Pie Mini hid in its garage, before smashing out through closed doors for a final dash to Invercargill.
So, when the Otago Mini Car Owners group emailed to ask if the paper would like to cover their Coast to Coast, Sunrise to Sunset rally, 406km from St Clair to Haast, I smiled. Why not?
The boss didn't take much convincing. The News, in Alexandra, had bought a new Mini pickup in 1971 to use for deliveries and it sported the appropriate number plate, ODAILY. It had long since been superseded and was languishing in a storeroom, unused for years.
Warrant of fitness, registration, grease and oil change, battery charge, wheel alignment (one front wheel was ahead of the other), a wash, top up the fluids and fingers crossed, ready to go.
Nineteen Minis lined the St Clair seawall. Car owners from Auckland, Blenheim, Rangiora, Oamaru, Dunedin and Te Anau huddled together on a clear but bitterly cold mid-winter morning, making introductions under a pretty red sky.
The first leg to Roxburgh was probably the furthest ODAILY had been driven in 10 years.
It managed the Lookout Point hill with ease, puttered through East Taieri in good form and by Milton I was starting to relax. By Roxburgh I was freezing. Despite the heater running at full blast it was 4degC outside and probably only about 5 inside. Jane was sensibly dressed for a polar blast, I was not.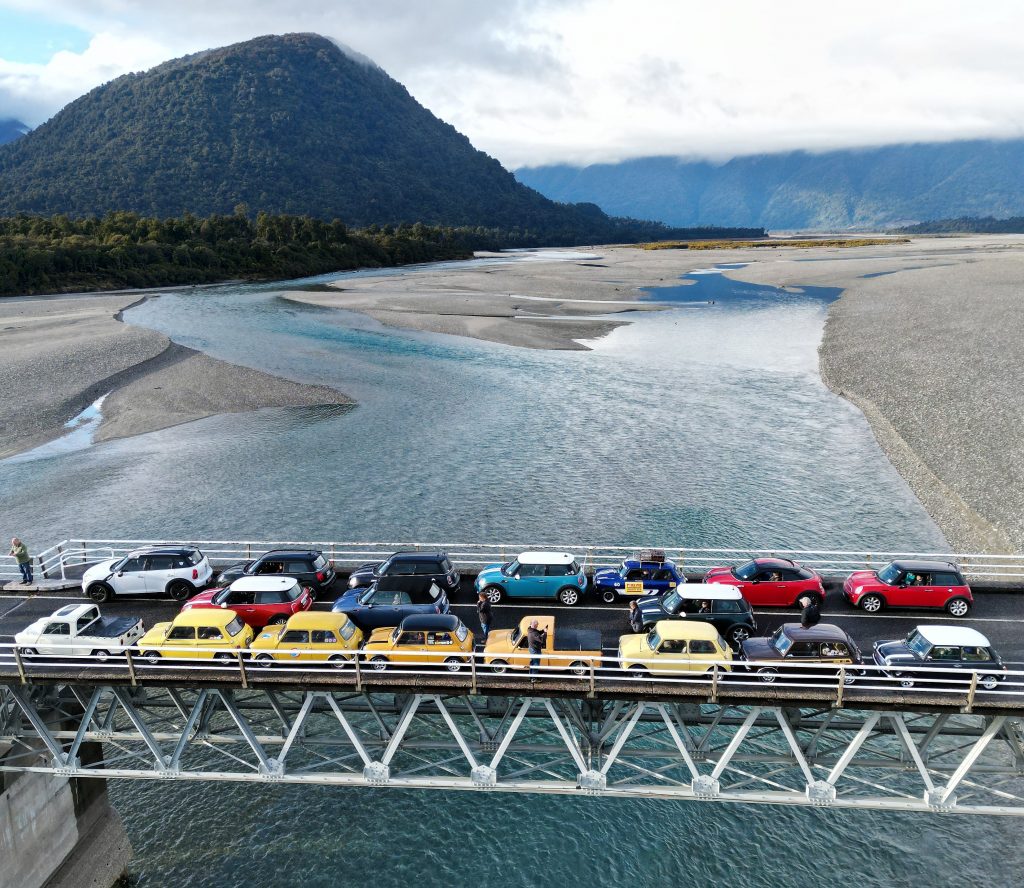 Gloves were the top priority in Roxburgh. I turned my nose up at the red hand-crafted mittens in the cafe. Nothing in the supermarket and the hardware shop was closed.
The last shop open was Feineman's General Store, built of stone schist in 1877 and now owned by "city escape0es, who sought the good life without stress". There were no gloves among their stock of healthy foods and organic crafts, "but I could loan you some," Carl Feineman offered. "Drop them off on your way back through.''
Wearing the borrowed grey mittens, matching my grey jersey, we set off again for lunch on the shore of Hawea.
With her pink-dyed hair, pink jersey and immaculately painted nails, Irene Benfell-Herron, had escaped her Te Anau motel for the weekend to join the rally with friend Lynda Kelly. Their ride, a 2011 Mini Cooper Countryman called Tiffany, won the "Most Glamorous Show and Shine" award at Mini nationals that year. With diamond-encrusted air vents and door locks (not real diamond I think), HRH the Queen on the dashboard, a jewelled chandelier hanging from the rear vision mirror, regal seat covers and pinkthemed bling everywhere, it was not hard to see why.
Tiffany is a serious advance on the first Mini Irene owned, a bitsa. Mostly a 1973 Morris Mini bought at the 40th anniversary Mini weekend in Dunedin in 2009. Both were an improvement on the Mini Irene learnt to drive in, in a paddock. She recalls her friend's car had a hockey stick gear stick and sliding windows. Just like ODAILY.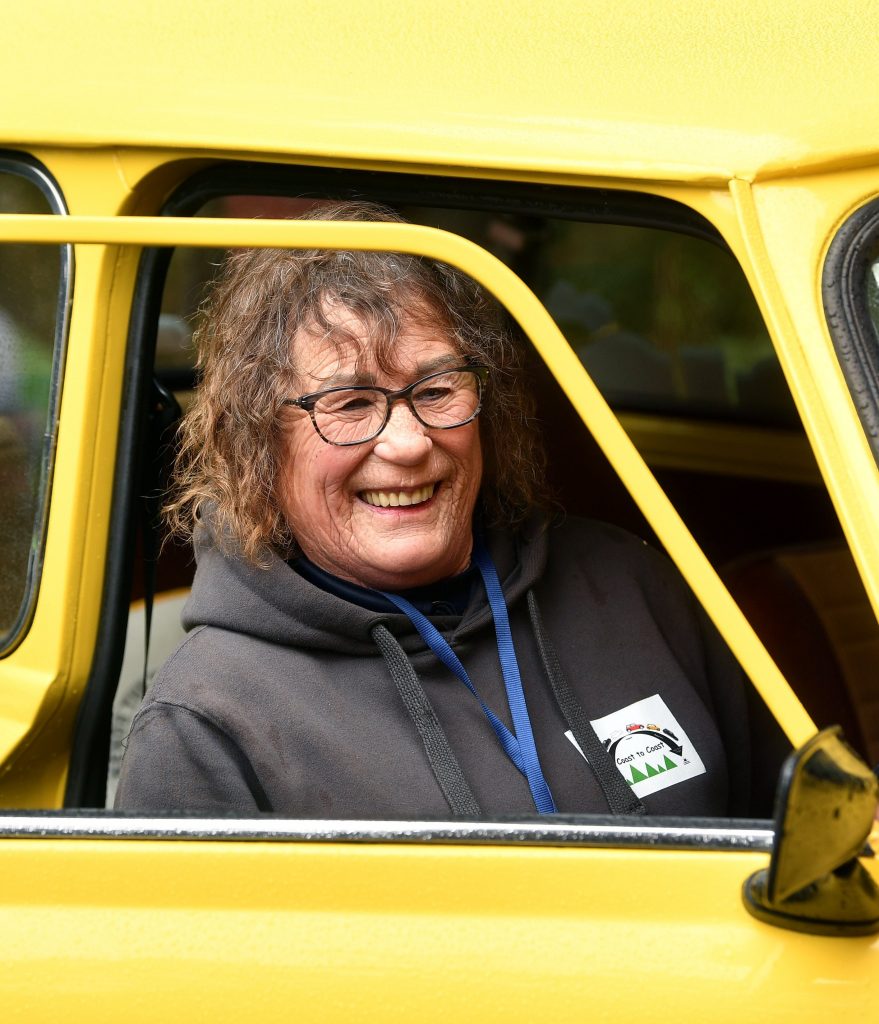 Mark Salmon-Hourihane, from Sawyers Bay, was taught to drive by his grandfather at the age of 17 in England, in a classic red 850cc 1971 Mini.
Mark might be just the guy you want on your side in an auction. After moving to New Zealand, he saw a Morris 1275cc Mini with modifications advertised in Auckland. The owner claimed to have spent $13,000 on mechanical work, he was asking $20,000. It wasn't running and the AA failed to remedy that during a check.
Mark decided 20k was on the high side.
A while later the overpriced Mini had still not sold but Mark now had $4500 in his back pocket after selling a jetboat. Remarkably that was enough to clinch the deal. A friend had it running in a day.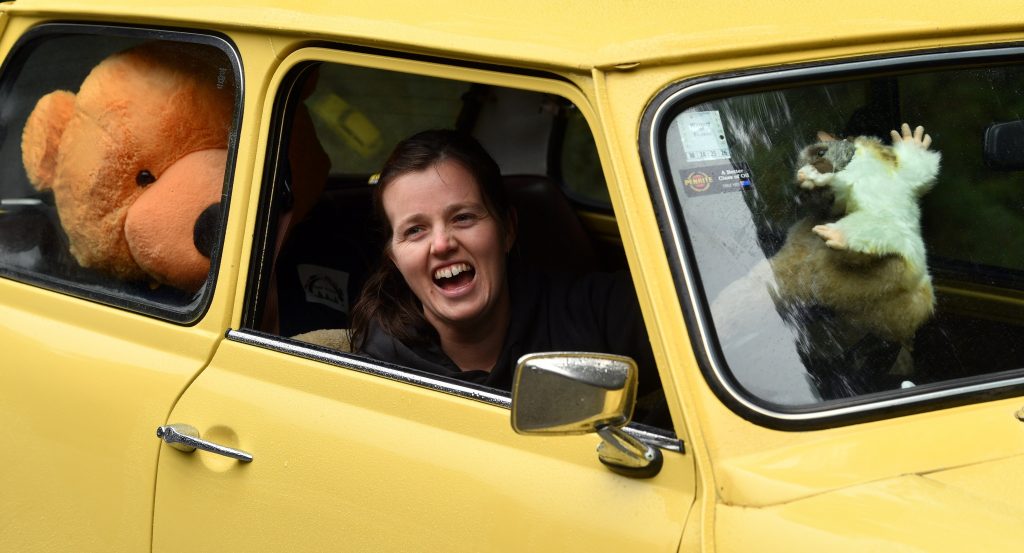 Irene Anderson must have been persuasive as a youngster. Or spoilt, or determined, or just much loved and a bit lucky.
She had always wanted a Mini and her dad, Greg, bought her one when she was
12.
Greg was in the pub talking to a guy who mentioned he had a Mini sitting under a tree. Greg bought it on the spot, sight unseen, for $300. With her Dad, Irene drove the beloved 1980 1000cc Leyland Mini in her first Pork Pie charity run despite only having a restricted licence. Together they have now notched up four Pork Pie runs from Kaitaia to Invercargill, which traces the route in the movie, while raising money for KidsCan.
The handbrake came out in her hand on one trip. And on another, a fellow driver replaced their smashed windscreen with a spare he was carrying in his car.
The rally organiser, Natalie McElhinney, from Mosgiel, was all alone in her 1981 Mini City, which she bought on the side of the road for $300, 23 years ago. Her husband, Doug McElhinney, was driving the rally alone too. In their 2007 Mini Cooper S.
Natalie has many years of fond Mini memories. And one not so fond.
There was the crunching, shrieking, ripping sound of tearing metal as the Cromwell fire brigade cut her out of her wrecked car. She recalls the fire fighters looked pretty pleased with themselves, the jaws of life were new and making short work of her car. She had been T-Boned into the wall of the Cromwell speedway track. But the hospital stay was short, and they rebuilt the car.
ODAILY had gone pretty well but it was soon obvious she was more of a fine weather drive. The electrics on early Minis were exposed to the elements, they were positioned just behind the front grill. A rain protector was installed at manufacture but they made servicing the engine a real hassle and many mechanics took them off. I guess that was OK if you had your car serviced on a sunny day.
We encountered drizzle and light rain on the coast. ODAILY coughed and spluttered a bit but kept running.
The following morning Gavin Agnew, a school teacher from Rangiora, was awarded the hard luck prize. He had gone for a predinner nap and not woken until after the meal was finished. I wondered later if it had been handed out a bit early.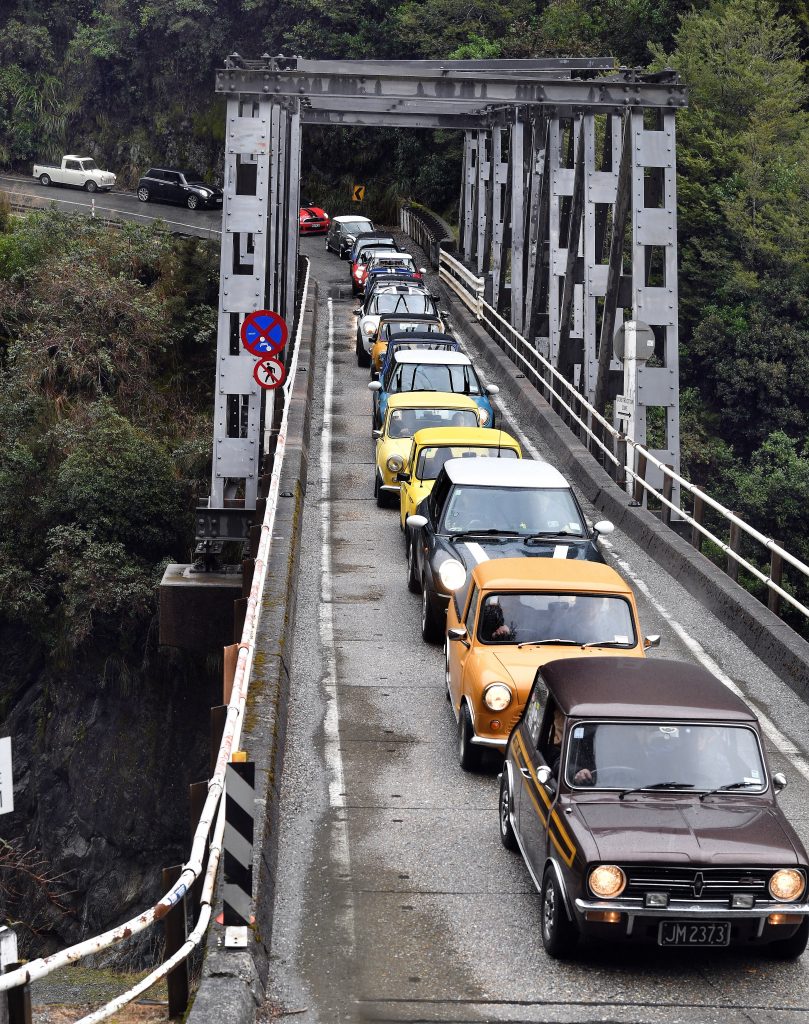 On Sunday we blocked the Haast bridge for a photo opp before sharing a cuppa at Fantail Falls in steady drizzle.
A great weekend was almost at an end. Cars head north over the Lindis and south past Queenstown. ODAILY, running well, was pointed back towards Dunedin only to have a hiccup at the last hurdle.
The Conroy's Gully road is quite narrow, windy and steep. You need to keep your eyes on the road. It wasn't until we neared Butchers Dam that I noticed a rusty looking water splatter on the windscreen and the temperature gauge heading skyward.
On inspection, the radiator had boiled. Much of the engine was now a rusty orange. The coolant I poured into the radiator, ran out on the ground just as fast as I tipped it in the top. Eventually, however, as the radiator cooled the radiator crack must have closed a bit as the river slowed to a flow and then a dribble.
Using my best mechanical know how, I phoned a friend. Daniel Oskham told me to replace the cap, but not tightly, head to Alexandra, buy an egg and crack it into the radiator. I did as I was told. It was a free-range egg. And, it worked a treat. The radiator remained sealed all the way home.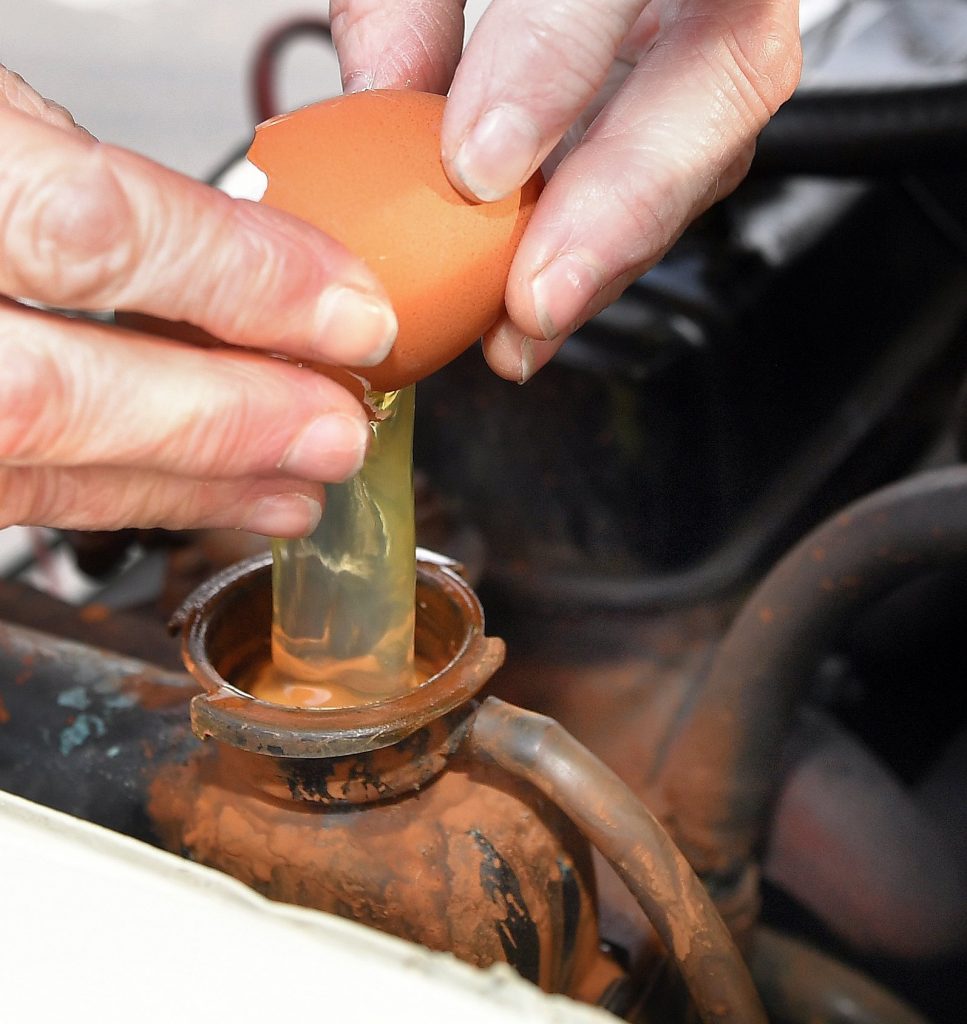 I have since learned this is not an uncommon fix. One truck driver I was told about apparently treats his radiator with two eggs and a handful of coffee grounds several times a year.
I called Daniel again that night. A heavy downpour just after the new Beaumont bridge drowned the electrics. But this time I knew what to do. I removed the distributor cap and coil lead before giving them a good squirt of CRC. In the process I broke a spark plug lead. We were stuck, we retreated to the hotel for a feed and something to settle our disappointment. The oysters and chips were finished when Daniel turned up an hour and a half later. He had a spare spark plug lead, more CRC, some rags and a lifetime of knowhow. ODAILY fired back into life three minutes later.
When asked what they liked about their Minis, the rally participants listed different things. They are cute, economical, and can fit into tight parks. However, one thing they all agreed on was no matter where you went, puttering through town or roaring along the highway, their Mini so often made other people smile.