Fashion is everywhere, from the catwalk to the tennis court, and a young fashion designer, formerly of Ettrick, linked the two to ace a top fashion award.
Bachelor of design (fashion) student at Otago Polytechnic Molly Marsh won the award of excellence at the Hokonui Fashion awards in Gore last month, taking home a $16,500 prize package for her collection of three tennis themed garments, including a coat made from artificial turf.
''Which was a bit of a nightmare to sew on the sewing machine . . .It's not very movable and there's still a lot of green remnants that come up in the sewing room. It was fun to do. Then I kind of glued the seams down because they wouldn't stick down with an iron or anything, so there was a bit of problem-solving . . .with that one.''
Part of the collection was work Marsh was doing in the final year of her degree. The turf coat and trackpants were created on top of her course requirements.
As part of her course assessment she had to research and address an issue related to clothing and she chose the gender limitations that clothes still brought to women's sport.
''I've always just kind of loved watching tennis and the fashion that comes out of it. Like there's Maria Sharapova and Serena Williams, they kind of challenged the norm of tennis clothing and intertwined the two.''
Sharapova, who retired from tennis in 2020, had her own line of clothing and shoes along with a multimilliondollar Nike deal. Williams, who retired in 2022, created much excitement with her unusual and colourful outfits that included denim skirts and catsuits, one of which was banned by the French Tennis Association.
It's all a long way from where clothing for female tennis players began.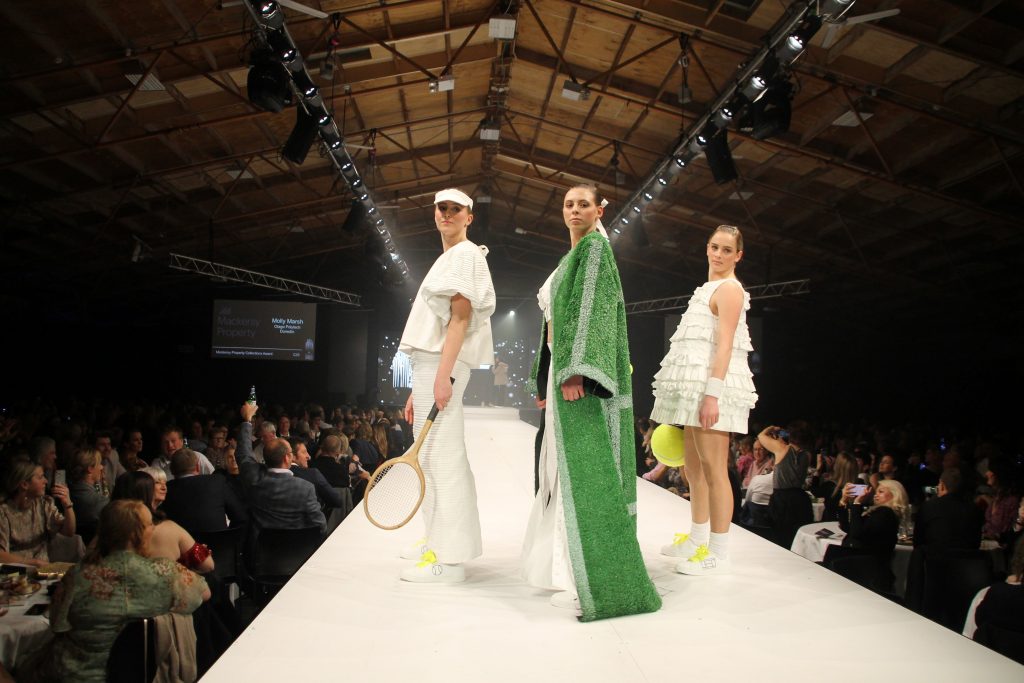 ''Traditionally it was long skirts and corsets, so it was quite hard for them to move. Then of course the bloomers came in. I actually designed a pair of them underneath one of the designs.''
The tennis ball handbag brought its own difficulties. Unlike a normal size ball which held its shape when cut, the large one she used did not.
Boning was used on the inside of the open ball to keep its shape.
It was Marsh's second time entering this competition, having entered when in year 12 at St Hilda's, in Dunedin. She entered a ''pink princessy-type dress'', made for her friend to wear to her formal.
Entering the competition was a lot of fun, she said.
''Even the making part of it, there was a lot of long hours that went into it but it was really fun. I think it's a really rewarding experience to put all that time into something and . . .I won but just having them complete and finished and you can see them on a person that's also really rewarding.
''One of the girls on my course said 'it's like a proud mum moment' when you see it on the catwalk and I thought was a cute way of describing it.''
However, there is no resting on her laurels for Marsh. Her graduation collection is under way and due in 12 weeks. After that she has no firm plans but is considering travelling.
''I would quite like to travel, maybe go to Australia as a stepping stone from New Zealand, but I'm kind of open to anything really. [I'll] see where the wind blows.''