A social studies class project in the 1980s brought an Englishman to Roxburgh this month to finally meet the people he has been writing to for nearly 40 years.
In 1985, a social studies class at Roxburgh Primary School put letters into boxes of apples at the CAJ Apples packhouse in Ettrick to see where they ended up.
Replies trickled in from Denmark, Holland and Indonesia. There were several from England. Most people sent postcards showing the place the apples had been sent to.
One from England caused great excitement as it was not a letter but a box with photographs, postcards, brochures, pamphlets and a tape recording telling the children all about Essex, where supermarket produce supervisor Dennis Croft lived.
Mr Croft said he was checking deliveries at one of the 30 stores he looked after and opened a box of New Zealand apples and found the children's letter.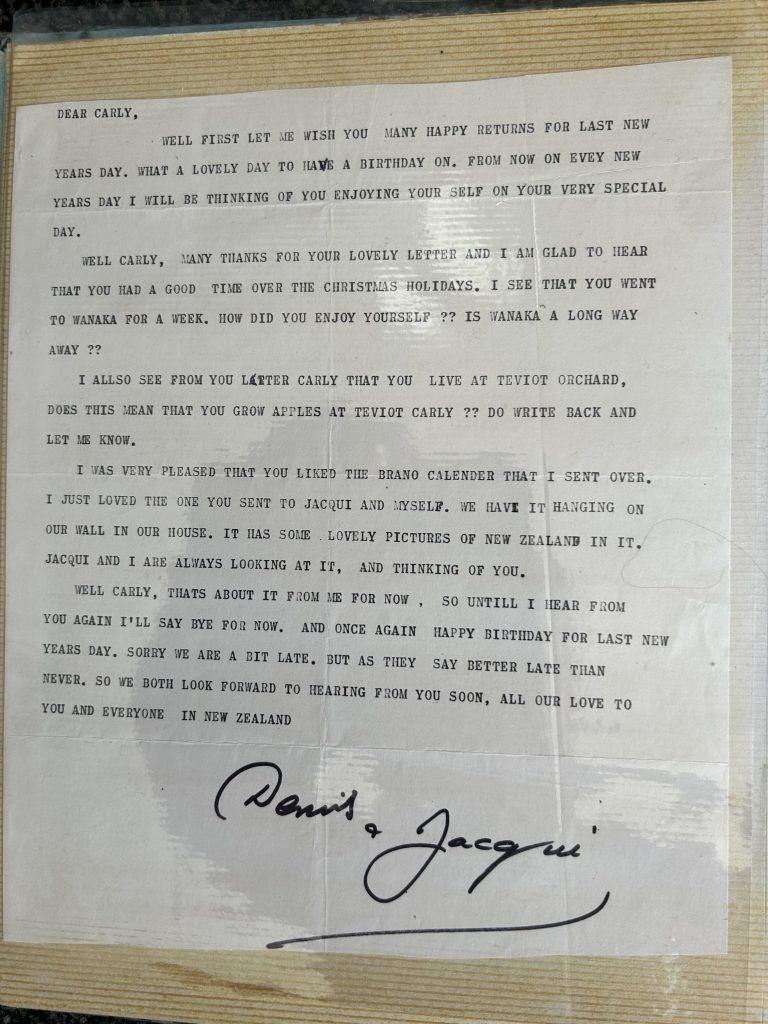 ''I thought I'd go and have a look and see what the quality was like, opened up a box of apples and there on top was a letter saying 'we are a class of 8-year-olds going down into the valley to see how the apples are packed and where they go to. Could you please write back'. For me it was like getting a message in a bottle.''
He was very excited and went home and told his wife Jacqui all about it.
They got a cardboard box and collected up information about their home and included a letter about their lives, including their two pet ducks George and Mildred. The Crofts also sent English comics, which the children were thrilled with.
The correspondence continued with cassette tapes being exchanged — the Crofts talking about their lives and the children also recording music for them.
Mr Croft brought two of the cassette recordings with him from England, along with a copy of the Mt Benger News, which had a front page story about the treasure box the class received.
The 1985 standard 1 and 2 [year 2 and 3] teacher, Margaret Hill, said the letters were part of a social studies unit she designed.
Over several days, the class visited a Dumbarton orchard, CAJ Apples packhouse at Ettrick and made apple pies at Jimmy's Pies, before eating them in the park, Mrs Hill said.
She remembered Mr Croft's first letter saying he thought New Zealand was all grass skirts and hot pools because it was winter when the children wrote their letters and they talked about skiing trips and icy puddles.
That began a regular correspondence with the class for two years until the children moved to another class, she said.
Former pupil Carly McDowell (nee Bennetts) remembered the excitement of the mail from the Crofts and the Beano comics.
She wrote to the Crofts a few times and they replied to her. She still had an album with letters from the Crofts and a birthday card they sent her.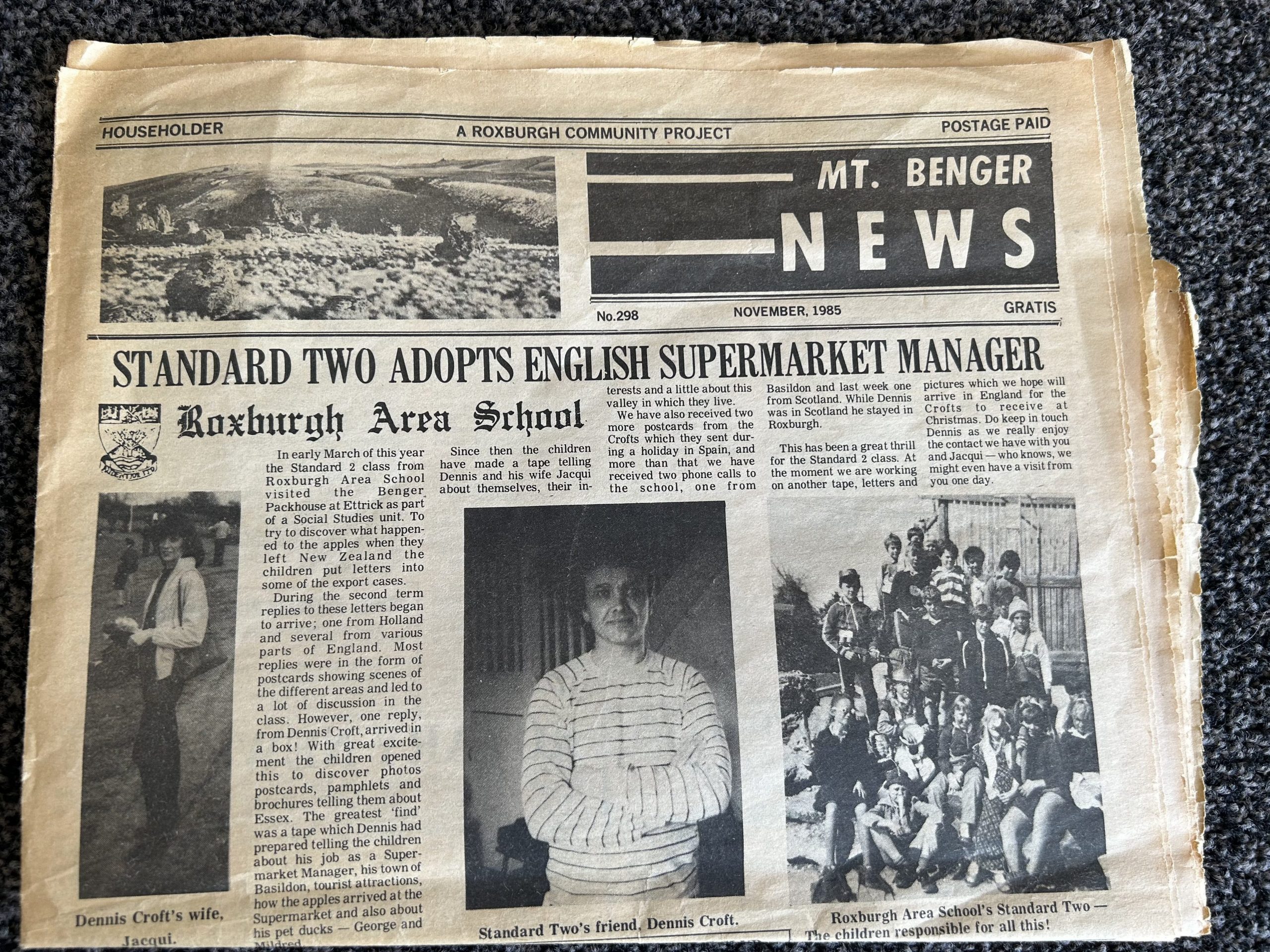 ''It was exciting. I treasured them. It was a wee peek into another part of the world. I thought Jacqui was just beautiful so it was just really cool.''
When Mrs Hill rang and said she had a visitor from England, she knew straight away it was Mr Croft, Mrs McDowell said.
Mrs Hill and the Crofts had kept in touch through letters and then email.
Mrs Croft died about four years ago. She had had a condition that made flying difficult and could not have travelled to New Zealand, which was why it had taken so long for Mr Croft to meet his pen pals.
''She always said I should go but I didn't want to without her,'' Mr Croft said.
There were more than 30 letters put into apple boxes at the packhouse as a way of finding out where they ended up.
The response from Indonesia mentioned the apples had arrived in poor condition.
Mrs Hill passed that one on to the then Ministry of Horticulture, which followed up on what had gone wrong with the refrigeration process, she said.