From near last in 2022 to champion team of 2023.
Alexandra pulled off a monumental upset in the Central Otago premier club final at the Wa ¯naka Domain on Saturday, coming from behind to beat Upper Clutha 32-24.
Upper Clutha went into the final as hot favourites, having won 13 games in succession, and seemed comfortably on course for the perfect finale when they led 14-3 early and 24-11 five minutes into the second half.
But Alexandra coach Lee Wilson had told his players to ''be patient and hang tough'' because opportunities would come.
And they did.
Adhering to the high-octane, give-everything-a-go attitude that had, against the odds, got them to the final, the Armadillos scored tries in the 50th, 66th and 76th minutes — against a team that had conceded only 15 tries all season — to stamp themselves Central Otago champions for the first time since 2015.
The massive crowd that turned up — four deep around the entire ground — were treated to a worthy final, one that produced seven tries, heaps of action and a most unexpected conclusion.
For a fair portion of the game it seemed the blistering speed of Upper Clutha right winger Adam Breen would determine the outcome.
He scored two cracking tries and was denied a third only by the cruel bounce of the ball from a crosskick. Alarm bells sounded in the Alexandra camp every time he touched the ball.
But Alexandra were undaunted. And none of the men in green and black seemed to remember that Upper Clutha had hammered them 40-7 on the same ground back in May.
The first hint of an upset came when Northern Irish import Matthew McCullough, close to Alexandra's player of the day, barged across for a try that his skipper Tyler Ford converted to make it 18-24.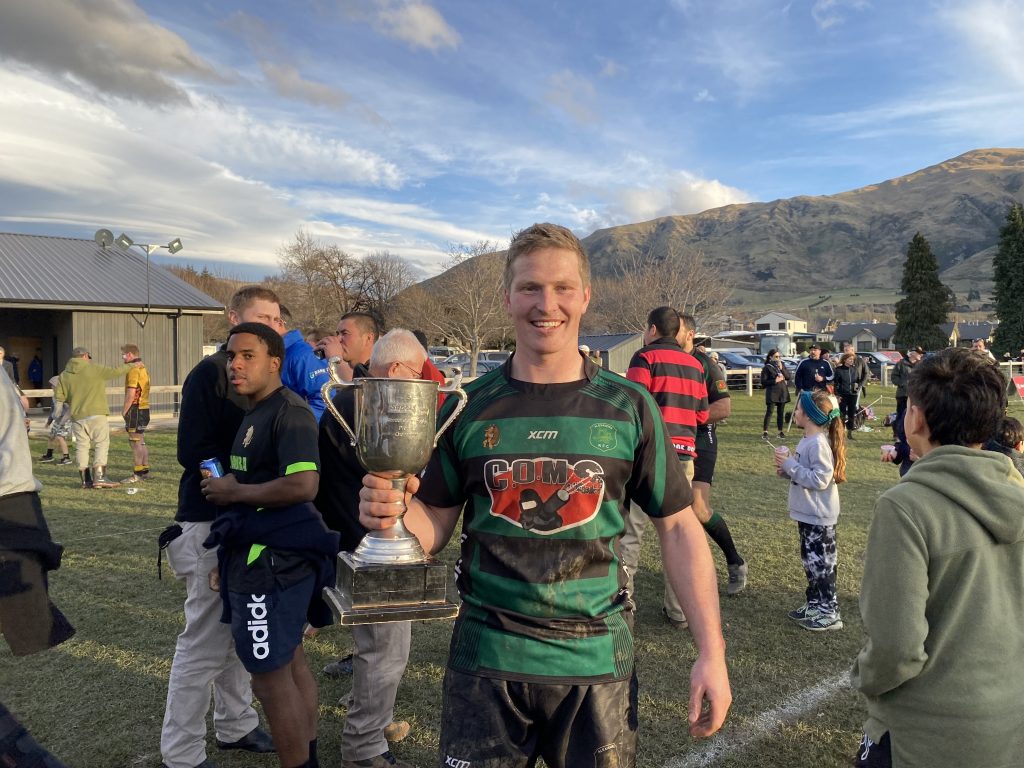 Suddenly, Alexandra were only a converted try from usurping the lead.
And that's exactly what happened about 15 minutes later when Alexandra halfback Ryan O'Neill sniped through for his second five-pointer.
The first had come on halftime when Alexandra, 6-14 down, had bravely opted for a scrum rather than a certain three points. O'Neill darted right, threw a dummy, and dotted down untouched.
With Upper Clutha now behind 24-25, the locals looked for something heroic from their unbeaten heroes.
But the late heroism was all coming from Alexandra, who, forwards on fire, played out the game in Upper Clutha's 22, securing a memorable victory when No 8 James Dobson powered across inches from the corner flag and Ford nonchalantly added the conversion.
Alexandra captain Ford said it was remarkable the team had come from last in 2022 to first in 2023.
''We may not have been the best team in the competition but we played as a team. That early season win over Wakatipu gave us the belief we needed.''
Appropriately, the Alexandra coaches gave their man-of-thematch award not to any individual but to the entire team.
For Alexandra to achieve what they have in 2023 is quite remarkable, because in the previous three seasons the only teams they had beaten were fellow strugglers Matakanui Combined and Cromwell Cavaliers (Cromwell's B team).
Î Central Otago final:
Alexandra 32 ( Ryan O'Neill 2, Matthew McCullough, James Dobson tries; Tyler Ford 3 con, 2 pen) Upper Clutha 24 (Adam Breen 2, Milan Martinovich tries; Brady Kingan 3 con, pen). Halftime: Upper Clutha 14-11.