It might be 125 years old, but the Central Otago A&P Show was alive and kicking at Omakau on Saturday.
The large crowd wandered in brilliant sunshine, soaking up everything from "unicorns" in the petting area to an electric ute and the district's best sheep and cattle.
Show president Dayna Paterson said she was delighted with the whole day.
"It's an absolutely fantastic day. We've had a massive crowd and it's great to have the cattle back."
Cattle made their first appearance at the show since 1969.
Top honour went to Margs Hall, of Heriot, with her yearling heifer Lilliesleaf Duchess (11) winning all breeds supreme champion.
It was a family affair with her brother Rob, of Waikaka, runner up with an Angus bull calf.
Beef section judge Sylvia Anderson, of Winton, said the pair were very evenly matched.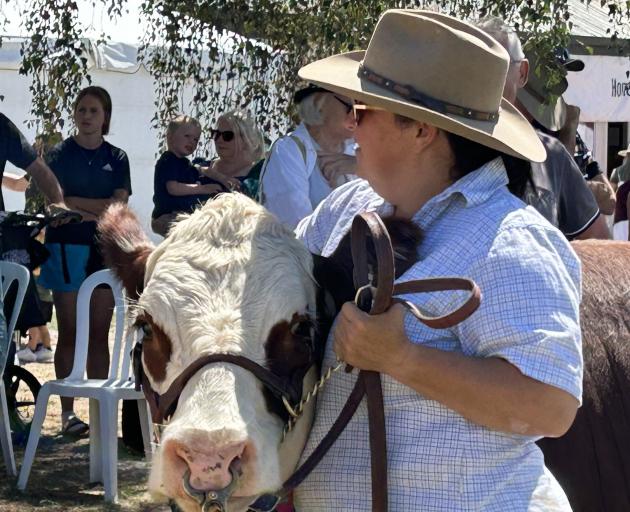 There were very good examples of breed types presented at the show, she said.
The heifer had the edge as she was a bit older and that showed her true potential.
The home industry section was a Royal Event this year.
With about 1100 entries, there was an astonishing range of crafts, baking, preserves, flower, floral art and vegetables displayed.
Temptation proved too much for one toddler who helped himself to a muffin from a display and ate half of it before anyone realised what had happened.
The Royal Show medal for the supreme winner was awarded to Lyn Berry, of Omakau.
Miss Berry said she entered every class in the section.
"My family think I'm obsessed."
She took a week's leave from work to concentrate on her entries, and even entered the show bay class, which was usually only done by groups because of the variety of items required to fill the bay.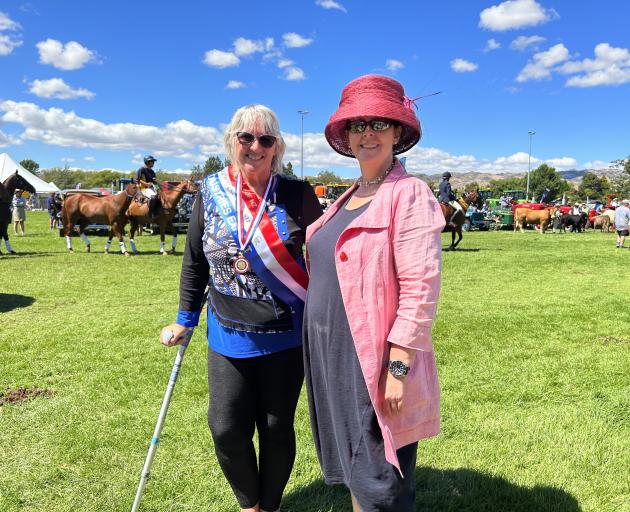 Royal event home industries supreme winner Lyn Berry (left), of Omakau, was presented with a medal and sash by Royal Agricultural Society of New Zealand national president Rachel Walker, of Mosgiel, at the grand parade.Most of her preserves and jams were done around Christmas time.
Some craft entries had been made for last year's cancelled show. However, her floral entries were done about two hours before the deadline.
"My kitchen looked like a bomb had gone off."
As well as her own entries, she helped her grandchildren prepare theirs.
Royal Agricultural Society president Rachel Walker, of Mosgiel, presented Miss Berry with the Royal Medal at the grand parade.
The show's history and future was represented throughout the day in exhibits from the home industry pavilion to the trade displays set up around the show ring.
A fully electric ute and motorbike, as well as the latest farm machinery, took part in the grand parade led by the Alexandra Pipe Band.
A magnificent display of vintage tractors as well as vintage cars carrying life members joined the parade.
Following the parade there was a polo match commentated by television celebrity and author Matt Chisholm, of Chatto Creek.