A monumental challenge, 44km of open water and hours of solitude.
Almost one year to the day since crossing Foveaux Strait in a record time, Wanaka lake swimmer Camille Gulick achieved another feat and became the first person to swim the length of Lake Wanaka without a wetsuit.
The lake has been conquered twice before, first by Fi Fairbairn in 2019 followed by Cameron Stanley in 2020.
"I just took [the swim] on as a personal challenge to see if I could do it. No-one had ever done it without a wetsuit so [I] just kind of felt this urge to see if it was possible and not only possible for anyone, but possible for me," she said.
While many open water swimmers wear a wetsuit — they keep athletes warm and buoyant, as well as helping to hold their body in a good position for swimming, Ms Gulick prefers the freedom of going without.
"Personally, I feel more free in the water without it. You're just feeling the water all around you and you don't have the restriction around your shoulders — but I think however people want to swim, as long as they're getting out there into the water, to each their own."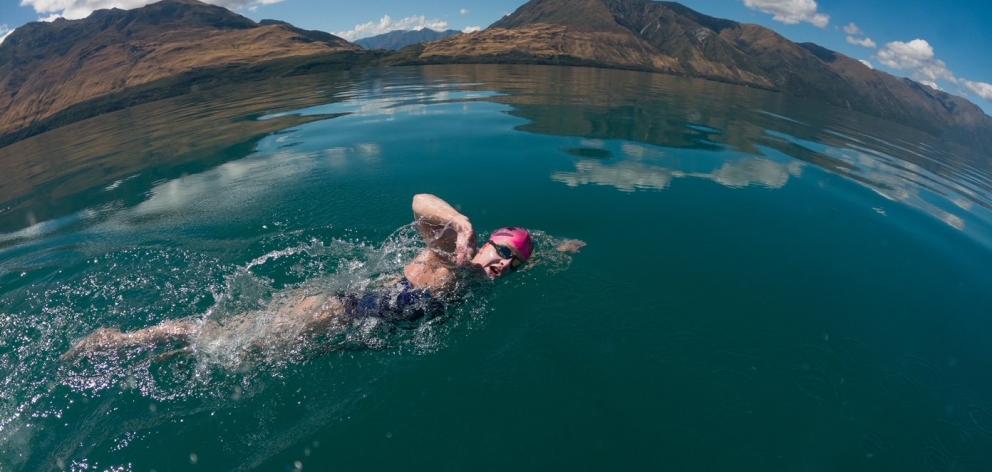 Ms Gulick took a year to prepare for the challenge, seeking advice from her predecessors on their experiences, working with her swim coach and taking up ice swimming in the winter to help her body prepare for the cooler temperatures she might have encountered at the top end of the lake, where mountain rivers feed into the lake.
As the big day loomed, it was the mental challenge of what lay ahead she had to tackle.
"In the lead-up to the swim is all these conflicting thoughts doubting myself, doubting my abilities. Why am I even trying this? There's no way I'm going to be successful," she said.
"[I just tried] to block that out and remind myself other people believe in me for a reason, so I need to believe in me."
Anxiety and nausea flared up the week of the swim as she started to comprehend the "monumental task" she was taking on.
"But I do find with all of my anxiety and open water swimming — as soon as I hit the water it calms down," she said.
Favourable conditions on Saturday resulted in Ms Gulick starting her swim at the top of the lake, where the water temperature was 14degC.
The temperature rose to 16degC within two hours and eventually settled at 20degC — much warmer than she had anticipated.
Five hours in to the swim, Ms Gulick's stomach decided it did not like her endurance food choices and digestion issues threatened to derail the swim.
Luckily, she had prepared some back up food options — boiled potatoes and Coca-Cola — which seemed to settle things a bit and a few hours later she was able to switch to her usual food.
Completing the 44.1km swim — a distance similar to the length to Lake Taupo — in 15hr 34min was pretty emotional for the swimmer.
"I don't even know that it's sunk in yet. I got a little bit emotional at the end — definitely feeling quite proud of myself.
"It just feels really good to have learned from other people and be inspired by them, and I just hope what I've done can inspire future generations or people now that want to take on massive challenges that feel impossible, but they make them possible."