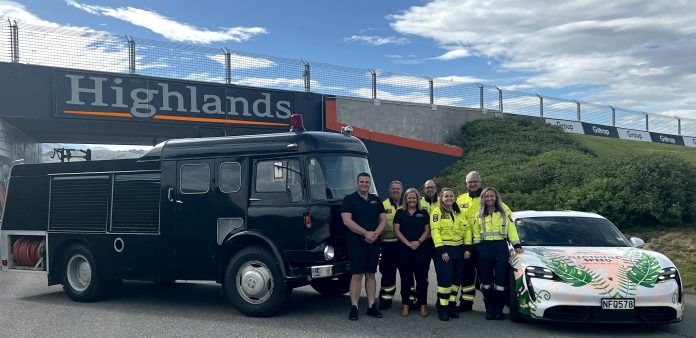 As the Cromwell Volunteer Fire Brigade prepares to celebrate 150 years of service in October 2024, the community is rallying to restore a 1976 Bedford fire engine that served in the town in the 1980s.
Brigade members, skilled volunteers and local sponsors including Highlands Motorsport Park plan to restore the truck to its former glory.
The brigade is funded by Fire and Emergency New Zealand (Fenz), but projects outside of its core scope are financed through fundraising and donations.
Major sponsors for the renovation to date are Highlands as a key sponsor, contributing $5000 to the restoration, and local businesses R&R Hiab Services and Carters Tyres Cromwell.
Highlands would soon celebrate a decade-long partnership with the Cromwell brigade that started when the motorsport park opened in 2013.
Station officer Clayton Andrews has served with the brigade for about 11 years and said members were extremely grateful for the support.
''The brigade's relationship with Highlands started back in 2013 when then Chief Fire Officer Steve Shaw coordinated the Fenz volunteers to provide crash response crew and fire response services for all their race meets.''
The fire engine is currently black, which Mr Andrews said ''looks pretty cool'', but would be repainted in the red and white livery ''as a fire engine should be''.
Highlands chief executive Josie Spillane was proud of the partnership.
''They are an astonishing organisation, who support not only our community but all our events, completely voluntarily,'' she said of the brigade.
''When they reached out to us to let us know they had found an old Cromwell fire engine in Nelson and needed support to help restore the engine to its former glory, we couldn't wait to be a part of it.''
The refurbishment of the engine would provide opportunities to support some of Cromwell's key community events. As well as Highlands events, the plan was to use it to bring excitement to events such as Light Up Cromwell, school fairs and colour runs.
Mr Andrews said he was excited about the positive presence the engine would bring.
''Many locals will only ever see us when we're needed — often not at the best of times. This truck will enable us to create a more encouraging impression around the fire service and enable us to support more community events than ever before.''
The brigade was delighted with the wider community and team support also.
''The majority of the preparation work, glazing and minor repairs will be completed by the volunteer fire brigade members themselves who have an incredible mix of trades.
''We have also had other local businesses express a great amount of interest in supporting the restoration. It's going to be a real community effort.''