Valda Muller and her late husband Otto knew they were playing the long game when they got in to the nut industry more than four decades ago.
In 1981, doing their due diligence on the best crop to venture into, the couple purchased land in Pearson Rd near Cromwell to use as a testing ground for walnuts.
They did not realise the extent they too would be tested.
A study trip to California through Lincoln College confirmed to Otto walnuts were worth pursuing and the couple brought about 30 trees from the Ministry of Works at the Lowburn Nursery to gain experience of growing walnuts in the Central Otago environment.
They started grafting the trees to increase their crop and research capacity — not an easy task.
Those trees are still there but a major farm fire in 1993 saw them lose 90% of their research crop.
The trees were about 10-years-old at the time.
It was a devastating blow for the Mullers.
''We had to start again and walnuts are notoriously hard to graft — but every tree on the property has been grafted by us,'' Valda said.
''So we stuck with it — it's been an endurance race.''
Swiss-born Otto had come from an engineering background, working all over the world before embarking on walnuts, including developing frost fighting techniques while working at Webbs Orchard.
He put that knowledge and skills to work with the walnuts, inventing machinery to assist with every part of the harvest, including stripping the nuts from the trees.
Otto retired in 2016 at 93 years of age, after his health declined, and died in 2020.
''It's not been an easy road.''
It was 30 years before they had a good crop, Valda said.
''It's not a normal business plan,'' she said. ''Most people come of age when they turn 21, we do it at 42.''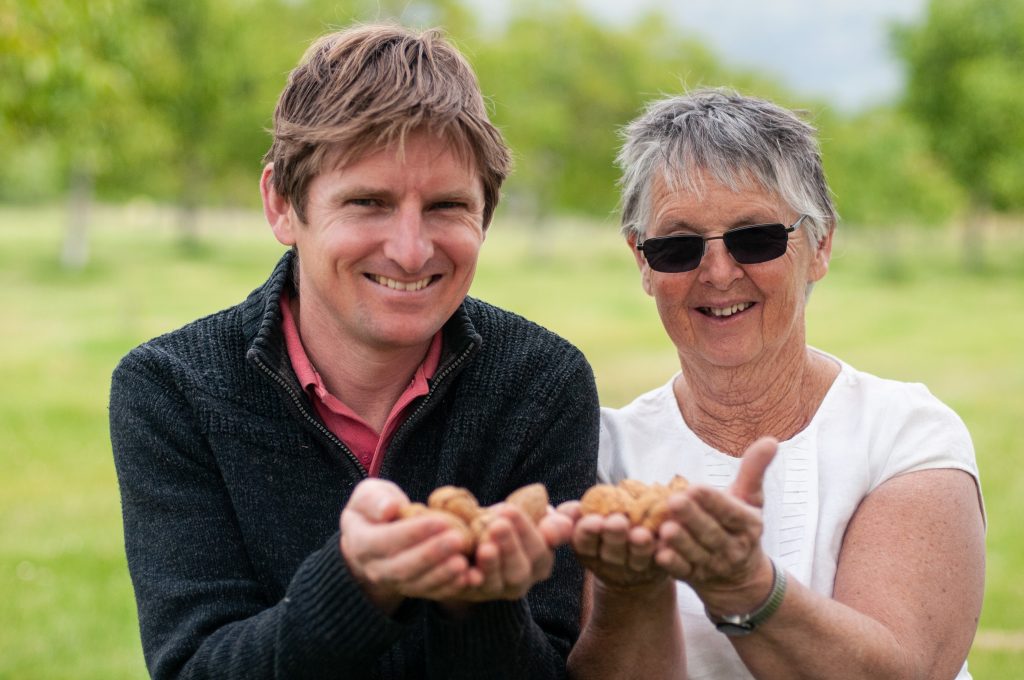 Their son Tim has worked alongside Valda on the orchard for the past couple of years after returning to Cromwell, helping with the harvest and equipment.
''Mum amd I have very much worked together on it the last few years. I grew up on the property and helped out a bit but then I was away for a long time and Mum and Dad were running it on their own.
''Mum has progressively been dragging me in to more and more jobs,'' he joked.
The orchard is certified organic and Valda sells the nuts at farmers markets and also makes oil, butter, flour and pickled walnuts.
An ''extensive mailing list'' of customers would take the remaining produce, but a bumper harvest last year saw the opportunity to restore a shed built by Otto and set up a roadside stall at the orchard.
Tim helped with the restoration of the shed and setting up the stall.
The stall opened to the public at the start of December.
''It's lovely that we've been able to use the shed and honour Otto in the same place,'' Valda said.