When prices for bulk honey started to decline about five years ago, Mark Archer and his partner Yi Zhang, of Archers Apiaries in Cromwell, pivoted to potting their own honey and selling to vendors and at markets throughout the region.

This year they entered the the 2022 Apiculture New Zealand National Honey Competition for the first time, winning a gold in the naturally granulated honey — medium category, and a silver in the product of the hive class.

The products of the hive were handmade honey clay cleansing bars and honey, grains and herbs exfoliating bars, part of a skincare range that is another pivot, driven by Ms Zhang's research and experimentation with their honeys and the herbs that grow around the beehives.

''She's always coming up with new things,'' Mr Archer said.
He was always interested in bees and started in the industry about 11 years ago, originally working for Lindis Honey in Cromwell, before the couple went out on their own in 2014.
''The boys from Lindis Honey gave us the opportunity to take over some of their blocks near Queenstown,'' he said.
He credits those ''boys'', Tim and Peter Wood , along with his mother and stepfather, Nicola and Charlie Hughes, and his nephew Damian Archer, with helping get the business up and running.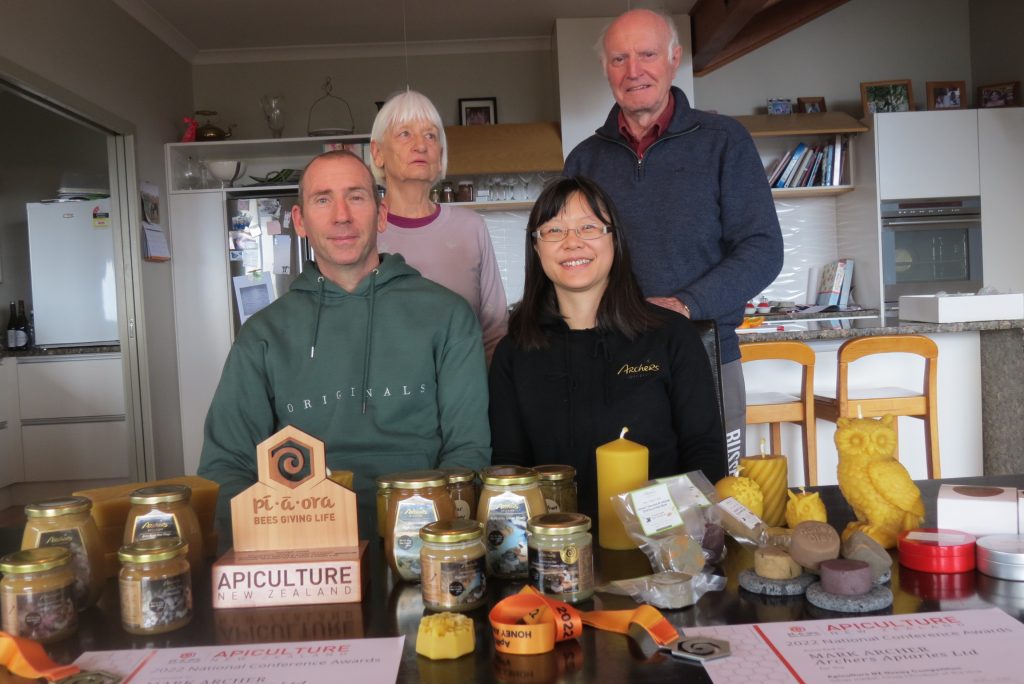 Ms Zhang also uses the family as testers for her skin products, which include the cleansing and exfoliating bars, lip and face balms, cold creams and hydrating sprays.
She has recently added dehydrated fruit to honey to create flavoured spreads, and they plan to enter those in next year's competition.

The couple are looking forward to the return of overseas visitors, especially those from Southeast Asia, where honey is viewed as a health product. New Zealand manuka honey sells at high prices in those countries, so visitors often stock up while here.