A group of Alexandra grandmothers are laying down the challenge as they prepare to defend their title of best floral float in this year's Blossom Festival.
Grans Who Can are 12 friends — "grans'' and "honorary grandmas'' — who entered their first float last year, and off the back of their success are doing it again.
Their float, Clifford the Big Red Dog, was a hit, winning not only best floral float, but the hearts of the festival goers, taking out the public vote.
Details are under wraps for this year's float, but they want others to join in the fun and enter a float, too.
Group member Laurie Paterson said there was still plenty of time to gat a float together.
"Find some friends, ring them up and say 'let's do something fun','' Mrs Paterson said.
Building a float did not have to be daunting, and there was plenty of help available.
"There's lots of people around that would help. Just ask,'' she said.
Many of the grans were encouraged to get involved by a friend, and through that the group had grown.
Mrs Paterson said the women got together regularly for an afternoon of flower-making, cake and catchups, making the task more fun than work.
Last year the grans donated their prize money to St John and the Otago Rescue Helicopter.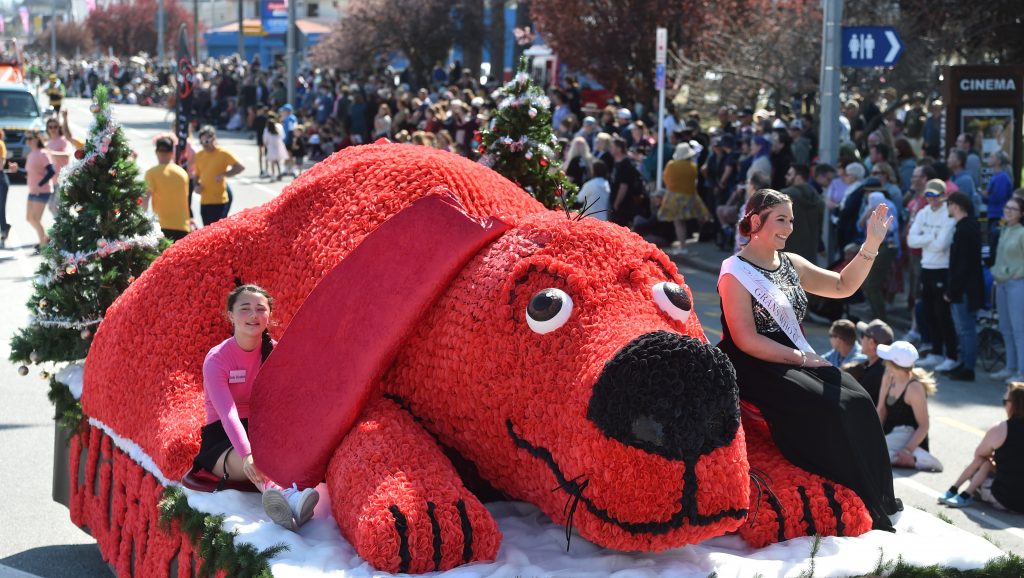 Float entries are now open and the blossom festival committee has extended the support for floats, which was introduced last year.
The committee will donate $750 to clubs, schools and kindergartens entering a float, or in the instance of a business, or private group, to a charity of their choice.
On top of that, float entries receive $500 towards materials to build the float and free crepe paper supplied from Alexandra New World. Entrants also receive free entry into Pioneer Park for Contact's Saturday in the Park.
Entries are also in the running for money from a prize pool of $2000 for the people's choice award; $1000 for best floral float; $500 for best small float; $1000 for best education float and $500 for best contemporary float.
The grand parade is a cornerstone of the Alexandra Blossom Festival, New Zealand's longest-running festival, with a procession that runs down Alexandra's main street.
Entry forms for floats — and their smaller counterpart florries — can be downloaded from the blossom festival website, blossom.co.nz