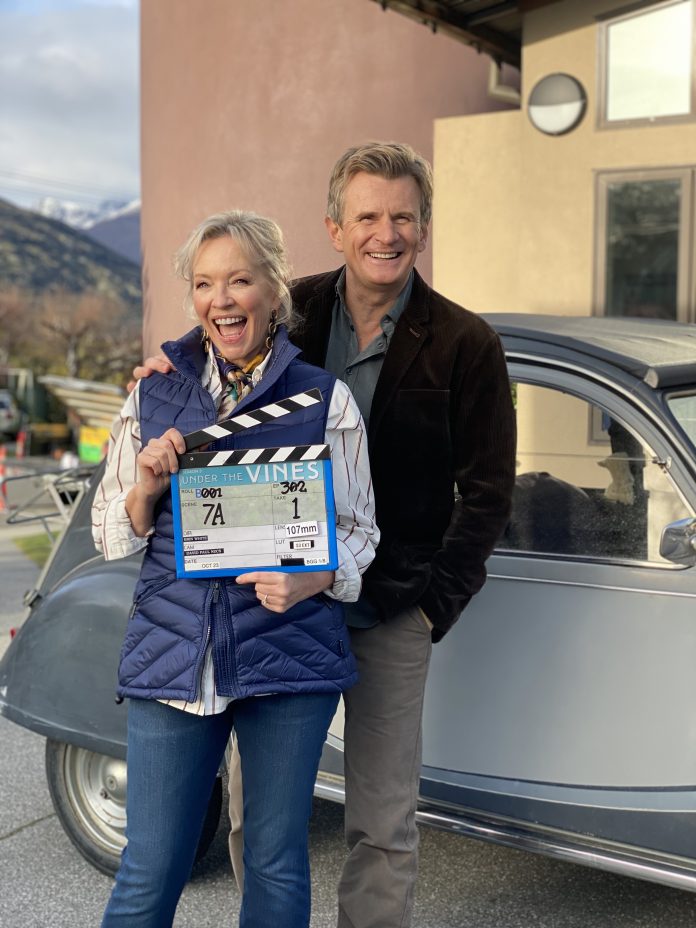 Central Otago is centre stage once again.
Filming for season three of television series Under the Vines has started in the region, with locals getting involved on and off screen.
About 17 people from Wanaka and Queenstown make up part of the production crew, with a host of locals involved as extras – the exact number is unknown as filming is still under way.
The show stars Rebecca Gibney (Wanted and Packed to the Rafters) and Charles Edwards (The Crown and Downton Abbey) as two city slickers, Sydney socialite Daisy Monroe and London lawyer Louis Oakley, who inherit a failing vineyard in rural New Zealand.
Neither have experience in running a winery, and start out with a strong dislike for each other, which fades during the course of the first two seasons.
Love, heartbreak and drama ensue on the vineyard and the season three return will see the pair desperate to regain their former standing as the ''sole'' mutual heirs of Oakley Wines, after a shock claim rocked their world.
Louis has been coping with his heartbreak with a potential new love, while Daisy is busy trying to plan a perfect wedding to the perfect fiance — but it soon becomes clear he may be a groomzilla.
The wedding is set to be the event of the year, but it wouldn't be Under the Vines if everything went to plan.
Filming is scheduled to wrap up in December, with the show set to air in New Zealand later next year.
Actress and executive producer Gibney said she was ''thrilled'' to be back filming in Central Otago.
''We are so grateful to the locals who have always been really kind to our merry crew.
''We look forward to seeing them around Clyde/Cromwell and Alex as we bring our whacky band of characters back to Peak View.
''You may spot a few of us doing some wine research along the way.''
Executive producer Richard Fletcher, of Libertine Pictures, echoed her sentiments.
''This beautiful part of New Zealand has become a central and much-loved additional character in the series.
''It's always a privilege to shoot down south and enjoy the southern hospitality.''
The show had a ''dedicated following'' both in New Zealand and overseas, he said.
Central Otago District Council economic development manager Nick Lanham said the production's return was ''fantastic'' news for the region.
''Beyond the initial economic benefit of the filming activity, I'm sure there has been flow-on benefit to the region of having our area showcased and this could be in the form of attracting people to the region or attracting other productions,'' he said.
''Television series based in the local area like Under the Vines are great as they are filmed over an extended period, providing a longer period of work and more opportunities for local to be involved — this is especially the case when filming returns for multiple series.
Mr Lanham said the industry contributed to the diversity and resilience of the district's economy.