Wanaka swimmer Rachel Armstrong would be devastated if her favourite swimming cap ever broke.
She got the cap more than 10 years ago, competing in her first women's sprint triathlon while living in the United Kingdom.
That short race was done as a motivation to lose weight and sparked a passion for ultra›mad challenges that has finally led her to the extremes of swimming pain: ice swimming.
Armstrong wore her lucky cap at the first New Zealand ice mile swimming championships in Alexandra in July this year and intends to take it with her to the Ice Swimming World Championships in France in January.
''I started swimming after university. I had always swum as a kid but never taken it too seriously. I saw a poster for a women's triathlon and decided to do that. I still have the cap, and I wore that in Alexandra. I would be devastated if it ever breaks. That's what got me into open water swimming, which in the UK can be a bit grotty.''
In New Zealand, she took up ocean swimming and competed in events around Auckland before moving toQueenstown seven years ago.
''I loved it but it wasn't until Queenstown that I took the wetsuit off. Yes, it is colder in Lake Whakatipu but you know it makes more sense,'' she laughed.
Armstrong moved to Wanaka 18 months ago to take up a job with Condon Scott Architects.
She has found her happy place with the Wanaka Lake Swimmers Club, but knows the 10›degree lake is a bit too warm while preparing for her January challenge.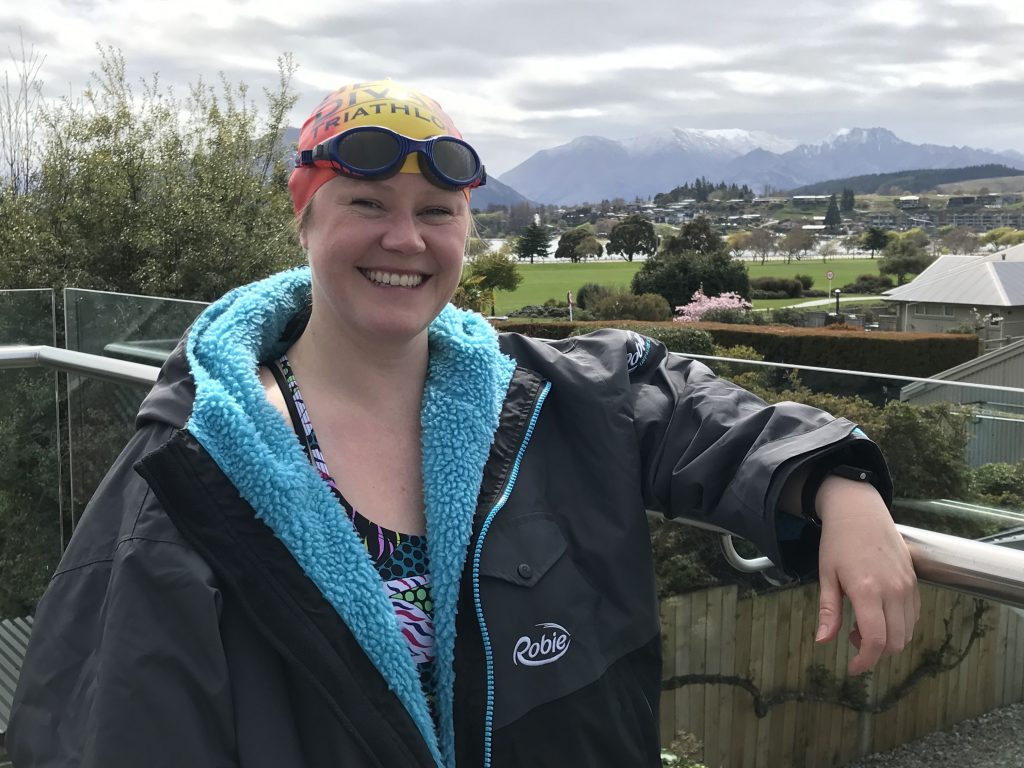 ''Us Lake Wanaka swimmers are very lucky we have access to a very cold body of water all year round but it does get too warm. It is now above 10 degrees. In Auckland, they would be struggling to find anything below 16 degrees.''
The swimming venue at Sameons, France, is a frozen lake with a pool-sized hole cut into it.
''It looks beautiful . . .The average in January, 2.5 degrees. We need it to be below 5 degrees. Alexandra [swimming pool in winter] was 3.6 degrees, so it is going to be quite interesting . . .
''So I am on the hunt for a second hand chest freezer so I can sit in cold water. A couple of people who were at the nationals in Alex do that,'' she said.
Despite searching high and low for cold water, Armstrong is not turning her back on the Wanaka Aquatic Centre, where she trains in an adult squad coached by Tim Brazier.
She aims to complete three technique and speed pool session a week as well as three lake swims and strength training.
The New Zealand team will attend a UK cold water training camp in early January before heading to France to compete between January 12›15.
After several age group world records were broken in Alexandra, the New Zealand Ice Swimming association selected its first ever team for the world championships.
There will be a Kiwi competing in every distance from 100m to 1km.
The team is paying their own way, but members are fundraising to cover the $6000 cost of the most essential team member of all — paramedic Diane Rankin, of Auckland, who will be responsible for the New Zealand team's safety. https://givealittle.co.nz/cause/help›send›nzs›first›ice › swimming›team›to›the›world