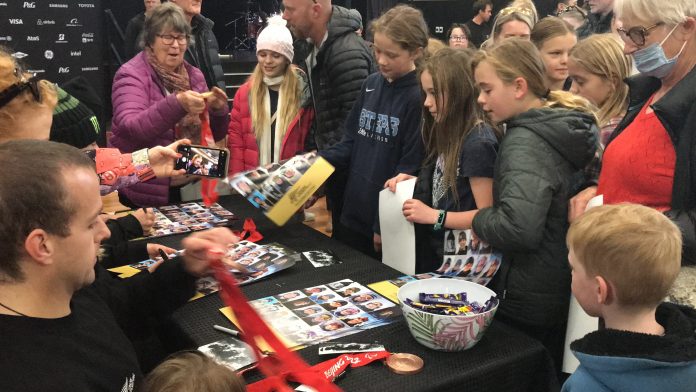 A shift to directly tailored athlete support would provide an ''incredible'' opportunity for development athletes, five-time Winter Paralympian Adam Hall says.
Hall was among many winter sports athletes celebrating last week's $20 million boost in funding for Snow Sports NZ, which includes $3 million tailored to athletes' specific needs.
Sports minister Grant Robertson boosted the budget last week, acknowledging the best-ever results from a Kiwi team competing at Winter Olympics and Winter Paralympics level this year.
High Performance Sports NZ decided in December last year it would swap out its Performance Enhancement Grants (PEGS) in favour of a Tailored Athlete Pathway Support scheme (TAPS)
''The biggest impact from an athlete's perspective is that, for so many years, there has been a sole focus on having to reach seasonal performance targets at a ''pinnacle'' event, year in and year out, to continue to maintain funding and support.
''[This is] something which has been very challenging, and cut-throat as an athlete, to maintain and guarantee long-term funding in a cycle.
''Funding as an athlete under TAPS provides a lot more security and certainty around the support you receive, and a bigger emphasis put on the athlete's overall wellbeing and vision towards their end goal," Hall said.
The $20 million Government investment will be dedicated to preparing winter sports athletes for the 2026 Winter Olympics in Milan, Italy.
The funding includes new funding for biathlon, luge and Freeride disciplines, which will support ''lone ranger'' athletes in minority sports, such as Wanaka's Olympian biathlete Campbell Wright and Freeride world tour title holder, Jess Hotter.
Wanaka's international junior snow sports stars, such as teenagers Gustav Legnavsky, Ruby Andrews and Campbell Melville-Ives, could also be among those to benefit.
In February, Wanaka park and pipe athletes Zoi Sadowski-Synnott and Nico Porteous claimed New Zealand's first Winter Games gold medals, while Paralympian Corey Peters bagged a gold medal in the alpine sit-ski category.
Sadowski-Synnott and Peters also won silver medals, while Hall won two bronze medals in his alpine disciplines.
Mr Robertson described New Zealand's success as ''unprecedented'', and reflective of the ''raft of young talent emerging across winter sports".
"This investment will support the winter sports' high-performance campaigns, build on the development of athlete and coach pathways and wellbeing initiatives and help provide facilities for our top winter sports athletes and para-athletes to compete consistently at the highest level," Mr Robertson said.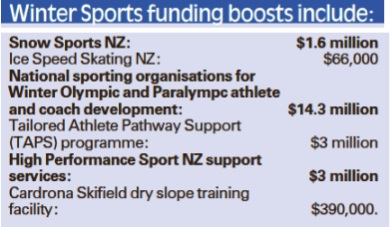 Snow Sports NZ chief executive officer Nic Cavanagh said the increase in investment was ''fantastic''.
''This allows us to support deeper down the pathway with both a high performance and wellbeingfocused approach for our athletes and staff, while maintaining tailored support to our medal capable campaigns,'' Mr Cavanagh said.
Snow Sports NZ high performance manager Luke Hetzel said the funding would provide world-class support on and off snow, at the right times in athletes' careers.
Direct investment in the wellbeing space would be beneficial across the entire programme, including for staff, Mr Hetzel said.