Women are taking to new vertical heights, despite only 3% being commercial helicopter pilots.
Currently three women are training through the pilot qualification pathways on offer at Wanaka Helicopters aviation school.
These pathways include Private Pilot's Licence (PPL), Commercial Pilot's Licence (CPL) and a Diploma in Aviation (rotary) a two-year degree with both licences.
Diploma in Aviation student Brianna Curtis said she was attracted to the career pathway after growing up around helicopters.
"I grew up on a high country farm in the Cardrona Valley.
We use helicopters on the farm to help with mustering the high country, for pest control, spraying and fertilising. As a child, the days that helicopters were buzzing around our hills were the most exciting, and I often got to go for a little joyride after the work was done," Ms Curtis said.
The passion for aviation has been generational with her mother acquiring a PPL in the 1990s and strongly encouraging Ms Curtis to pursue her dream of flying.
Despite being the only female among six men in her diploma group, Ms Curtis said she had found the aviation community "very supportive and inclusive".
"I'm naturally very competitive and like a challenge, so the fact that as a woman I may be a minority in the aviation industry only makes me want to work harder to prove myself," Ms Curtis said.
She aspires to work in a variety of different aviation areas including scenic flights, safaris and animal conservation work.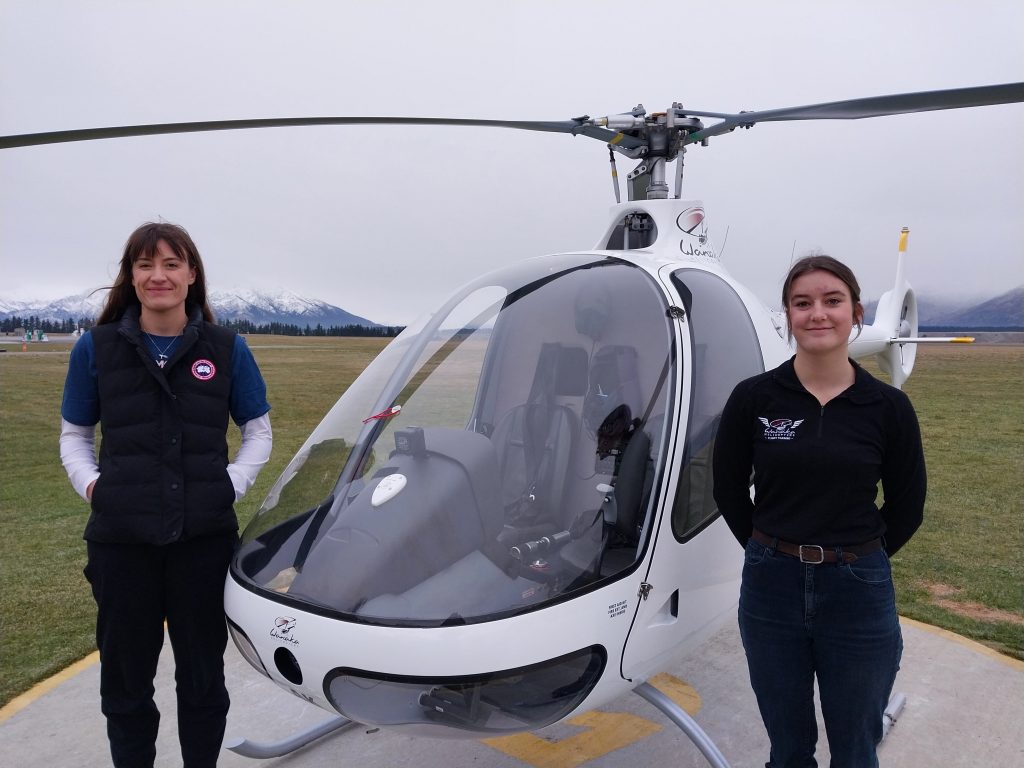 Commercial Pilot's Licence student Holly Ansley said despite low numbers of women flying, they were around and it had been encouraging seeing more come through.
"I would like to think young girls considering learning to fly wouldn't be put off by aviation being traditionally male› dominated. I think the most common misconception is that people assume the stigma around women in aviation is similar to how it has been in the past. I personally haven't found this to be the case — everyone has been really supportive," Ms Ansley said.
She is completing her Commercial Pilot's Licence alongside studying postgraduate degree in Aerospace Engineering, at the University of Auckland.
Ms Ansley has prior flying experience, already holding her PPL for fixed-wing aircraft.
Between the two aircraft types, she said she enjoyed flying rotary because of the range of locations accessible. Wanaka Helicopters chief executive Pete Spencer›Bower said the any previous stigma associated with women in aviation had begun to dissipate over the years.
"I think the culture's changed a bit over time and made it more accessible for females to fly. There's no difference between men and women flying. Most of them are better prepared than their male counterparts.''
Wanaka Helicopters academic co›ordinator Brian Paavo said inquiry into training for both diploma and private has increased during the past three years.
"Exposure is still a barrier when the stigma's gone, but that's slowly changing," Mr Paavo said.
Wanaka Helicopters offers two of their own scholarships for diploma of aviation students, the only school to provide this financial support in New Zealand.
The diploma is a two-year accredited tertiary degree, with graduates qualified with both CPL and PPL licences.
Throughout training, students exposed to a diverse aircraft fleet including the Robinson R22, Guimbal Cabri G2, Robinson R44, Airbus AS350 SD (Squirrel) and Airbus AS350 B2 (Squirrel).
Career progression was a key priority in the two-year degree.
Students' diversified skillsets prepared them for a wide range of potential roles, including flight operations, senior management, air traffic control and advanced commercial operations.
Director and chief flight instructor Simon Spencer› Bower is a helicopter industry leader, with more than 50 years' experience and more than 20,000 flight hours.
Wanaka Helicopters is owned and directed by the Spencer-Bower family and has been training flight instructors since the early 1980s.