At a time where many of our everyday activities require us to be connected online — work, study, banking, shopping, relaxing and socialising — reliable internet and phone access have never been more important. But many parts of rural New Zealand — including Central Otago — are disconnected, or as Citizens Advice Bureau refers to it, digitally excluded. Shannon Thomson reports.
Central Otago is a region disconnected.
While our urban counterparts experience ultrafast broadband and unlimited mobile coverage, Teviot Valley residents test out which rooms in their homes get the best reception so they know where to stand if they need to call emergency services.
Those emergency services know where the black spots in coverage are.
It is not unusual for emergency crews attending an incident to have to relay a message to a vehicle stationed further away where there is coverage.
In Cromwell, when holiday makers arrive for summer, the additional load on cell towers causes mobile phone coverage to reduce, and at certain times of the day devices spend more time spooling than streaming.
The Department of Internal Affairs (DIA) estimates 20% of New Zealanders experience some form of digital exclusion.
Citizens Advice Bureau defines digital exclusion as situations in which people face barriers to participating fully in society because of information and services being online.
In rural communities such as Central Otago a large barrier is access to internet and phone services.
Southland MP Joseph Mooney said digital exclusion challenges included poor local internet services, no access to high›speed data and an inability to work and educate from home, or the ability to make an emergency call when needed.
''Reliable connectivity, whether digital or mobile coverage, is a critical infrastructure must›have for rural communities.''
In a world of Covid›19 and lockdowns many services had moved online, including many everyday transactions such as bill payments, grocery shopping and social interaction.
''The inability for some to do so reliably serves to highlight just how deficient some areas in our region are of reliable connectivity infrastructure.''
Mr Mooney held a public meeting in Roxburgh earlier this month to discuss connectivity issues and concerns in the Teviot Valley.
The ability to access emergency services was top of the list for many attending.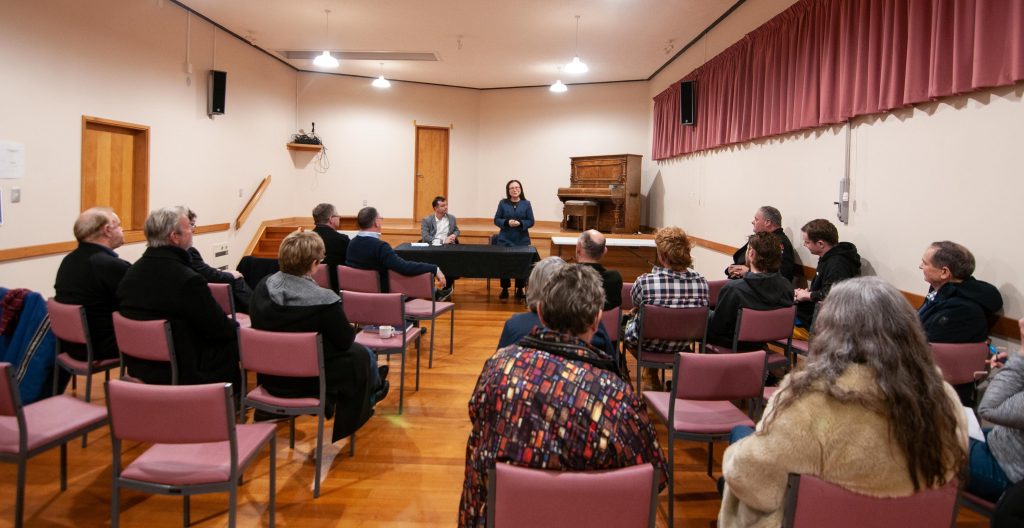 St John Ambulance radio coverage in Central Otago was ''generally very good'' with 98% of incidents attended being within radio coverage, St John Public Safety Network (PSN) business change manager Chris Laufale said. However, St John was working with government and partner agencies to implement a new communications network for the nation's four emergency services — St John, Wellington Free Ambulance, Fire Emergency New Zealand and Police — as part of the Public Safety Network programme under the Government's Next Generation Critical Communications (NGCC) lead entity Poutama Whai Tikana Papaho.
''The goal is to provide a reliable, secure and capable communications system and a common capability to communicate between agencies more effectively,'' he said.
Rural Women New Zealand technology spokeswoman Claire Williamson said the ability to digitally connect with family and community members on a regular basis was becoming the norm and was important for mental health and wellbeing, with reliable connection being vital in emergency situations.
''Both cellular coverage and internet connectivity is needed by rural families so that they can transact their daily lives, access education opportunities, run businesses and stay connected with each other.''
Rural communities had been suffering from non› existent, inconsistent and low-speed digital connectivity for too long, she said.
''Rural communities should not be worse off than their urban counterparts and it is time now to think about how to ensure every rural family has access to good internet and cellular coverage.''
Central Otago District Council (CODC) economic development manager Nick Lanham agreed access to good digital connectivity was becoming increasing important and would only continue to do so into the future.
''Digital connectivity has been identified as an important enabler in our economic development and tourism strategies. CODC is currently considering options to facilitate better outcomes for digital connectivity in the district.''
Unlike roading and Three Waters, mobile and data infrastructure is provided by central government and the private sector, not local councils.
The council played a supporting role in the development of digital infrastructure through requiring new subdivisions to have connectivity, and connecting digital infrastructure providers with access to land and landowners, Mr Lanham said.