They may not be learning new tricks but with 150 years of life between them, they must have few old ones to draw on.
New Zealand's best-known shearer Brian "Snow" Quinn is teaming up with Ida Valley farmer Jim Dundass in the Central Otago A&P show farmers and shearers competition in Omakau on Saturday.
Mr Dundass said he had organised the shearing events at the show for years and now he was taking part.
In the competition they were entering a professional shearer and a farmer shearer were teamed up.
Ten teams would compete in the heats with two ultimately facing off for the glory, Mr Dundass said.
Skill as well as speed would be judged, he said.
This year the judging would be done by Ida Valley farmers Shane McBreen and Richard Anderson.
Last week, Mr Quinn, who is 82, and Mr Dundass, who is "closer to 70 than 69", were trying out their gear.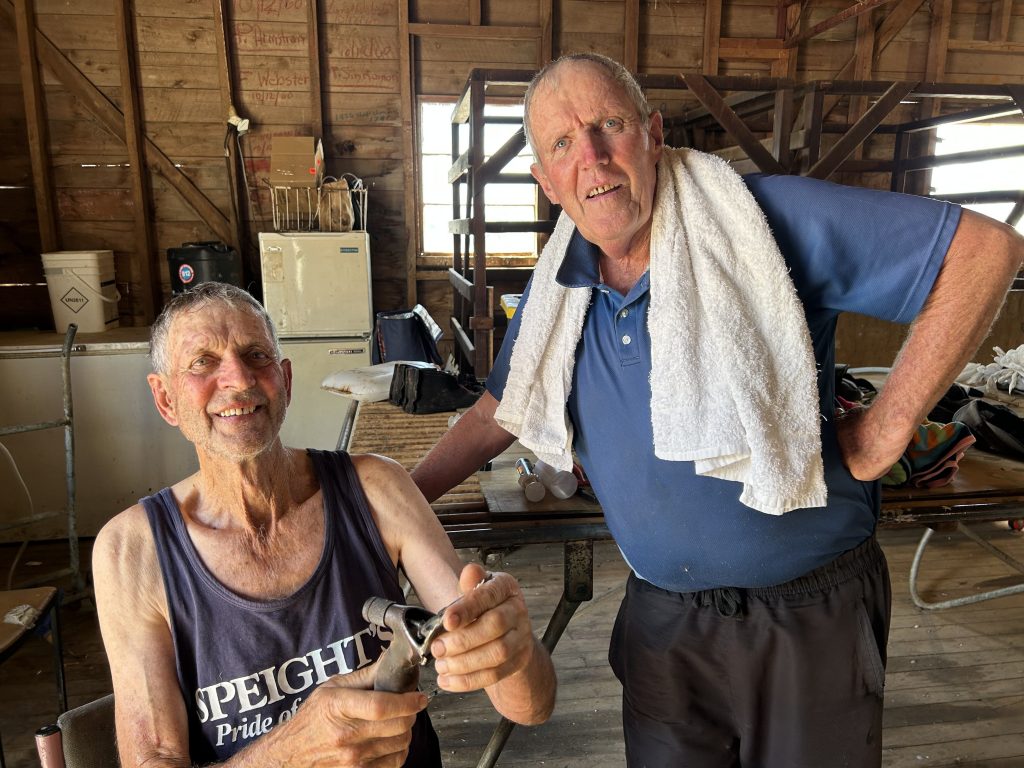 Mr Dundass said he last put a blade to a fleece 26 years ago.
Finding enough working gear had been an bit of a challenge, Mr Quinn said.
He was entering the competition because "he told me I was" he said, pointing to Mr Dundass, with a laugh.
Mr Quinn, a six times Golden Shears winner and world champion in 1980, said he retired in 2014 but had done a little bit on and off since then.
The pair rated themselves in the contest — Mr Dundass said they would be competitive and Mr Quinn gave them a 50/50 chance.
Shearing was the only job he had ever done, Mr Quinn said.
"It's been a good life. I've been very lucky."
Modest about his own accomplishments, he was happier talking about his family, which includes 12 grandchildren and seven great-children.
He was awarded the MBE for services to shearing in 1981, was one of the first to be given the status of Master Shearer by Shearing Sports New Zealand and was the inspiration behind the name of champion pacer Young Quinn.