Slow and steady wins the race.
    That is the approach taken by the Cromwell Mountain Bike Club with its 14km trail network project at Shannon Farm, which will be presented at a club membership launch next weekend.*
    The trail project has been subject to private plan change 14, which was approved by the Environment Court on April 8, after mediation between the applicant and the Central Otago District Council.
    It permits a new 142ha development zone, ''rural resource area 5'', at the 244ha Shannon Farm in Ripponvale Rd.
    The Environment Court consent notice paves the way for 160 rural lifestyle lots next to a 29ha cherry orchard.
    The mountain bike club has been working with developer Infinity Investments Group and landowner Cherry Corp for three years to develop the project.
    ''We have exciting multiple opportunities developing, but these things take time,'' club president Alex Bartrum said.
    ''Our Shannon Farm project is particularly exciting, as once developed, there will be world-class, mountain-bike-specific trails in riding distance of Cromwell town. The underpass being developed by Infinity Investment Group under State Highway 6 will ensure safe access.''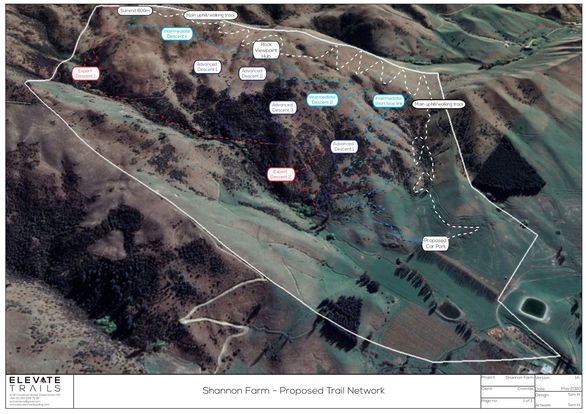 Mr Bartrum said it would be Cromwell's first mountain bike park, with trails ranging from grade 3 (intermediate) to 5 (expert).
    Once completed, families would not have to strap their bikes to their cars and drive to Wanaka, Alexandra or Queenstown to ride trails, he said.
    Many children use the Cromwell Bike Park to hone their BMX skills, but trail parks offer a different experience, with climbing and descent trails made by machine or hand.
    When the Cromwell Mountain Bike Club formed in 2019, 80 people came to meetings, showing the high demand for mountain bike-specific trails, Mr Bartrum said.
    Until now, the club had been a ''committee only'' entity because it had not wanted to seek paying members until there was a solid project to be involved in, he said.
    ''Our aim is to develop world-class mountain bike specific trails in the hills surrounding Cromwell. These trails will be free access to anyone living in or visiting our region.
    ''The club will seek paying members but non-members will be just as welcome to use our trails,'' he said.
    Mr Bartrum predicted trail park visitors would help boost the local economy.
    A 2017 economic impact survey by the Queenstown Mountain Bike Club showed trail development had significant, positive economic effects, he said.
    While Covid had impacted on the economy since, the 2017 findings were valid, he said.
    The 2017 report showed $64.95 million was being spent by trail users annually, generating an equivalent 297.2 direct jobs and 38.1 indirect jobs, and creating $25.12 million income annually for Queenstown.
    Of the total spend of $64.95 million, $60.12 million was spent by visitors, equating to about 2.8% of the regional tourism spend.
    Tourism Central Otago general manager Dylan Rushbrook said even without considering visitor benefits, the trail park's value to the community would be ''absolutely positive''.
    ''We have seen that with the Matangi Station mountain bike park in Alexandra. It has created a thriving opportunity for mountain bikers,'' he said.
    There were compelling reasons from a visitor perspective for more cycle products in the region.
    Cycle tourism provided for growth at a nice pace and the region would not be hit with mass tourism.
    Every town in the region would benefit, from Ranfurly to Wanaka and Queenstown and down to Dunedin; and cycle tourism created other business opportunities, he said.
    ''There would be lots of opportunities for people to stay longer and enjoy doing what the locals love doing,'' Mr Rushbrook said.
    Central Otago Tourism does not have data on the economic impacts of cycle tourism but was collecting it, he said.
    The Cromwell Mountain Bike Club membership launch is at Bike It Now Cromwell on September 2 from 1pm-4pm and September 3 from 12 noon-4pm.
NOTE: We have corrected an earlier version of this story that wrongly overstated the cost of the development and we have replaced the image to show the trail locations rather than the entire Shannon Farm site subject to plan change 14.