Three years ago Andrew Thompson's world was turned upside down.
The Wanaka occupational therapist was diagnosed with Stage 3 pancreatic cancer, with medical professionals telling him if he did not act he would only live three to six months.
''So I howled at the moon — it was a huge shock — but then I dug deep and discovered more about who I am, and so that journey of cancer, becoming very unwell for two or three months then coming out the other side,'' he said.
When he was diagnosed, the Cancer Society stepped in to help support Mr Thompson and his family as they adjusted to life with cancer.
Two years ago he became involved in Relay for Life and never looked back, becoming the event's ambassador.
On Saturday afternoon, Mr Thompson opened the Wanaka Relay for Life at Pembroke Park, joining schools and sporting groups, local businesses, family and friends from throughout Otago and Southland who gathered to take part.
The first lap of the track was reserved for cancer survivors and those still fighting the disease, set to the backdrop of bagpipes, drums, and cheers from supporters.
The teams, donning colourful wigs, tutus and a range of other costumes, joined from the second lap, settling in to walk through until 11am Sunday morning.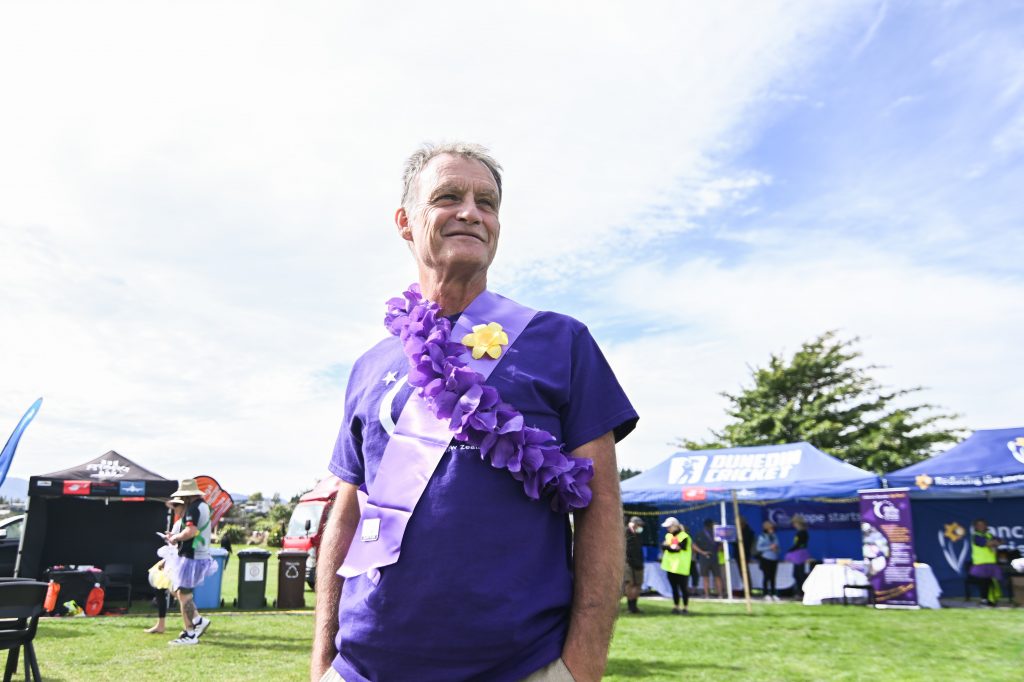 ''The aroha . . . there's people going step bystep, remembering their whanau, their family, supporting those with cancer and fighting a fight that will be won, and isbeing won.
''You know, kia kaha [stay strong] . . . it's so human, the essence of this, it's wonderful,'' Mr Thompson said.
''And these are beautiful people, every single one of them, is doing this Relay for Life, 20 hours of walking around quite a small circle, a few of them are going to get dizzy. I've been [there] before — you're like goldfish in a bowl.
''So I have huge aroha for them and I'm very grateful that there are so many people wanting to help, it's a very human thing,'' he said.
While Relay for Life raised funds and awareness for the Cancer Society, it was also a key way to support cancer warriors— those in the community fighting the disease, Cancer Society events and campaign co-ordinator for Central Otago Nicole Rushbrook said.
''[It's] putting yourself in the shoes of a person going through cancer and the idea is you get tired, you get grizzly, you get achy but this iswhat they live with every day so you're basically walking in their shoes, [having] empathy towards what they go through every day of life,'' she said.
The event encouraged people to celebrate those living with and affected by cancer, remember those who had been lost to it and fight back against the disease, she said.