Armistice Day will be observed in Alexandra beneath the names of those who served their country.
Alexandra RSA executive member Paul Galloway said the first Poppy Places signs had been installed in Molyneux Estate and would be formally unveiled at the annual memorial service which would be held there.
Five streets in the subdivision have been named for Central Otago servicemen — Stevens Way, Weaver Close, Kinnaird Close, Tohill Court and Walker Place — and their new signs will have a poppy on them in recognition of their service.
Adding a poppy to street signs and local places connected to the area's military history was a unique and significant way to provide an enduring reminder of local service and sacrifice, Mr Galloway said.
Armistice Day, marking the ceasefire that ended World War 1, is observed on November 11 at 11am.
On that day in 1918, the secretary of state for the colonies sent a wire to New Zealand's then governor-general Lord Liverpool at 10.55am, advising the armistice had been signed. The ceasefire came into effect five minutes later.
The agreement was signed at Le Francport, near Compiegne in France, and ended fighting on land, sea, and air between the Allies and their last remaining opponent, Germany.
Previous armistices had been agreed with Bulgaria, the Ottoman Empire and Austria-Hungary.
Saturday's service was open to anyone wishing to participate, Mr Galloway said.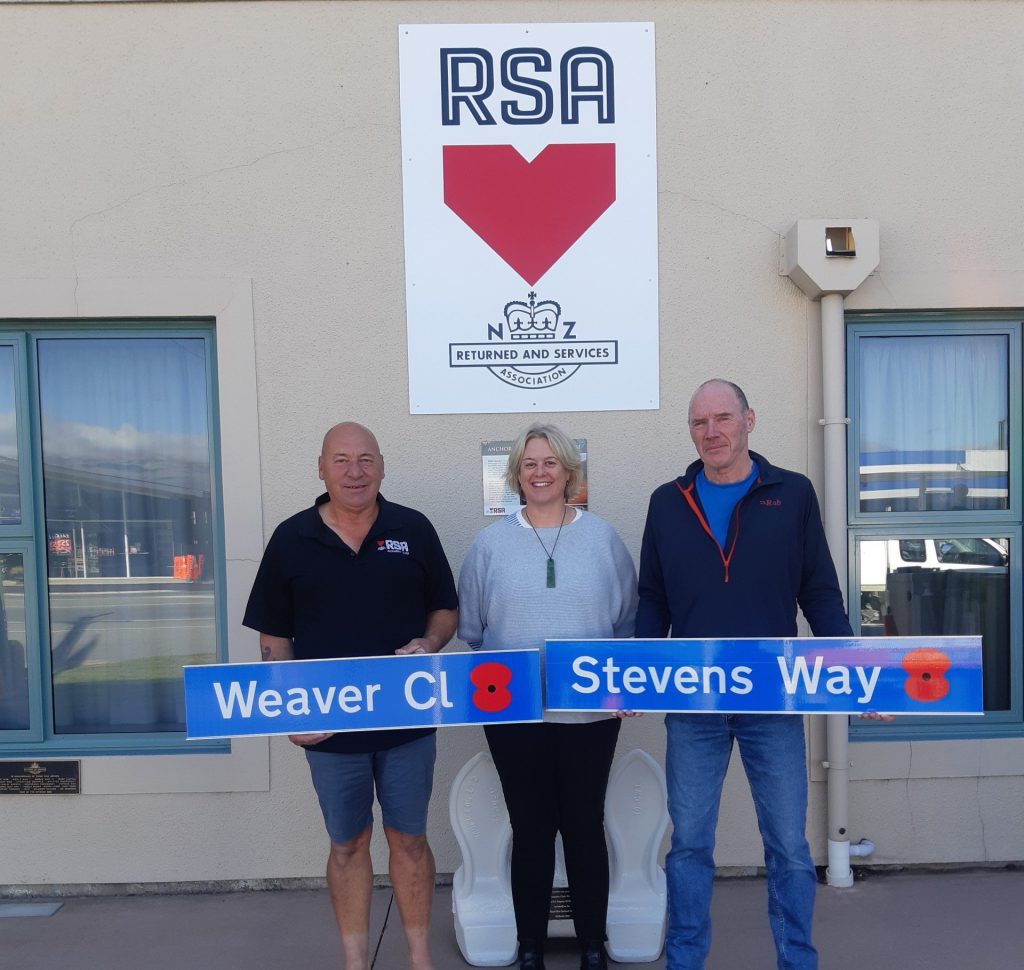 At 10.50am there will be an assembly bugle call and the service, led by Gerry Sutherland, of the Alexandra-Clyde RSA, will begin five minutes later.
At 11am there will be three rounds fired from a 25-pounder gun, followed by a minute's silence.
Mr Galloway will give an address at the service and unveil the signs.
The RSA was grateful to Jo Mullenger and Mark Davies for their dedication and enthusiasm in researching the stories behind the names, he said.
To establish a Poppy Place, the RSA identifies the road or street to be named after an individual who served, registers it with the Poppy Places Trust and notifies the council.
The RSA then researches and writes a story that will be published on the Poppy Places Trust website and, in Central Otago, on the Central Stories website.
The council will install a replacement name blade for the road with a poppy on it. Roads named in the future for those who served will immediately have the poppy sign installed.
An armistice is a formal agreement of warring parties to stop fighting. While in WW1 it did lead to the end of the war, it may only be a pause in hostilities while an attempt is made to negotiate a lasting peace.