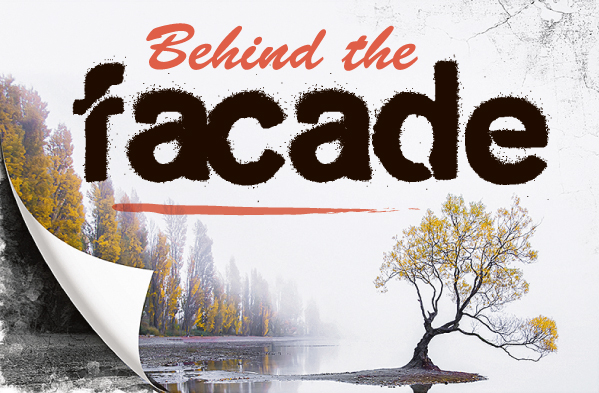 After five months of looking into social issues resulting from New Year's Eve gatherings in Wanaka, the Behind the Facade series comes to an end. Aspen Bruce takes a look at how the New Year's Eve celebrations played out this year.
As the sun drew closer to Roy's Peak on New Year's Eve, pockets of youth gathered along the lakeside.
Enjoying the afternoon sun, Wanaka locals Nieko (13), Jayden (14), Lucas (15) and Leo (12) said they were excited about visitors coming to town.
''It's fun and good meeting new people . . . we just met some Christchurch boys,'' Nieko said.
Visiting from Christchurch, Jaelyn (18), Carter (13), Monty (13), Josh (18) and Gab (18) said it was their first Wanaka New Year's Eve.
''We were in Queenstown for a few days then got here last night and go back [to Christchurch] on the 2nd [of January],'' Josh said.
They had heard some stories about what had previously happened in Wanaka over the new year's period and shared some advice. ''Stay away from the fights I guess. Apparently there's heaps of raucous around [the lakefront car park],'' Josh said.
Community groups took proactive measures to try to mitigate potential harms around New Year's Eve.
Two stages were set up in the lakefront car park.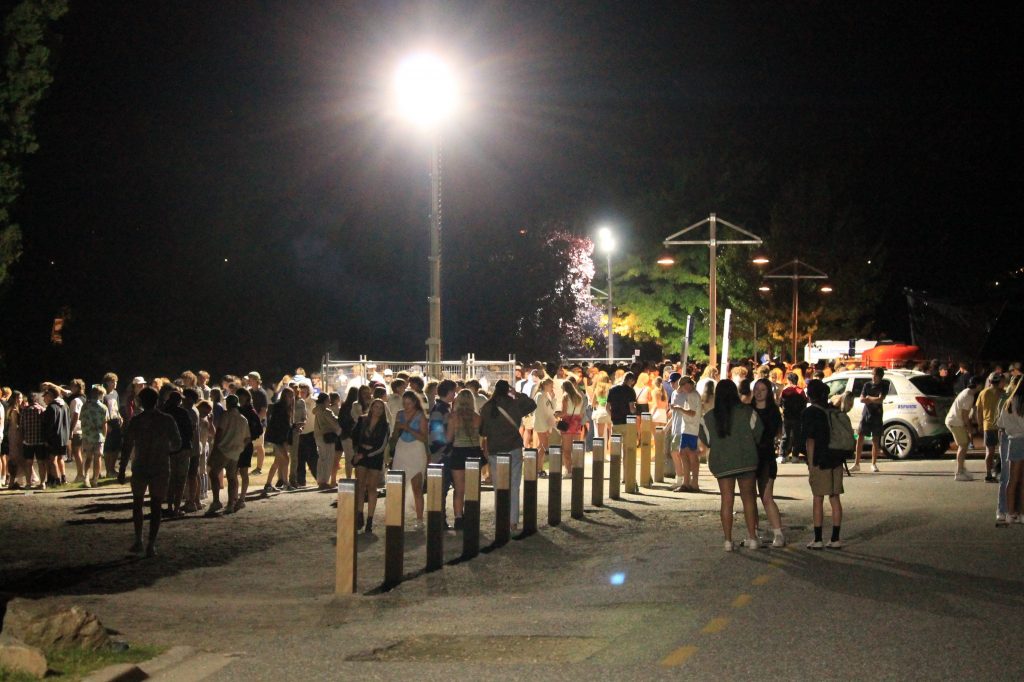 A food truck with heavily subsidised chips and burgers was set up next to the main stage for youth to buy food throughout the night.
The Wanaka Lions Rotary Club contributed financially, allowing the cheaper rate.
Queenstown Lakes District Council New Year's Eve Queenstown and Wanaka event manager Craig Gallagher said each year organisers tried something different.
The food truck was a new addition this year.
''The [Wanaka Lions Rotary Club] wanted to support the youth — essentially we're getting food into the youth that are here and [have] got nowhere else to go.
''Their brothers and sisters might be at [Rhythm & Alps], but they want to spend New Year's Eve around Wanaka, so we want to make sure they're well cared for by Red Frogs, and got some food in their bellies when needed.''
Red Frogs volunteers actively wandered their ''activation zone'' — the area between the skate park and dinosaur park.
As the sun set, local band Powder Chutes took to the main stage as families and youth dribbled down to the lakefront.
Scattered among the people, police strolled the streets and lakefront.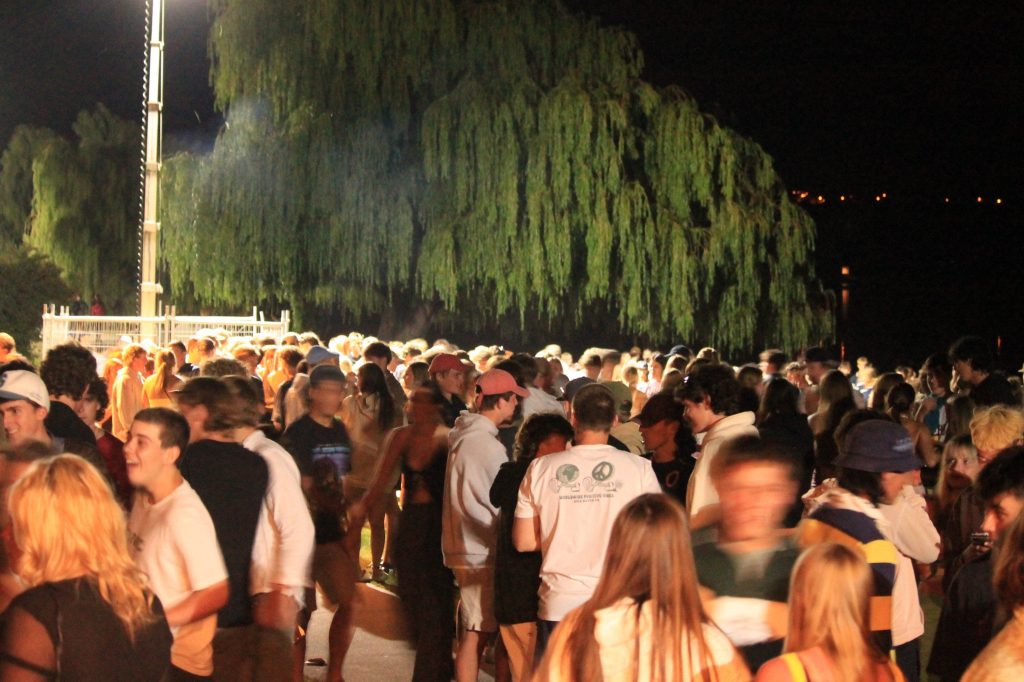 Wanaka Police Senior Sergeant Chris Brooks said they had been building up their police teams before New Year's Eve.
The Otago Daily Times reported earlier 40 additional police had been stationed in Wanaka for New Year's Eve celebrations.
With the sun disappearing behind Roy's Peak, Snr Sgt Brooks Brooks acknowledged how he was feeling about the impending night.
''I'd have to say I'm pretty nervous about tonight to be honest. We've been picking up young people absolutely wasted off the streets [over] the last few days and nights.
''It's disappointing —a lot of alcohol is supplied by parents or families to these young people — tonight will be no different.
''Let's just hope we get through it without too many people getting hurt.''
A large crowd of youth had gathered along the lakefront the night before.
Chris (16), Jackson (16) and Ben (16) from Christchurch estimated more than 10,000 people attended.
''All of the South Island is here,'' Ben said.
They confirmed the gathering was co›ordinated through word of mouth, Snapchat's feature Snap Maps and TikTok.
''It's a bit of a tradition really — Lake Wanaka if you're year 11 and 12, you . . . have a few brews at your house, come down to the lake, see everyone you know — it's exciting,'' Jackson said.
Without entertainment to drown out the noise, the flock of intoxicated teenagers squawking at one another could be heard around the town centre.
The next night, New Year's Eve, an even larger crowd was present, but more spread out between the two stages.
Local DJs and bands provided entertainment as the evening grew closer to midnight.
The sky lit up with fireworks when the clock struck 12.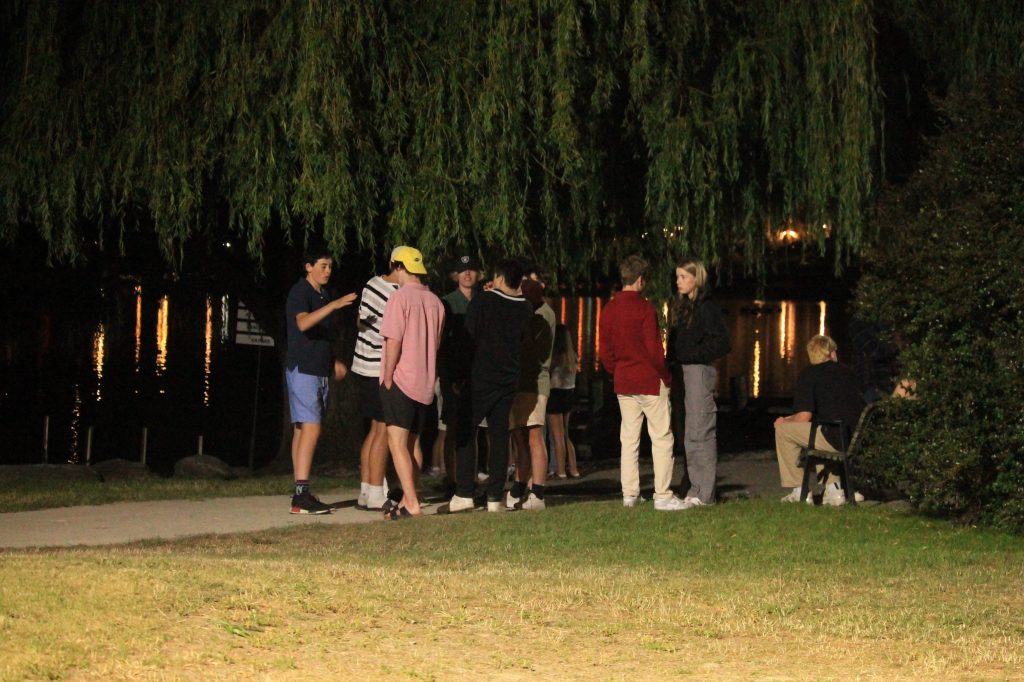 Crowds trailed off with several hundred youth still lingering by the lakefront.
Christchurch visitors James (17) and Noah (18) said they enjoyed their evening.
''It's been pretty good, lost my voice, but yeah — just yelling, screaming, you know,'' James said.
''Seeing people I know, having great experiences with friends and family at the Lakeside Apartments, and having a great time,'' Noah said.
As the night crept on, a few sloppy drunken fights broke out between some of the remaining youth.
Roaming support services were quick to the scene and helped to de-escalate the confrontations.
The services remained until the early hours of the morning.
Throughout the night, the odd adult was seen standing alone.
They scanned from their phone to the cluster of youth in front of them, eagerly looking to find a familiar face in the crowd.
Behind the Facade
This concludes The News and Wanaka Sun's Behind the Facade series.
Over the past five months we have explored a range of social issues including drug use, social media, family harm and alcohol. While Behind the Facade centred around circumstances in Wanaka, in particular over the New Year's Eve period, the findings extended beyond the township. This project evolved from statistics from harm-related reports made over New Year's Eve 2021/22.
Every story and perspective provided a new thread in the bigger issue of safety. As we close out the series, questions that remain include issue such as: what does safety within our communities look like practically? Where do the boundaries of personal and social responsibility extend to, and become blurry? Rather than blame shift responsibility on to another issue, topic or person, how do we each individually take responsibility for ensuring safety within our direct social groups? The purpose of this series was simply to bring a spotlight to the social conversations and challenges already present within our community. If you, or someone you care about is moving through challenging times, there are a range of support networks and resources available, or you can visit local community centres, doctors or ministers for additional support. From us to you, thank you for your support and feedback, vulnerability and questions throughout the process.
Help at hand
Youthline 0800 376 633 text 234 or [email protected]
What's Up (for 5 to 18-year- olds; 1pm-11pm): 0800 942 8787
Kidsline (aimed at children up to age 14; 4pm-6pm weekdays): 0800 54 37 54 (0800 KIDSLINE)
Alcohol & Drug Helpline 0800 787 797 or free text 8681 and have a free, confidential text conversation.
Lifeline Aotearoa 0800 543 354
Alcoholics Anonymous Wanaka [email protected] — 03 443 9080
Suicide Crisis Helpline: 0508 828 865 (0508 TAUTOKO)