The closure of three swing bridges in Mount Aspiring National Park has left some feeling a ''bit narked", as volunteer trappers and tour guides grapple with the sudden change in accessibility.
Trapper Ian "Mo" Turnbull, who has been involved with a long-running Makarora trapping programme, said volunteers on the Makarora and Matukituki Valley trapping programmes "will definitely be impacted" by the Department of Conservation's decision to close the bridges to both the Blue Pools and Rob Roy Glacier.
"Not just by more cold, wet feet, but also by the increased risk inherent in a lot more river crossings," he said.
The Department of Conservation (Doc) gave "concessionaires, conservation groups and other interested parties" 24 hours' notice last week that the bridges would close for repairs and maintenance throughout the winter.
"We considered alternative mitigations, such as reducing the number of people who could be on the bridge at a time, in the lead up to the safety improvements," Doc Central Otago operations manager David Butt said.
"But at the end of the day, [we] decided to err on the side of caution."
Mr Butt said Doc hoped to have the bridges to Makarora and the Blue Pools reopened by March next year, while the expected finish date for the Rob Roy bridge required further consultation.
The closures mean there is now no way for visitors to access either the Blue Pools or the Rob Roy Glacier.
For Eco Wanaka Adventures managing director Chris Riley, the loss of access to Rob Roy Glacier has left the company in an "awkward" situation. It is now faced with cancelling bookings for one of its most popular trips.
"We're a bit disappointed in the short period of time we've been given for this. If we had known three months out, we would have totally gone down a different path."
Mr Riley said many of his guides depended on tours of Rob Roy Glacier for their income, and the company would now attempt to reallocate them to different trips.
"People really want to see the glaciers here, and it's going to make quite a dent on Wanaka's tourism numbers if they can't get to Rob Roy Glacier."
Mr Turnbull said volunteer trapper numbers would also be impacted due to the need for more river crossings.
"As not all of our volunteers are experienced in this, and we do not want to expose them to unnecessary risks, our pool of river-capable volunteers will be reduced."
On the Gillespie Pass Circuit, an advanced tramping track that usually incorporates the Blue Pools bridges, Doc has encouraged trampers to consider "transport options" when approaching any river.
"Trampers should have river crossing skills and experience if they are undertaking this advanced tramp," an alert on the organisation's website said.
According to the 2022 Water Safety New Zealand Drowning Prevention Report, there were 94 drowning deaths last year, the highest number in the past decade. Of that total, 21 lost their lives in rivers, the report said.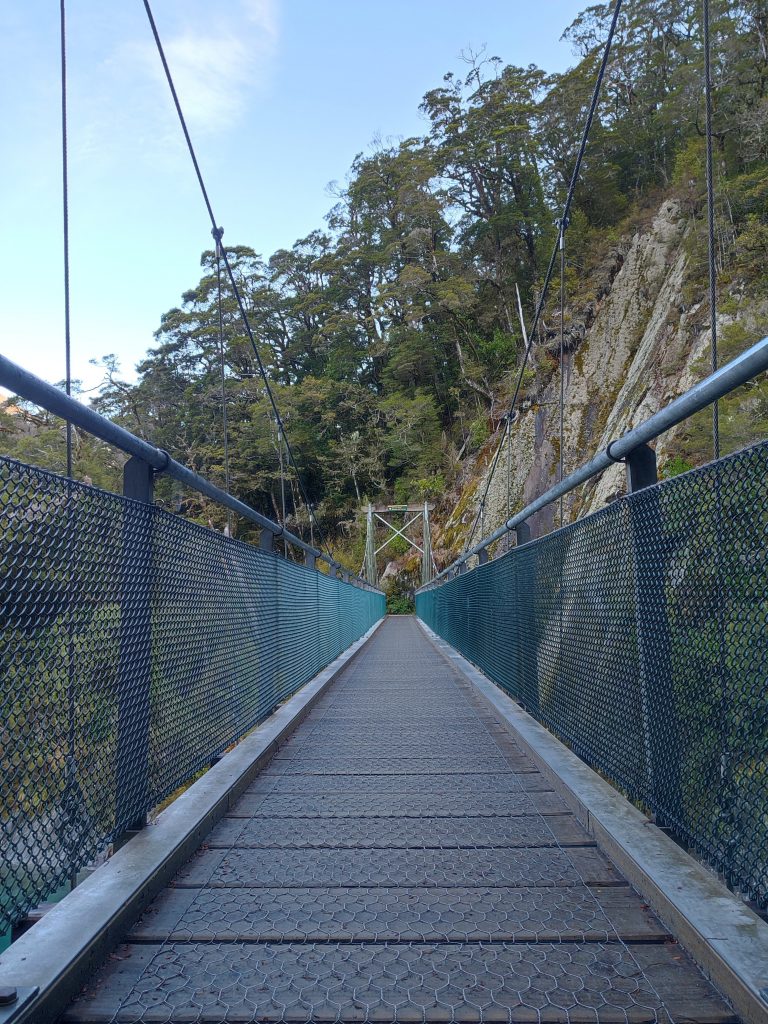 Makarora has experienced river-related deaths in the past, including the loss of three trampers in the area in February 2020.
Despite the added risks, Mr Turnbull was confident that most of his fellow volunteers would be able to manage them safely.
"Our trappers are used to being in the bush," he said.
"A lot of what we do these days is also filling gaps in Doc capability, as Doc is .. .downgraded in Government priorities.
"Basically, I would like to see all the trapping volunteers across the region recognised for the .. .hard, cold yards they will be doing in the months to come."