They have made Lilliput libraries, planter boxes and a coffin, but the Cromwell Menz Shed is planning their biggest project ever.
The group has outgrown the two 40ft containers used to house their tools and workshop.
Last week there were 18 men on site working on bird houses, outdoor seats and ladder golf games. On a cool morning, many were working outside and they had taken shifts in the small kitchen for smoko.
Shed manager Dennis Booth said a grant of $197,068 from the Central Lakes Trust meant the plans for their own purpose-built home were closer to reality.
The new building would have a meeting room, which could be hired by other groups, toilets and an office as well as a large workshop.
''We need the space. We can't fit 18 into this smoko room.''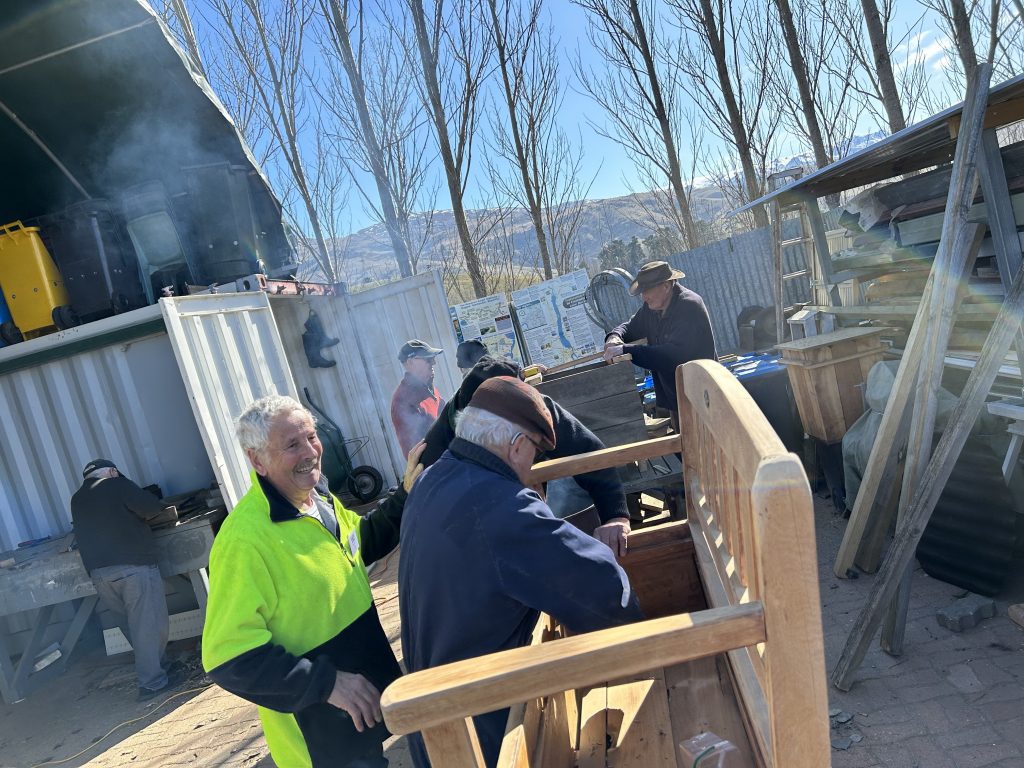 The group had secured a lease from the Central Otago District Council for a block of land in Alpha St and Breens had drawn up plans. All they needed now was the money, Mr Booth said.
As well as the grant, the shed members had raised $135,000 themselves with help from Lions and Rotary.
Members of the shed ranged in age from 30-something to 90.
They could come with their own projects, work on a community project or simply for companionship, Mr Booth said.
''The work isn't important. Some just come for a chat and a coffee.''
While many of the men were former tradies that was not a requirement.
Among the members were former Polytech tutors, as well as joiners, painters and other tradesmen who were keen to share their knowledge, he said.
Cromwell Menz Shed Charitable Trust trustee Russell Fowler said the new shed would allow membership to double.
''The Menz Shed is integral to the community network as it creates an environment where topics such as personal wellbeing and other men's health issues can safely be discussed either one-on-one or in an organised group session.''
The 14 grants approved in this funding round, bringing the total grants approved to date for the financial year ending March 31, 2024, to $3.7 million.
Other grants from Central Lakes Trust were:
Central Otago Heritage Trust, Oral History Project August 2023-July 2025, $11,430. Hawea Flat School , Emergency Preparedness Kit, $5000. Lower South Island Snow Sports, Special Olympics 2023, $2 726. Mt Aspiring Outdoor Education Trust, Generator Project, $6000. Roxburgh Baptist Church Church Extension and Food Bank Pantry, $35,000. TeKura Whakatipu o Kawarau, School Hall AV Project, $30,000. The Cromwell Menz Shed Charitable Trust, Shed Construction Project, $197,068. Upper Clutha Radio Telephone Ass Inc, Lake Hawea VHF Repeater unit, $30,000. Wakatipu Search and Rescue, Wakatipu Search and Rescue, $7593. Wanaka Community Hub, Battery Bank for the Solar System, $17,930. Winterstellar, Winterstellar 2023, $8007.Operational/ Programme grants, ADL Operational Grant August 2023-June 2024, $55,000. Child Cancer Foundation, Operational Grant July 2022–June 2023, $5000. Community Patrols Of New Zealand, Operational Grant July 2023-June 2024, $5000.